Climate change
12 Graphics that Contain Everything You Need to Know about Climate Change
Climate change is real, it's here and it will be affecting the planet for a long, long time.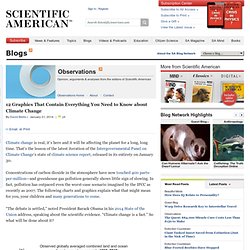 Sea ice in broken sheets off the coast of Alaska in late April, 2005.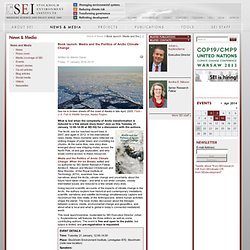 Book launch: Media and the Politics of Arctic Climate Change
Carbon report puts SA in the hot seat | News | Environment
A new report on carbon emissions shows that only 90 international entities are responsible for two-thirds of all the greenhouse gas emissions in the past 250 years.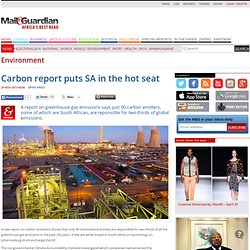 Jamie Clarke - 26th November 2013 Jamie Clarke points out that it is people's value, rather than scientific knowledge are heart of the climate change debate, especially to skepticism. psychological evidence is provided.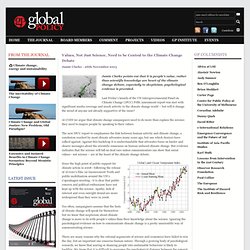 Values, Not Just Science, Need to be Central to the Climate Change Debate | Global Policy Journal - Practitioner, Academic, Global Governance, International Law, Economics, Security, Institutions, Comment & Opinion, Media, Events, Journal
AAA Global Climate Change Taskforce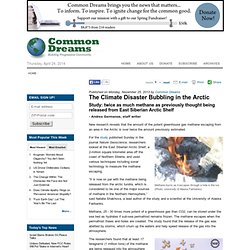 The Climate Disaster Bubbling in the Arctic
New research reveals that the amount of the potent greenhouse gas methane escaping from an area in the Arctic is over twice the amount previously estimated. Methane burns as it escapes through a hole in the ice. (Photo: University of Alaska Fairbanks) For the study published Sunday in the journal Nature Geoscience, researchers looked at the East Siberian Arctic Shelf, a 2-million square kilometer area off the coast of Northern Siberia, and used various techniques including sonar technology to measure the methane escaping.
Fiona Harvey has listed the top football metaphors the Poles' choice of venue have wrought: One of the perils of holding a major international conference in a football stadium is that the assembled politicians and dignitaries see it as a prime opportunity to score some sports metaphors.
Warsaw climate talks – final day live blog | Environment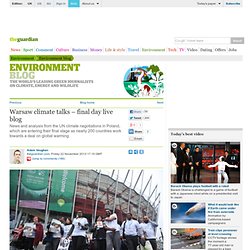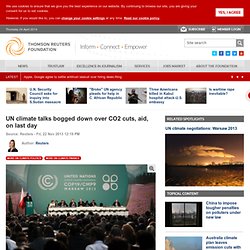 Delegates attend the Convention on Climate Change COP19 conference at the National Stadium in Warsaw on November 19, 2013. REUTERS/Kacper Pempel
UN climate talks bogged down over CO2 cuts, aid, on last day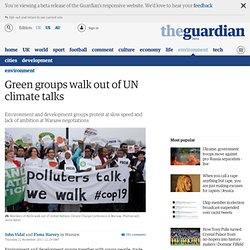 Environment and development groups together with young people, trade unions and social movements walked out of the UN climate talks on Thursday in protest at what they say is the slow speed and lack of ambition of the negotiations in Warsaw. Wearing T-shirts reading "Volverermos" (We will return), around 800 people from organisations including Greenpeace, WWF, Oxfam, 350.org, Friends of the Earth, the Confederation and ActionAid, handed back their registration badges to the UN and left Poland's national stadium, where the talks are being held.
Green groups walk out of UN climate talks | Environment
rt
UN Climate Talks - COP19 - Institute of Development Studies
This year's global climate talks (COP19) began under the shadow of Typhoon Haiyan which wreaked devastation in the Philippines.
A Song of Our Warming Planet on Vimeo
If you find acronyms and science confusing here's a quick-reference list to help you – press CTRL-F and start searching By Louisa Casson and Jamie Peters The technical language and huge volume of acronyms can make following climate change negotiations challenging.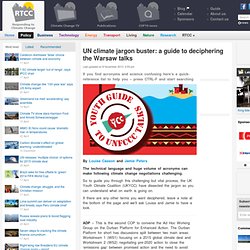 UN climate jargon buster: a guide to deciphering the Warsaw talks
I had high hopes of regular blogging when we started the journey of the Thuthuka-project. But the second part of the year got much more busy than I initially anticipated, and thus my postings on the blog dropped right off. But now the teaching term has come to an end, students are preparing for exams, and I have moments for deeper breathing and looking up to the expansive blue sky for thinking inspiration.
Interesting links: August – October 2013 | 50shadesofevidence
Why does climate change adaptation in Africa ignore politics? Great broadside from Matthew Lockwood.
Waste land: large-scale irrigation strips nutrients from the soil, scars the landscape and could alter climatic conditions beyond repair. Image: Edward Burtynsky, courtesy Nicholas Metivier Gallery, Toronto/ Flowers, London, Pivot Irrigation #11 High Plains, Texas Panhandle, USA (2011)
Introducing the Eldis Climate Change Resource Guide
In the last few weeks of July I came across the following links that are relevant to our research project.
Interesting links: July 2013 | 50shadesofevidence
Coursera.org
This course explores the basic concepts and terms needed to understand the science of climate change, and the available mitigation, adaptation and policy options. By the end of the course, students will be able to: · Tell the story of our climate, describing how interactions among atmosphere, ocean, land, and life lead to climatic changes at all timescales
ATHENS, Ga., Aug. 2 (UPI) -- Climate change affects the spread of infectious diseases worldwide with serious impacts to human health and biodiversity conservation, disease ecologists say. Writing in the journal Science, they propose modeling the way disease systems respond to climate variables could help public health officials and environmental managers predict and mitigate the spread of lethal diseases.
Climate change said affecting global spread of infectious diseases - UPI.com
Climate change
Transitions in practice
Infographic: What Climate Change Means for Africa and Asia
iChange Video Competition - new deadline: May 15th
Putting the 400 ppm CO2 thing in perspective – Greg Laden's Blog
Extreme Weather Swings From Record Drought To Flood May Be Sign Of Climate Change
Cool heads needed in Bonn for five-day talks on climate change - Environmental News | The Irish Times - Sat, Apr 27, 2013
Home Page | Thin Ice
Antarctic nematodes and climate change
Capturing Women's Voices on Climate Change Through Participatory Video
Amazon's indigenous people already experiencing early effects of climate change | Forest Carbon Portal
Interesting links 7 April 2013 | 50shadesofevidence
Watch 62 Years of Global Warming in 13 Seconds
Climate change threatens food security of urban poor | RTCC - Climate change news
James E. Hansen Retiring From NASA to Fight Global Warming
Exploring Climate Change through Science and in Society: An anthology of Mike Hulme's essays, interviews and speeches
3S%20WP%202012-15
Talking to the UN Security Council about Climate Change | Perspectives on development
Peter Gleick cleared of forging documents in Heartland expose | Environment
Science says: Cut that steak in half to keep the climate in check
Trailers - SURVIVING PROGRESS
climate code red: Science update
The verdict is in on climate change - latimes.com
Development - Pachakuti: Indigenous perspectives, buen vivir, sumaq kawsay and degrowth
Capitalism vs. the Climate
12 heads of state to attend COP 17 talks
check out the COPpuccino COP17 talks | urban sprout
News
ISS - Monograph 184: Carbon Trading in Africa, A Critical Review, Edited by Trusha Reddy
GDA comment: Rehad Desai | Durban Climate Justice
Democracy Now! Mobile
Broadcast Yourself
Patrick Bond, speaking at OccupyCOP17, 10th December 2011
n24
World
Is South Africa addicted to coal?
What really happenend at Durban City Hall COP
While COP17 hailed 'a success', SA slammed as mediator
Climate change conference in trouble as China rejects proposals for new treaty | Environment
Analyst Blasts U.S. Negotiator at Climate Talks: Warns of "Eco-Apartheid" | Accuracy.Org
Capitalism vs. the Climate
Climate change will affect South Africa | Water Rhapsody Conservation Systems. Grey Water recycling. Greywater. Grey water irrigation. Rainwater Harvesting. Green Building. Water Conservation. Established 1994
20 World Cities Reflected in Water | Environmental Graffiti
Challenging climate apartheid
Open Data Resources for Climate Change
If carbon markets boom, who will benefit? Meet the trillion dollar club
Greenpeace Climate Change Resources