Various
Making Crepes. Making crepes is not hard.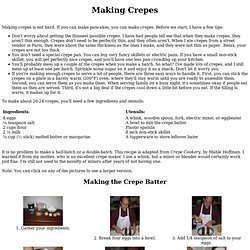 If you can make pancakes, you can make crepes. Before we start, I have a few tips: Don't worry about getting the thinnest possible crepes. I have had people tell me that when they make crepes, they aren't thin enough. Crepes don't need to be perfectly thin, and they often aren't. Garlicky Baked Fries. I'm never going to make garlic potato fries any other way.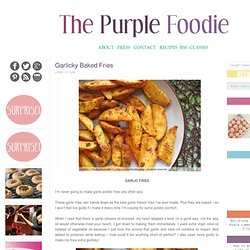 These garlic fries, win hands down as the best garlic french fries I've ever made. Plus they are baked – so I won't feel too guilty if I make it every time I'm craving for some potato comfort. Crusty Bread. I must begin by saying where the recipe originated, if in fact it originated anywhere...really.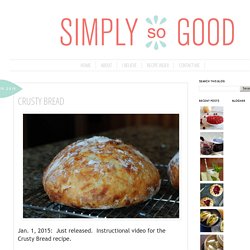 I think bread has been baked for centuries using flour, salt, water, and yeast or other form of leavening. As far as I know the recipe for "No-Knead" bread dough was printed in the New York times. Parsley, Chili, Garlic, And Lemon Hasselback Potatoes. One of my favorite ways to roast whole potatoes is the Hasselback method.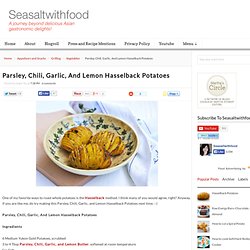 I think many of you would agree, right? Anyway, if you are like me, do try making this Parsley, Chili, Garlic, and Lemon Hasselback Potatoes next time. :-)Parsley, Chili, Garlic, And Lemon Hasselback Potatoes Ingredients 6 Medium Yukon Gold Potatoes, scrubbed3 to 4 Tbsp Parsley, Chili, Garlic, and Lemon Butter, softened at room temperatureSea SaltFreshly Ground Black Pepper Method.
Tabela de conversão de alimentos – chávena, colher, mililitros, centilitros ... | A Nossa Vida. Para uma receita ser bem-sucedida, e isto aplica-se religiosamente às receitas de doces e não às restantes receitas, é necessário que as medidas sejam as mais exatas possíveis.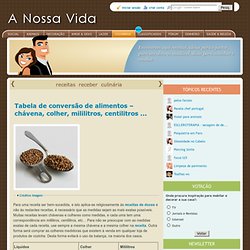 Muitas receitas levam chávenas e colheres como medidas, e cada uma tem uma correspondência em mililitros, centilitros, etc… Para não se preocupar com as medidas exatas de cada receita, use sempre a mesma chávena e a mesma colher na receita. Outra forma será comprar as colheres medidoras que existem à venda em qualquer loja de produtos de cozinha. Crepes crespelle. Publication or use of pictures, recipes, articles, or any other material form my Web site, on or off-line without written permission from the author is prohibited.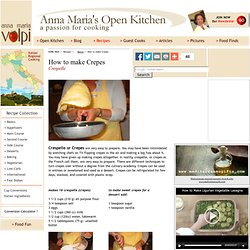 If you would like to use my articles on your Web site or in your publication, contact me for details. Avoid infringing copyright law and its consequences: read the article 7 Online Copyright Myths by Judith Kallos. Crash Hot Potatoes. Man, do I love Australia.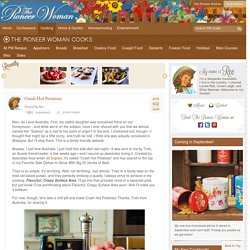 First, my oldest daughter was conceived there on our honeymoon…and while we're on the subject, have I ever shared with you that we almost named her "Sydney" as a nod to her point of origin? In the end, I chickened out, though—I thought that might be a little corny, and truth be told, I think she was actually conceived in Brisbane. But I'll stop there. This is a family-friendly website. Anyway, I just love Australia. Massa de malagueta. Lavam-se bem as malaguetas, abrem-se ao meio e retiram-se as pevides.
De seguida móiem-se e colocam-se num tacho. Tempera-se com sal grosso e leva-se ao lume a cozer em lume brando, mexendo, de vez em quando, com uma colher de pau. Distribui-se então a massa por frascos de vidro, devidamente esterilizados. Pizza Braid. French Fries: The No-Guilt Version. There's nothing like a french fried potato.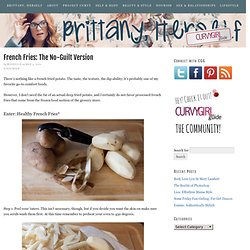 The taste, the texture, the dip-ability; it's probably one of my favorite go-to comfort foods. However, I don't need the fat of an actual deep fried potato, and I certainly do not favor processed french fries that come from the frozen food section of the grocery store.
---