ToDo
Sydney Surf School | Manly Surf School
Sydney , Australia , is home to some of the finest and most famous beaches in the world. There are well over 100 beaches in the city, ranging in size from a few feet to several kilometres, located along the city's Pacific Ocean coastline and it's harbours , bays and rivers . With around 70 surf beaches and dozens of harbour coves, Sydney is almost unrivalled in the world for the number and quality of beaches available. Sydney has tropical beaches and one of its harbours was featured in Finding Nemo . [ 1 ] [ edit ] Ocean beaches Sydney's ocean beaches include the internationally renowned Bondi , Coogee and Manly .
Beaches in Sydney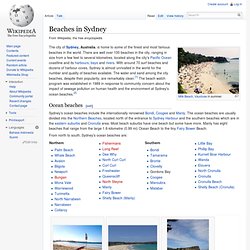 Blue Mountains Australia - Accommodation, Attractions...
Sydney Harbour Bridge Climb - For The Climb Of Your Life!™
GOODGOD ~ Bar & Small Club!