Martinis
Red Carpet Peppermint Mocha Martini. I hope you've had a great weekend so far.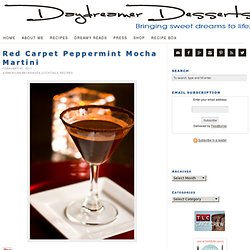 Just in case you happen to be watching, instead of attending the Oscar's tonight. I made you a special cocktail to sip on while you take in the show. Reese's Peanut Butter Cup Martini. Reese's Peanut Butter cups happen to be quite a commodity in our household.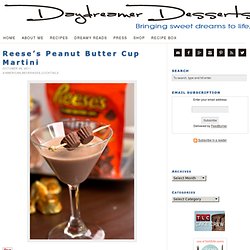 And, for some very strange reason their value seems to increase exponentially during Halloween. Thanks to my careful and thoughtful planning I invested in a small Reese's Peanut Butter hedge fund anticipating their upcoming increase. Which has allowed me to prepare such a delightful cocktail during the height of trick-or-treating season. Wether or not Reese's Peanut Butter Cups are a high commodity in your household, past trends have shown that after a week or two post Halloween they seem to come back down to what I would consider "normal" value. Snickertini Cocktail Recipe.
Does it taste like the candy bar it is named for?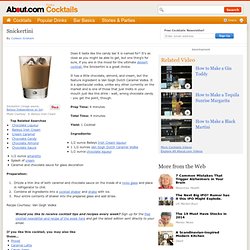 It's as close as you might be able to get, but one thing's for sure, if you are in the mood for the ultimate dessert cocktail, the Snickertini is a great choice. It has a little chocolate, almond, and cream, but the feature ingredient is Van Gogh Dutch Caramel Vodka. It is a spectacular vodka, unlike any other currently on the market and is one of those that just melts in your mouth just like this drink - wait, wrong chocolate candy - you get the point, though.
Prep Time: 4 minutes. Frostini Cocktail Recipe. Imagine a chilly winter night, you're in the mood for something inviting, smooth, and creamy with the tastes of the season.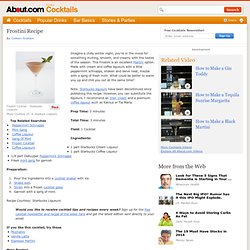 This Frostini is an excellent Martini option. Made with cream and coffee liqueurs with a little peppermint schnapps, shaken and serve neat, maybe with a sprig of fresh mint. What could be better to warm you up and chill you out at the same time? Van Gogh Caramel Latte Cocktail. The after dinner coffee can be as interesting or as boring as you'd like to make it and this recipe for a Caramel Latte is very interesting.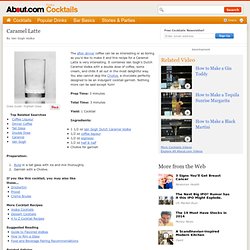 It combines Van Gogh's Dutch Caramel Vodka with a double dose of coffee, some cream, and chills it all out in the most delightful way. You also cannot skip the Cholive, a chocolate perfectly designed to be an indulgent cocktail garnish. Nothing more can be said except Yum! Prep Time: 3 minutes Total Time: 3 minutes. CARAMEL APPLE PIE MARTINI - Pie Martinis. The CARAMEL APPLE PIE MARTINI Apple Martinis are the Mac Daddies of designer martinis - one of the first on the scene of the modern martini as a cocktail.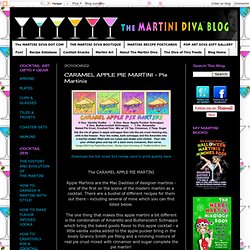 There are a bushel of different recipes for them out there - including several of mine which you can find listed below. The one thing that makes this apple martini a bit different is the combination of Amaretto and Butterscotch Schnapps which bring the baked goods flavor to this apple cocktail - a little vanilla vodka added to the apple pucker bring in the lovely Granny Smith pie filling and a rimming mixture of real pie crust mixed with cinnamon and sugar complete the pie martin! If you love apple martinis you have to try this one - remember, an apple martini a day keeps the blues away! Salted Caramel Martini. "It's like liquid Werther's Originals!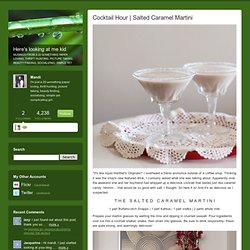 " I overheard a friend announce outside of a coffee shop. Thinking it was the shop's new featured drink, I curiously asked what she was talking about. Apparently over the weekend she and her boyfriend had whipped up a delicious cocktail that tasted just like caramel candy. Hmmm... that would be so good with salt, I thought. Double Stuf Oreo Martini. This wasn't as easy an infusion as I expected it to be.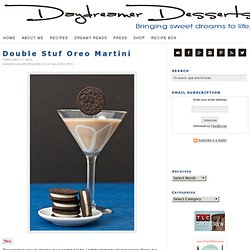 I initially started by infusing regular Oreos, but after a week of "infusion time" I tasted my concoction and decided I wanted more of the "Stuf" flavor versus chocolate. So started over and decided to use Double Stuf Oreos instead. Midori's Merry Martini. Kahlúa Peppermint Mocha Espresso Martini - Vodka Cocktail Drink Recipe. Butterscotch Martini. Espresso Martini.
---