Pink Floyd
Pink Floyd - Echoes Part 1 (Live At Pompeii) [HD & Remastered Version] Pink Floyd: Live at Pompeii. Pink Floyd: Live at Pompeii is a 1972 concert film featuring the English progressive rock group Pink Floyd performing at the ancient Roman amphitheatre in Pompeii, Italy, directed by Adrian Maben.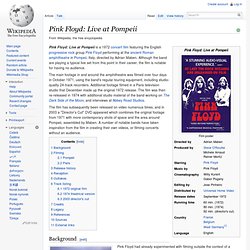 Although the band are playing a typical live set from this point in their career, the film is notable for having no audience. The main footage in and around the amphitheatre was filmed over four days in October 1971, using the band's regular touring equipment, including studio-quality 24-track recorders. Additional footage filmed in a Paris television studio that December made up the original 1972 release. The film was then re-released in 1974 with additional studio material of the band working on The Dark Side of the Moon, and interviews at Abbey Road Studios. Pink Floyd. Pink Floyd were an English rock band that achieved international acclaim with their progressive and psychedelic music.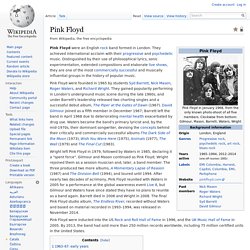 Distinguished by their use of philosophical lyrics, sonic experimentation, and elaborate live shows, they are one of the most commercially successful and musically influential groups in the history of popular music. Wright left Pink Floyd in 1979, followed by Waters in 1985. Gilmour and Mason continued as Pink Floyd and Wright subsequently joined them as a paid musician.
---