Colorful fotosites
STREET ART UTOPIA - We declare the world as our canvas
Ookaboo!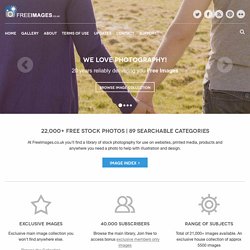 We are an archive of stock photography for use in websites, printed materials and products. Images are provided free of charge for both commercial and personal use under an attribution license. Not just another clipart graphic site!... more than 13,500 stock photos all for FREE! "I am a graphic designer for a newspaper and your site has really helped me out!
Free Images - Free Stock Photos
Forced perspective is a technique that employs optical illusion to make an object appear farther away, closer, larger or smaller than it actually is. It is used primarily in photography, filmmaking and architecture. It manipulates human visual perception through the use of scaled objects and the correlation between them and the vantage point of the spectator or camera. There are many ways to attack photography and some are much more expensive than others. Here in this showcase, we presenting a Stunning collection of Forced Perspective Photography and Pictures taken by various artists in which all pictures are linked to the author's pages.
99 Excellent Examples of Forced Perspective Photography | Photography | instantShift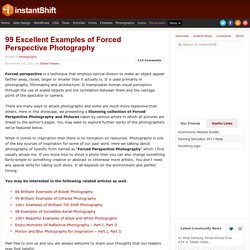 HONEY-AND-BEE
Step inside an enchanted forest wonderland, where woodland nymphs dance in and out of dappled sunlight. A lone stag in a garland of daisies steps out from behind ancient trees. The soft undergrowth beckons you to lie down and breathe in the fragrance of spiced montego wood and wild rose essential oil. Woodland Nymph invokes a warm, cozy and enchanted space for relaxation and creativity. || Candles available now $45 (at www.shop.spelldesigns.com)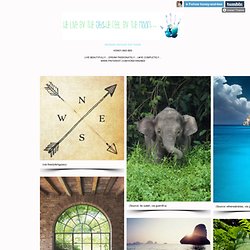 faith is torment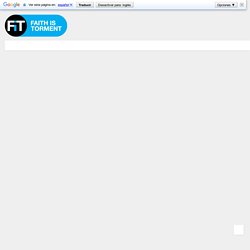 Petrol Stations: Photos by Vanessa Leissring Beautiful night shots of petrol/gas stations, illuminated by their neon signs, which serve as both supply and rest stops to recover from driving on long stretches of highways. The petrol station—situated on the edge of urban civilization—is an integral part of our daily locomotion. Placed next to the American Highway and the European Autobahn, it represents a materialized belief in progress through technology—the petrol station is a media-mythical charged location. They are focal points of supply: that is what furnishes them with meaning as a part of an utilization mechanism: a mechanism which is initiated by the human and comes to an end in technical progress.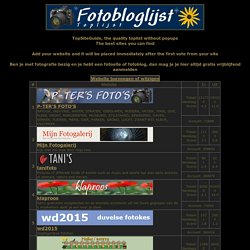 TopSiteGuide, the quality toplist without popupsThe best sites you can find Add your website and it will be placed immediately after the first vote from your site Ben je met fotografie bezig en je hebt een fotosite of fotoblog, dan mag je je hier altijd gratis vrijblijfend aanmelden Website toevoegen of wijzigen Website toevoegen of wijzigen Beheer eigen Toplijst Zoekmachine De Beste Toplijsten Banner Maken Contact met FOTOBLOGSLIJST
PHOTO FOTO FOTOBLOG FOTOGRAFIE FOTOBLOGLIJST PHOTOTOPLIST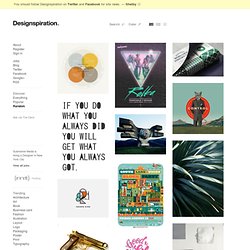 You should follow Designspiration on Twitter and Facebook for site news. — Shelby Designspiration Search Color mediumsmalllarge Discover Ads via The Deck
Random
Travel Photos From TrekEarth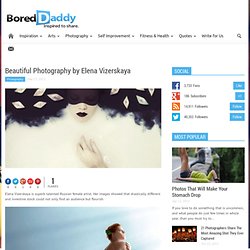 1 Flares Facebook 0 Twitter 0 Google+ 1 StumbleUpon 0 Pin It Share 0 1 Flares × Elena Vizerskaya is superb talented Russian female artist. Her images showed that drastically different and inventive stock could not only find an audience but flourish. Thank you for visiting, we hope you find our site, enjoyable, informative and educational. If you enjoyed this post, please consider leaving a comment or subscribing to the RSS feed to have future articles delivered to your feed reader.
Beautiful Photography by Elena Vizerskaya
Online fotoclub voor het plaatsen en beoordelen van foto's. - LuRoFoto Gallery
Bright inspiration ~
Visual Archive
VIVRE !: Archive
HybridLava
We are scratching our heads, searching for new words to describe the attraction we have for buildings such as the Limantos residence by Fernanda Marques Arquitetos Associados. The one-family residence of 820 square meters (8,826 sq.ft) is built on three levels on a steep 780 square-meter (8,395 sq.ft.) plot in the upscale neighbourhood of Cidade Jardim (Garden City) in the West Zone of São Paulo, Brazil. What is it that so appeals to us in this? Yes, it is the clean, classic lines, the Miesian harmony between nature and the indoors, the understated elegance of less is more. It is also the achievement of open-space opulence without pretentious pomposity. It is the complete lack of unnecessary ornamentation.
Welcome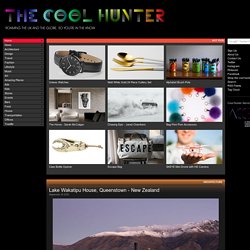 Photography Served :: Gallery
Popular All « PrevNext » « Prev1234 ... 80Next » Video Transcript
Society6 Artists Art Prints | Print Shop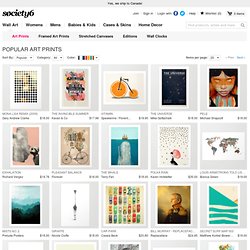 500px / Home
To Do List - 101photography
Worth1000 Home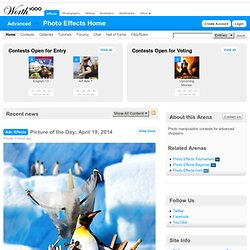 Adv. Effects Picture of the Day: January 15, 2014 Posted 21 hours ago
One simply does not look at just 1 pic on PicGusta.com
The Paper Wall
Photo Awards 2011
Yurock
UPDATE: The Return of Bent Objects Wires transform these objects from inanimate to hilarious works of art. Little polish girl McDonalds as Sculpture Materials Yeah, this is where those come from
strange pictures
xaXor.com | xaXor.com
Applaudiserende nijlgans. | eyecatchers
Baubauhaus.
TheCoolist | The Design, Lifestyle and Luxury Community
FoxSaver Pictures
Free Scenic Wallpapers and Screen Savers - GB Photo Gallery
Mark Jenkins
Piccsy :: Recent posts
Retronaut
Photography | JazJaz
BabyAnimalz.com - Pictures of Cute Baby Animals and a couple ugly ones.
Cutest Paw Gives You the Cutest Animal Pictures Around the World
GENTRY
25 Most Beautiful Animals Photography on StumbleUpon | Beautiful Animals
Photos
TwistedSifter - The Best of the visual Web, sifted, sorted and summarized
Wall to Watch
Beautiful Places to Visit - Photos and Information
Behance Network :: Gallery
Cutest Paw Gives You the Cutest Animal Pictures Around the World
Nature pictures, nature photos, wildlife nature photography
Looks like good Closet Graffiti by decktwo
Michael Muller
galeries
Archives
fine art and commercial photography / c h r o m a s i a / Blackpool, UK
Random Stuff
Terribly Cute
one big photo » a picture is worth a thousand words
These 50 Photos Will Blow you Away - StumbleUpon
Find Stuff | The most popular picture, video & group categories on Photobucket