Animations
Endless Forest. Sound Types. 17 Web Toys for Your Procrastination Pleasure. Sometimes you need to take a break from work and just veg out by doing something mindless and pleasant.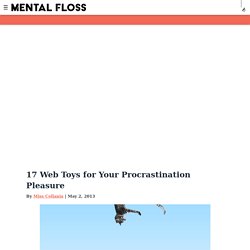 TV or a game of solitaire is good for that, but both require a set time commitment. There are hundreds of alternatives on the internet in the form of web toys. These are sites that offer strange visuals, often interactive visuals, that require no real mental effort but might bring a smile to your face for a while. 1. Spider. I Love You Like A Fat Lady Loves Apples. Dumb Ways to Die. - StumbleUpon. Sunday-dopeness-all-gifs-16.
Blue Ball Machine. Untitled. BREAK. Sanger.dk. Bomomo. Edit clock font - animaclock. Break glass to sound alarm. - StumbleUpon. Tonematrix. Gordon Freeman approves! Websites. Kiwi! Problem loading page. CAT BOUNCE! Screamin' Beans. Flame Text. This effect gives text that appears to be made out of flame.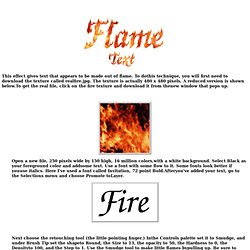 To dothis technique, you will first need to download the texture called realfire.jpg. The texture is actually 480 x 480 pixels. FishIE Tank. Fish 1024 x 1002 window size Thanks for checking out this site.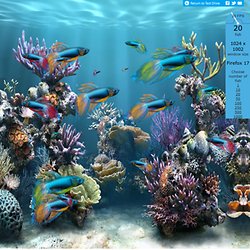 This demo uses the canvas element to draw fish swimming in a fish tank. The FPS count tells you how many frames per second the browser is able to draw. Breadfish.co. Staggering Beauty. JS1k, 1k demo submission - Warp Starfield - JavaScript and HTML5 Canvas demo by Kevin Roast. Fun Switcher. Inoyan.narod.ru/kaleidoskop.swf. - StumbleUpon. Broken Bells - October. Neonflames. OMG LASER GUNS PEW PEW PEW. Forked from: [Stardust] KiraKira Waypoints. Imagination - Play with beautiful wobbly lines. Touch Effects. Animated shorts: 10 Must Watch Short Films. Animated shorts are great way to refresh your mind.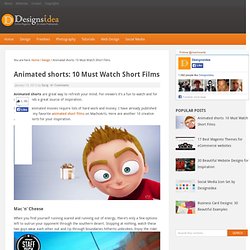 For viewers it's a fun to watch and for creative minds a great source of inspiration. Even short animated movies require lots of hard work and money. I have already published 15 best and my favorite animated short films on MachoArts. Here are another 10 creative animated shorts for your inspiration. Mac 'n' Cheese. The Useless Web. Forked from: [BetweenAS3]uzumaki. Carnal fury .com by rafaël rozendaal, 2011, commisioned by kunstverein wiesbaden. Neave Interactive - Paul Neave's digital playground. - StumbleUpon. CrazyImages.com - Flashy images that rattle your brain. - StumbleUpon. Moving Mandalas and Geometric Animations from Light Weaver. Design credits for elements of the slide show: All of these Flash action scripts were modified, colored, resized, or otherwise adapted.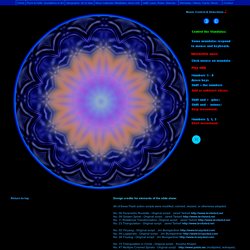 No. 06 Parametric Roulette - Original script: Jared Tarbell No. 08 Golden Spiral - Original script: Jared Tarbell No. 11 Rotational Transformation- Original script: Jared Tarbell No. 23 Triangulation - Original script: Jared Tarbell No. 02 Yinyang - Original script: Jim Bumgardner No. 09 Logspirals - Original script: Jim Bumgardner No. 28 Ynyang - Original script: Jim Bumgardner No. 15 Triangulation in Circle - Original script: Koosha Khajeh No. 47 Multiple Colored Spirals - Original script: (multiplied, reshaped, and colored by MLS) Elastic Enthusiastic by Angelo Plessas. ••• | phong [ photoshop tutorials, recursive pattern cognition, astral hallucination, etc ]
Line. Bomomo. Artodyssey. Kleurrijke bloem (op de bloem klikken) - StumbleUpon. Muffin Films by Amy Winfrey. Walking cat animation. Hier wordt je duizelig van... Sistine Chapel. Gadgets. Watermark Generator And Custom Caption Maker For Any JPEG or GIF Photo, Protect Your Photographs. Lights. ~MEDIJATE~ ORGANIC GREEN SPIRIT DIGITAL BY LARRY CARLSON _________________________________________________________________________________________________________________________________________________________________________________________________ - St.
39 Degrees North: Nicholas Was. Lifaros experimental actionscript gallery 2003-2011. Music4you animatie. Vectorpark. Naamanimatie maken. Wonderfl build flash online. Antwerpen Centraal - virtuele rondleiding. Aron sommer. The Arcade Fire presents. Touch Effects. Cat animation. PHUN. Bellyfull.tv. - StumbleUpon. INCREDIBOX. William.hoza.us. Hippo. Dhteumeuleu. 3D Spider in browser. Silk — Interactive generative art. Red alert. - StumbleUpon. Animatie te manipuleren met muis. Datadreamer - the work of aaron siegel. Spinners3_clone - animaclock. Bewegend zonnestelsel. The Beatles Player. Happy newyear (na openen nog een keer klikken om pagina te openen) Flitsende fotograaf. Gekriegel lopende band werk. Lab. Sticky Thing Touch Sticky Thing iPhone Experiments Space Noodles Liquid Particles 3D The particles trapped in a wormhole discoball.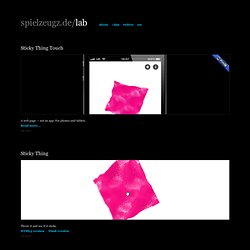 Takes some practice to control. Launch06-2010 Comparison Technical study, comparing rendering performance. Overview04-2010 Liquid Particles. Zwemmend mannetje, te bewegen met de muis. Vectoranimaties. Instant Dance Party. Flame Painter | free online paint program. Flame Painter Gallery Flame Painter is a unique paint program, it belongs to my 'I am an Artist' experimental project.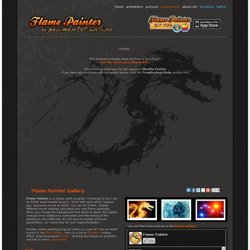 I think with tools which inspires you, everyone can be an artist. You can try it here, change different brush settings and paint your own flame paintings. When you change the background from black to white, the palette changes from additive to subtractive and the feeling of the painting is very different. It's not easy to explain all brush parameters, so I leave this for your experimentation. Websites. Vai avanti .com by rafaël rozendaal, 2006. - StumbleUpon.
---