FM
Facility Management Software: facilities maintenance, cafm, preventative maintenance system. Facility Management Software – CAFM, Facility Management with AMTdirect – Real Estate Management Software. Feature Overview | Mainstream Software. Get Your FREE CMMS Facility Management Software Demo Today. OpenCRX - Enterprise Open Source CRM.
Facility Management Software, Facilities Management Software - Skire | Skire. CMMS Software | CAFM Software | Web Based Facility Management CMMS Software. FacilitiesDesk Overview Take control of your facility, asset and maintenance operations in one easy-to-use web-based software.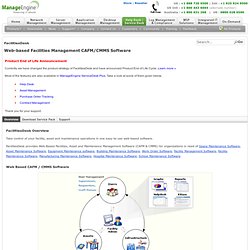 FacilitiesDesk provides Web-Based Facilities, Asset and Maintenance Management Software (CAFM & CMMS) for organizations in need of Space Maintenance Software, Asset Maintenance Software, Equipment Maintenance software, Building Maintenance Software, Work Order Software, Facility Management Software, Facility Maintenance Software, Manufacturing Maintenance Software, Hospital Maintenance Software, School Maintenance Software.
---