FM
Facility Management Software: facilities maintenance, cafm, preventative maintenance system
Over 12,000 facilities worldwide choose our software solutions to maximize productivity and asset uptime, optimize inventory, minimize costs and assure standards compliance. FaciliWorks CMMS maintenance management software helps you track, analyze and report on everything from assets and PM schedules to work orders, service requests, procedures, staff and purchasing at a single location or across multiple facilities around the globe. Master your facility's maintenance with FaciliWorks CMMS.
Facility Management Software – CAFM, Facility Management with AMTdirect – Real Estate Management Software
Feature Overview | Mainstream Software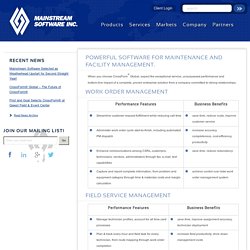 Whether you choose CrossForm in-house or hosted by Mainstream, expect the exceptional service, unsurpassed performance and bottom-line impact of a complete, proven enterprise solution from a company committed to strong relationships. Save time. Achieve total control. Increase field productivity. Improve field performance.
Get Your FREE CMMS Facility Management Software Demo Today
openCRX - Enterprise Open Source CRM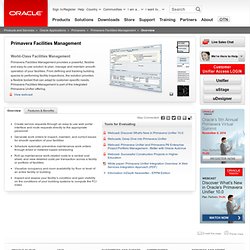 Skire Unifier is now part of the Oracle Primavera family and has been renamed Primavera Unifier. Updated web content is now live on the Oracle.com website. There you will find updated datasheets, webcasts and event information.
Facility Management Software, Facilities Management Software - Skire | Skire
CMMS Software | CAFM Software | Web Based Facility Management CMMS Software
FacilitiesDesk Overview Take control of your facility, asset and maintenance operations in one easy-to-use web-based software. FacilitiesDesk provides Web-Based Facilities, Asset and Maintenance Management Software (CAFM & CMMS) for organizations in need of Space Maintenance Software , Asset Maintenance Software , Equipment Maintenance software , Building Maintenance Software , Work Order Software , Facility Management Software , Facility Maintenance Software , Manufacturing Maintenance Software , Hospital Maintenance Software , School Maintenance Software .