Travel #CapeTourist
Coming to Cape Town as a Tourist, or just hanging out in your own city... Jan 16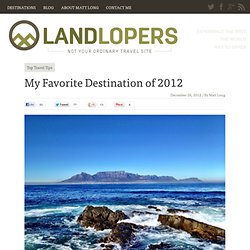 By – December 26, 2012Posted in: Top Travel Tips Even though I've flown more than 100,000 miles this year and visited dozens of countries, this was not a hard decision to make. There was one place that spoke to me more than any other; one travel experience that surpassed anything else I've done this year – Cape Town, South Africa.
My Favorite Destination of 2012
Social Media Use is Soaring – Time to Reconsider You 2013 Strategy [Report]
Nielsen's social media report for the third quarter shows some amazing growth in the use of social media. The report indicates that two factors are driving the change: more people are using mobile phones and tablets to access the networks and the proliferation of new social platforms. Two areas where social media is evolving: the phenomenon of multiple screening setting up what Nielsen calls the global living room and the use of social media as a customer care channel.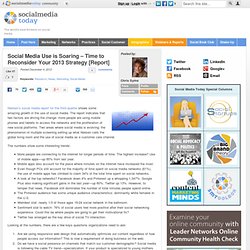 One sugar or none, we've got a cup of gourmet coffee for you in the CBD and surrounds Double or nothing, coffee is social and economic currency the world over whether you're working or playing.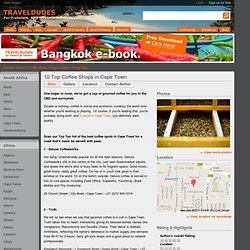 10 Top Coffee Shops in Cape Town
Top 10 of Cape Town's attractions - Richies Ride
De Waal Park - Cape Town - South Africa Welcome to De Waal Park
Travel Postcard: 48 Hours in Cape Town
Cape Town: Airport improves parking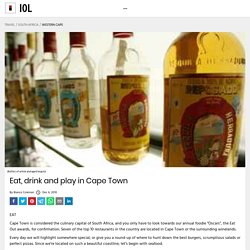 Bottles of white and aged tequila Cape Town is considered the culinary capital of South Africa, and you only have to look towards our annual foodie "Oscars", the Eat Out awards, for confirmation.
Eat, drink and play in Cape Town - Western Cape - IOL | Breaking News | South Africa News | World News | Sport | Business | Entertainment | IOL.co.za
Cape Town – 5 top beaches with kids, top 3 fashionable beaches, top 3 beaches to avoid people and a couple of secret beaches for luck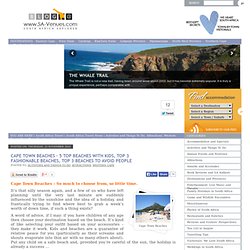 Posted on: Thursday, 25 November 2010 Cape Town Beaches – So much to choose from, so little time.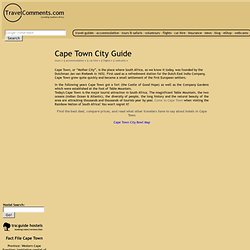 online travel guide through Southern Africa - updates, news, online booking, tour offers and more from Southern Africa and the backpacking world
Cape Town, or "Mother City", is the place where South Africa, as we know it today, was founded by the Dutchman Jan van Riebeek in 1652.
CapeTown shares this is the way to plan a Cape Town trip http://tams-scott.travellerspoint.com/1/ #capevisit - #8a79po
"To Do" Wishlist - Cape Town & Durban 2011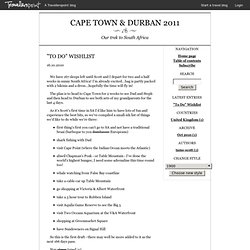 We have 167 sleeps left until Scott and I depart for two and a half weeks in sunny South Africa!
Deep Sea Fishing Cape Town | Fishing Knots
jcwbwej - Uploaded by Themba_Mabambi
http://www.capetownalive.co.za/browse/
Cape Town Hotels & Accommodation, luxury South Africa hotels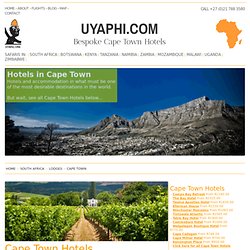 With the areas spectacular geography and amazing vibe it is not hard to see why it is consistently voted amongst the world's best cities. "TripAdvisor Traveller's Choice best destination 2011" as well as "One of the World's Top 20 Cities, "Condè Naste" Traveller Readers' Travel Awards September 2010, one of the most popular long haul destinations in the world, alongside Sydney, Hong Kong and Rio De Janeiro. Cape Town Accommodation, situated between the Atlantic Ocean and Table Mountain, offers many attractions: Table Mountain itself (by hiking or cable car) the V&A Waterfront, Robben Island, vineyards on its doorstep and Kirstenbosch Botanical Gardens. Known as the "Mother City", it is the oldest city in South Africa with a heritage spanning more than 300 years.
South Africa Tourism - Kirstenbosch Botanical Art Biennale - Event detail
More about Cape Town weather: Why are we so fascinated by the weather?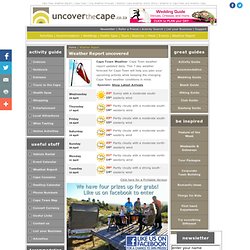 Cape Town Weather Report | Cape Town 7 Day Weather Forecast
Welcome to Cape Town & the Western Cape - Official Website of Ca
Please note that Peter Slingsby publishes the only maps endorsed by the TMNP.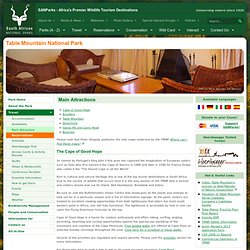 Table Mountain National Park - Official Site - Cape of Good Hope