Travel #CapeTourist
Coming to Cape Town as a Tourist, or just hanging out in your own city...
VoiceMap - The world is made of stories. Hear them. My Favorite Destination of 2012. Even though I've flown more than 100,000 miles this year and visited dozens of countries, this was not a hard decision to make.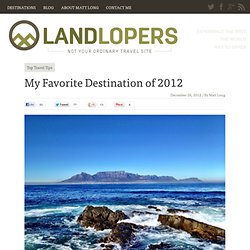 There was one place that spoke to me more than any other; one travel experience that surpassed anything else I've done this year – Cape Town, South Africa. Like many aspects of the travel experience, I can't explain exactly why I love Cape Town so much. Social Media Use is Soaring – Time to Reconsider You 2013 Strategy [Report] Nielsen's social media report for the third quarter shows some amazing growth in the use of social media.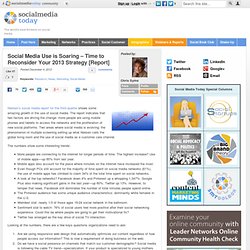 The report indicates that two factors are driving the change: more people are using mobile phones and tablets to access the networks and the proliferation of new social platforms. Two areas where social media is evolving: the phenomenon of multiple screening setting up what Nielsen calls the global living room and the use of social media as a customer care channel. 10 Top Coffee Shops in Cape Town. One sugar or none, we've got a cup of gourmet coffee for you in the CBD and surrounds Double or nothing, coffee is social and economic currency the world over whether you're working or playing.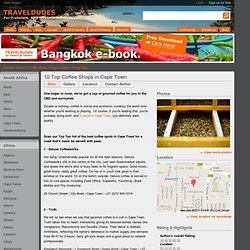 Of course, if you're reading this, you're probably doing both; and if you're in Cape Town, you definitely want quality. Scan our Top Ten list of the best coffee spots in Cape Town for a roast that'll never be served with peas. 1 - Deluxe Coffeeworks Hot dang. Top 10 of Cape Town's attractions - Richies Ride. De Waal Park - Cape Town - South Africa Welcome to De Waal Park. Travel Postcard: 48 Hours in Cape Town.
Cape Town: Airport improves parking. Eat, drink and play in Cape Town - Western Cape - IOL | Breaking News | South Africa News | World News | Sport | Business | Entertainment | IOL.co.za. Bottles of white and aged tequila Cape Town is considered the culinary capital of South Africa, and you only have to look towards our annual foodie "Oscars", the Eat Out awards, for confirmation.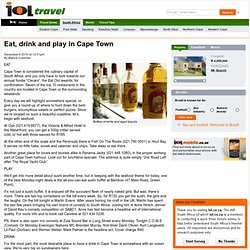 Seven of the top 10 restaurants in the country are located in Cape Town or the surrounding winelands. Every day we will highlight somewhere special, or give you a round-up of where to hunt down the best burgers, scrumptious salads or perfect pizzas. Cape Town – 5 top beaches with kids, top 3 fashionable beaches, top 3 beaches to avoid people and a couple of secret beaches for luck. Posted on: Thursday, 25 November 2010 Cape Town Beaches – So much to choose from, so little time.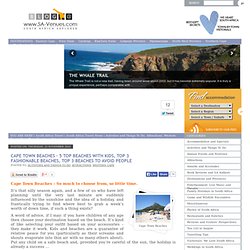 Cape Town Beaches It's that silly season again, and a few of us who have left planning until the very last minute are suddenly influenced by the sunshine and the idea of a holiday, and frantically trying to find where best to grab a week's worth of down time, if such a thing exists? A word of advice, if I may: if you have children of any age then choose your destination based on the beach. It's kind of like selecting your outfit based on your accessories – they make it work. Online travel guide through Southern Africa - updates, news, online booking, tour offers and more from Southern Africa and the backpacking world. Cape Town, or "Mother City", is the place where South Africa, as we know it today, was founded by the Dutchman Jan van Riebeek in 1652.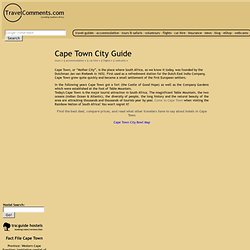 First used as a refreshment station for the Dutch East India Company, Cape Town grew quite quickly and became a small settlement of the first European settlers. In the following years Cape Town got a fort (the Castle of Good Hope) as well as the Company Gardens which were established at the foot of Table Mountain. Today's Cape Town is the major tourist attraction in South Africa. The magnificent Table Mountain, the two oceans (Indian Ocean & Atlantic), the diversity of people, the long history and the natural beauty of the area are attracking thousands and thousands of tourists year by year. CapeTown shares this is the way to plan a Cape Town trip #capevisit - #8a79po. "To Do" Wishlist - Cape Town & Durban 2011. We have 167 sleeps left until Scott and I depart for two and a half weeks in sunny South Africa!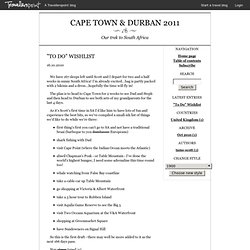 I'm already excited...bag is partly packed with 2 bikinis and a dress...hopefully the time will fly in! The plan is to head to Cape Town for 2 weeks to see Dad and Steph and then head to Durban to see both sets of my grandparents for the last 4 days. As it's Scott's first time in SA I'd like him to have lots of fun and experience the best bits, so we've compiled a small-ish list of things we'd like to do while we're there: Deep Sea Fishing Cape Town | Fishing Knots. Jcwbwej - Uploaded by Themba_Mabambi. Cape Town Hotels & Accommodation, luxury South Africa hotels. With the areas spectacular geography and amazing vibe it is not hard to see why it is consistently voted amongst the world's best cities.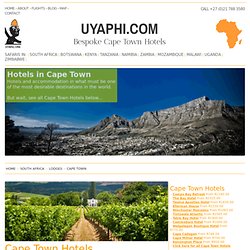 "TripAdvisor Traveller's Choice best destination 2011" as well as "One of the World's Top 20 Cities, "Condè Naste" Traveller Readers' Travel Awards September 2010, one of the most popular long haul destinations in the world, alongside Sydney, Hong Kong and Rio De Janeiro. Cape Town Hotels, situated between the Atlantic Ocean and Table Mountain, offers many attractions: Table Mountain itself (by hiking or cable car) the V&A Waterfront, Robben Island, vineyards on its doorstep and Kirstenbosch Botanical Gardens. Known as the "Mother City", it is the oldest city in South Africa with a heritage spanning more than 300 years. South Africa Tourism - Kirstenbosch Botanical Art Biennale - Event detail.
Cape Town Weather Report | Cape Town 7 Day Weather Forecast. More about Cape Town weather: Why are we so fascinated by the weather?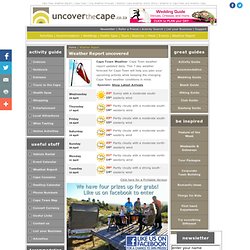 Have you ever wondered why weather seems to pop its way into most conversations? Weather has such a major impact on our lives that it's no wonder we are so fascinated by it. It affects our mood, our activities and even our holidays… To help you with Cape Town weather we have a great 7 day weather forecast for Cape Town, South Africa.
It's a full weather report for Cape Town, updated daily. Welcome to Cape Town & the Western Cape - Official Website of Ca. Table Mountain National Park - Official Site - Cape of Good Hope. Please note that Peter Slingsby publishes the only maps endorsed by the TMNP.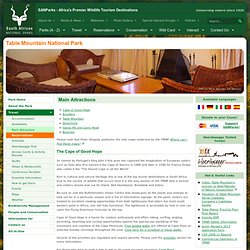 Where can I find these maps? The Cape of Good Hope So named by Portugal's King John II this area has captured the imagination of European sailors such as Dias who first named it the Cape of Storms in 1488 and later in 1580 Sir Francis Drake who called it the "The Fairest Cape in all the World".
---
capetown Aug 25 2010

All things Travel and Tourism in and around Cape Town
---