#CapeInsider
Community Manager's Spot for @CapeTown Jan 16
In our last blog, we discussed the importance of competence for fostering the trust you need as a manager to influence others. We stressed that management competence includes not just technical knowledge of the work but operational and political know-how as well. Here we want to focus on the other great component of trust — character — but by taking a different approach. So far we've argued that intentions — character — are the foundation of trust, that they must be supported by competence, and that you must take pains to reveal them. But we haven't addressed the question of your intentions themselves.
4 Tips to Control Your Google Privacy | Social Media and its influence
This post originally appeared on the American Express OPEN Forum, where Mashable regularly contributes articles about leveraging social media and technology in small business. You don't have to be in the market for a Super Bowl ad to learn the world's biggest marketers. In fact, as a quick trip to Facebook illustrates, social media has a leveling effect: Whether you're Coca-Cola or Jones Soda, your Facebook Page looks pretty much the same. Coke's billions won't buy a dedicated wing on Twitter, either. With this in mind, the following social media campaigns from marketers big and small are designed to be idea generators.
5 Clever Social Media Campaigns To Learn From
Diana Krall - A Case of You
Free Hashtag Report
Top 10 influencial Cape Town Twitter Users
Call 011 880 4808 to book for The New Age Business Briefing with Premier Helen Zille
Twitter
Shawn Graaff Twitter Stats
Cape Town | in Twitter | #atCapeTown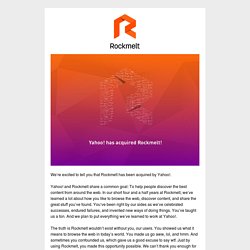 We're excited to tell you that Rockmelt has been acquired by Yahoo!. Yahoo! and Rockmelt share a common goal: To help people discover the best content from around the web. In our short four and a half years at Rockmelt, we've learned a lot about how you like to browse the web, discover content, and share the great stuff you've found. You've been right by our sides as we've celebrated successes, endured failures, and invented new ways of doing things. You've taught us a ton.
♡ Cape Town Tweeps ♡ Twitter Stats
The performance post for twitter is a cool way to recap your last week for your followers and friends. It's for free. You can do that with your "forever free" twitter account .
#CapeTown Tweeple Widget
Area Manager - waze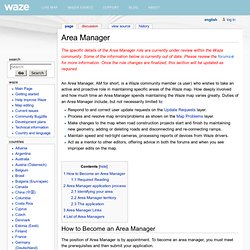 The specific details of the Area Manager role are currently under review within the Waze community. Some of the information below is currently out of date. Please review the forums for more information. Once the role changes are finalized, this section will be updated as required. An Area Manager, AM for short, is a Waze community member (a user) who wishes to take an active and proactive role in maintaining specific areas of the Waze map.