#CapeInsider
Community Manager's Spot for @CapeTown
4 Tips to Control Your Google Privacy | Social Media and its influence. 5 Clever Social Media Campaigns To Learn From. This post originally appeared on the American Express OPEN Forum, where Mashable regularly contributes articles about leveraging social media and technology in small business.
You don't have to be in the market for a Super Bowl ad to learn the world's biggest marketers. In fact, as a quick trip to Facebook illustrates, social media has a leveling effect: Whether you're Coca-Cola or Jones Soda, your Facebook Page looks pretty much the same. Coke's billions won't buy a dedicated wing on Twitter, either. With this in mind, the following social media campaigns from marketers big and small are designed to be idea generators. Diana Krall - A Case of You. Free Hashtag Report. Joyce Meyer TV Podcast by Joyce Meyer Ministries. Top 10 influencial Cape Town Twitter Users. Call 011 880 4808 to book for The New Age Business Briefing with Premier Helen Zille. Twitter.
Shawn Graaff Twitter Stats. Cape Town | in Twitter | #atCapeTown. RockMelt - A shiny, new browser. Just for you. Pinterest / Home. ♡ Cape Town Tweeps ♡ Twitter Stats. Know and show what you got - TwentyFeet - TwentyFeet Wiki. The performance post for twitter is a cool way to recap your last week for your followers and friends.
It's for free. You can do that with your "forever free" twitter account . #CapeTown Tweeple Widget.
Area Manager - waze. The specific details of the Area Manager role are currently under review within the Waze community.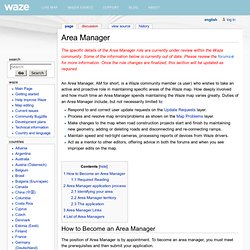 Some of the information below is currently out of date. Please review the forums for more information. Once the role changes are finalized, this section will be updated as required. An Area Manager, AM for short, is a Waze community member (a user) who wishes to take an active and proactive role in maintaining specific areas of the Waze map.
---