Idioms
Raison d'être
make a rod for own back
Cutting off the nose to spite the face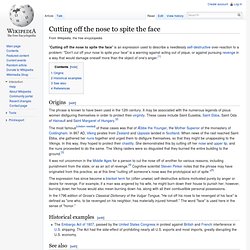 " Cutting off the nose to spite the face " is an expression used to describe a needlessly self-destructive over-reaction to a problem: "Don't cut off your nose to spite your face" is a warning against acting out of pique, or against pursuing revenge in a way that would damage oneself more than the object of one's anger. [ 1 ] [ edit ] Origins The phrase is known to have been used in the 12th century.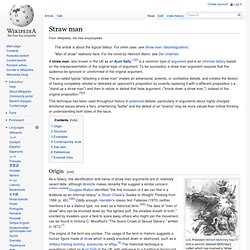 Straw man
A straw man or straw person , also known in the UK as an Aunt Sally , [ 1 ] [ 2 ] is a type of argument and is an informal fallacy based on misrepresentation of an opponent's position. [ 3 ] To "attack a straw man" is to create the illusion of having refuted a proposition by replacing it with a superficially similar yet unequivalent proposition (the "straw man"), and to refute it, without ever having actually refuted the original position. [ 3 ] [ 4 ] This technique has been used throughout history in polemical debate, particularly in arguments about highly charged, emotional issues.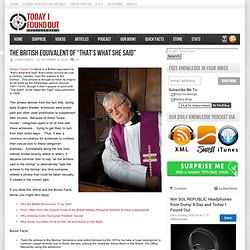 Today I found out there is a British equivalent to "that's what she said" that's been around for over a century, namely, "said the actress to the bishop".
The British Equivalent of "That's What She Said"
Needs must when the devil drives