Physician Assistant
Articles in Philadelphia PA *Popular Health Topics Philadelphia PA Here you will find a list of the most popular health topics being discussed in Philadelphia, PA.
Philadelphia PA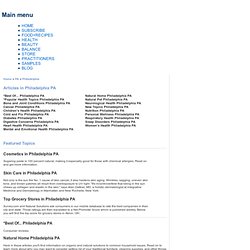 MD Consult
World-Class Care: Right Here, Right Now | Cooper University Hospital - South Jersey, New Jersey & Philadelphia
PANCE
To become a certified PA, you must pass the Physician Assistant National Certifying Exam (PANCE), a computer-based, multiple-choice test comprising questions that assess basic medical and surgical knowledge. The following video has a wealth of information to help prepare you for taking PANCE, including how to register, what to expect on test day and when you will receive your score. After watching the video, read more on eligibility and registration requirements below.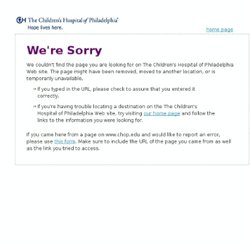 Becoming A Volunteer | The Children's Hospital of Philadelphia
We couldn't find the page you are looking for on The Children's Hospital of Philadelphia Web site.
My Life as a Pre-Physician Assistant Student
Seton Hill University - Physician Assistant Program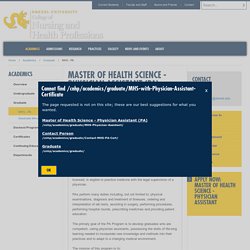 Curriculum - Physician Assistant Department
Department of Physician Assistant
Course Descriptions
Entry-Level Physician Assistant Studies
PA Information Links | Chatham University
PA textbooks
Arguably one of the most important components of your application will be your minimum three letters of recommendation. These letters of recommendation should be from people, preferably in the medical field who have worked directly with you during your patient contact hours. If you choose to select one of your professors from your undergraduate studies, that may also be acceptable, but no more than one. Ideally you should contact the programs you are interested in to confirm what are considered proper and acceptable references. These letters should come from people that are respected and admired in their field that have clear knowledge of your intentions and qualifications.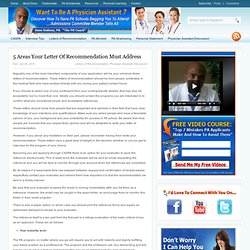 Letter Of Recommendation
AAPA
PA Coach - YouTube Channel
PA Coach Website