South Bay All The Way
Moped Riders Directory - Moped Army. Map Icons Collection | Google Maps Icons, Map Markers, Free POI Icons, GIS Symbols. Poop Deck loses its captain. The longtime owner of the Poop Deck bar on The Strand in Hermosa Beach, known for his love of sun, sand and fine cigars, has died.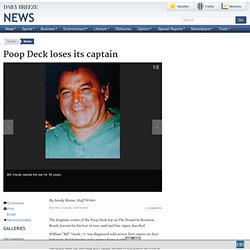 William "Bill" Vacek, 77, was diagnosed with severe liver cancer six days before he died Saturday at his sister's home in Omaha, Neb. His death came the morning after family members celebrated the Fourth of July with food, darts and horseshoe throwing - a gathering Vacek didn't want them to skip, even though he was bed-ridden, said his brother-in-law Ray "RZ" Zigozda. The lifelong bachelor, who made a daily ritual of smoking cigars on the deck of his home on The Strand and attending to his beachfront bar, told his family he had a good life. "He said, `I was alone but I was never lonely,"' said his sister, Dorothy Zigozda.
Redondo Beach, California, Ghost Sightings.
---