Chrome Apps
Penetration Testing Tools - IT Best Practice. Penetration Testing is not a small task.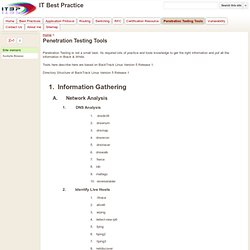 Its required lots of practice and tools knowledge to get the right information and put all the information in Black & White. Tools here describe here are based on BackTrack Linux Version 5 Release 1. Directory Structure of BackTrack Linux Version 5 Release 1 A. Network Analysis. NewsSquares for Chrome - Come and Try! Hello fans of FeedSquares!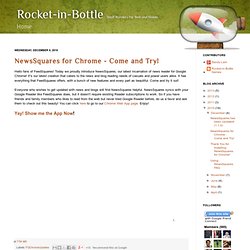 Today we proudly introduce NewsSquares, our latest incarnation of news reader for Google Chrome! It's our latest creation that caters to the news and blog reading needs of casuals and power users alike. It has everything that FeedSquares offers, with a bunch of new features and every part as beautiful. Come and try it out! Everyone who wishes to get updated with news and blogs will find NewsSquares helpful. Getting Started | | Dizzle AppsDizzle Apps. I'm Changing Stuff Up!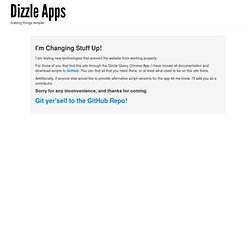 I am testing new technologies that prevent the website from working properly. For those of you that find this site through the Dizzle Query Chrome App, I have moved all documentation and download scripts to GitHub. Chrome - Click&Clean. Rate 5 Stars The #1 Private Data Cleaner for Chrome Browser Private Data Cleaner.Click&Clean is a free, fast and easy-to-use extension for Chrome that can be used as a powerful private data Cleaner.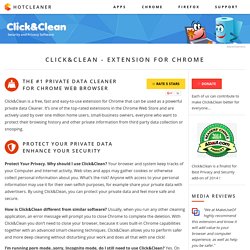 It's one of the top-rated extensions in the Chrome Web Store and are actively used by over 400000 home users, small-business owners, everyone who want to protect their browsing history and other private information from third party data collection or snooping.
---