Infos
L'économie décryptée. Tout de suite. - E24.fr
OpenSecrets.org: Money in Politics -- See Who's Giving &amp
Et oui, avant de commencer, il convient d'abord de s'assurer de savoir ce que l'on met derrière la notion de "communauté de marque". Est-ce que cela revient à juste développer sa présence sur Facebook, MySpace, FlickR, Youtube et autre Twitter ? Est-ce que c'est la même chose que de lancer une opération de crowdsourcing ? Est-ce que la politique de CRM (Customer Relationship Management) d'une marque est déjà le premier pas vers une une démarche communautaire ? Bref, plein de questions que beaucoup de marques se posent. Tout d'abord, il convient de ne pas utiliser le mot "communauté" comme un buzzword supplémentaire que l'on peut mettre à toutes les sauces.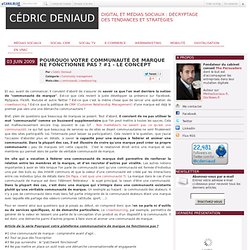 Pourquoi votre communauté de marque ne fonctionne pas ? #1 - Le
100 Essential Green Internet Resources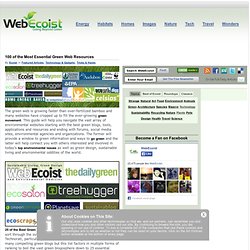 The green web is growing faster than over-fertilized bamboo and many websites have cropped up to fill the ever-growing green movement. This guide will help you navigate the vast array of environmental websites starting with the best green blogs, tools, applications and resources and ending with forums, social media sites, environmental agencies and organizations. The former will provide a window to green information and ways to go green and the latter will help connect you with others interested and involved in today's top environmental issues as well as green design, sustainable living and environmental oddities of the world. 25 of the Best Green Blogs and News Websiites: How does one begin to sort through the overwhelming 6,000 environmental blogs listed on Technorati, particularly with new sites cropping up daily?
Cookies on the New Scientist website close Our website uses cookies, which are small text files that are widely used in order to make websites work more effectively. To continue using our website and consent to the use of cookies, click away from this box or click 'Close' Find out about our cookies and how to change them
Environment news and global warming articles from New Scientist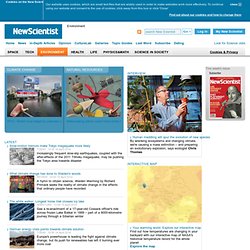 Andy Sernovitz's Damn, I Wish I'd Thought of That!
Chaîne du développement durable - Vidéos et actualités - Alterna
Chris Jarvis, President of Realized Worth, talks to us about why it's important for companies, today, to change their approach when dealing with stakeholders. Chris Jarvis thinks that companies need to rethink the term "stakeholders". He says that people who are "born connectors" are those that can successfully navigate social networks by transmitting information and connecting people in order to start an online dialogue. According to Jarvis, these individuals should be considered the true "influencers".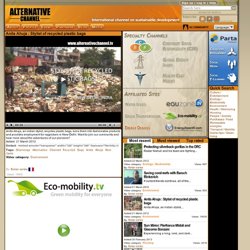 Le Plan B - Accueil
Causeur
Ecolo-Info » Se cultiver/Papoter » Le boom des réseaux sociaux é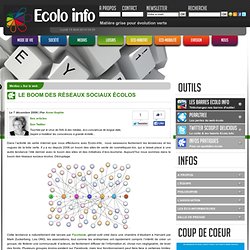 Dans l'activité de veille internet que nous effectuons avec Ecolo-Info, nous saisissons facilement les tendances et les vogues de la toile verte. Il y a eu depuis 2006 un boom des sites de vente de cosmétiques bio, qui a laissé place à une autre tendance l'été dernier avec le boom des sites et des initiatives d'éco-tourisme. Aujourd'hui nous sommes dans le boom des réseaux sociaux écolos.
This incomplete list is not intended to be exhaustive. This list pertains to current, widely held, erroneous ideas and beliefs about notable topics which have been reported by reliable sources. Each has been discussed in published literature, as has its topic area and the facts concerning it. Note that the statements which follow are corrections based on known facts; the misconceptions themselves are referred to rather than stated. History Ancient to early modern history
List of common misconceptions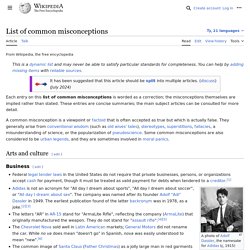 popacular - popular delicious bookmarks
Les performances de l'e-mailing au premier semestre 2008 su
Urban Dictionary, November 24: Economic Vegetarian
JDLE - Journal de l'environnement
Marianne2.fr | le site de l'hebdomadaire Marianne
Le cercle des ONG online
Etudes & Chiffres Clés | EMM Actu : E-mail marketing, revue
La FEVAD - 11/06/08 - Etude : les habitudes de consommation des
La FEVAD - 11/07/08 - Etude : les Français adeptes du e-tourisme
Libération - Toute l'actualité monde, politique, société, c
Actualités
After having imagined a new spectacular version of Facebook, Australian designer Fred Nerby tackles Twitter. In an online world where aesthetics, pictures and videos prevail more and more, and where tactile interfaces and variable resolutions have a great influence on ergonomic design, we must admit that Twitter and Facebook are not the most advanced websites… Some may think otherwise, but these two platforms, yet amongst the giants of the web, are do not have the finest design and are not always intuitive. On the one hand, Twitter clearly underestimates its visuals potential, which leads many twittos to opt for unofficial applications to connect to the platform. On the other, the amount of features Facebook offers sometimes it too complex… without mentioning that each new version is not always revolutionary.
Culture buzz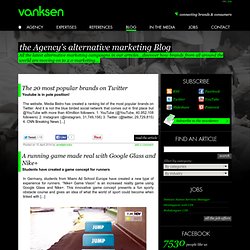 Marketing Alternatif
ecoloPop
NOVETHIC