Astronomy
International Meteor Organization | International Collaboration in Meteor Science
The Very Large Telescope array (VLT) is the flagship facility for European ground-based astronomy at the beginning of the third Millennium. It is the world's most advanced optical instrument, consisting of four Unit Telescopes with main mirrors of 8.2m diameter and four movable 1.8m diameter Auxiliary Telescopes. The telescopes can work together, to form a giant 'interferometer', the ESO Very Large Telescope Interferometer , allowing astronomers to see details up to 25 times finer than with the individual telescopes. The light beams are combined in the VLTI using a complex system of mirrors in underground tunnels where the light paths must be kept equal to distances less than 1/1000 mm over a hundred metres. With this kind of precision the VLTI can reconstruct images with an angular resolution of milliarcseconds, equivalent to distinguishing the two headlights of a car at the distance of the Moon.
The Very Large Telescope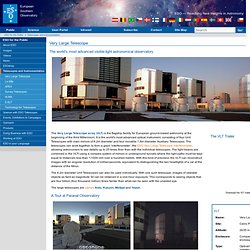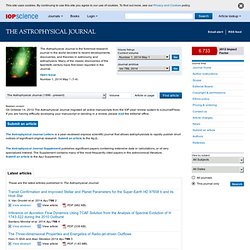 This site uses cookies. By continuing to use this site you agree to our use of cookies. To find out more, see our Privacy and Cookies policy. ISSN 0004-637X (Print) ISSN 1538-4357 (Online)
science::.. The Astrophysical Journal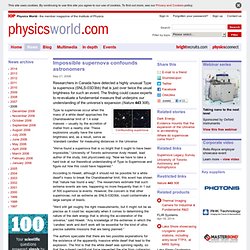 Impossible supernova confounds astronomers
Researchers in Canada have detected a highly unusual Type Ia supernova (SNLS-03D3bb) that is just over twice the usual brightness for such an event. The finding could cause experts to re-evaluate a fundamental measure that underpins our understanding of the universe's expansion ( Nature 443 308). Type Ia supernovae occur when the mass of a white dwarf approaches the Chandrasekhar limit of 1.4 solar masses -- usually by the accretion of matter from a nearby star. These explosions usually have the same brightness and, as a result, serve as 'standard candles' for measuring distances in the Universe. "We've found a supernova that is so bright that it ought to have been impossible," University of Toronto astronomer Andy Howell, lead author of the study, told physicsweb.org . "Now we have to take a hard look at our theoretical understanding of Type Ia Supernovae and figure out how this could have happened."
hypervelocity star
A star that is ejected at very high velocity (on the order of 1,000 km/s) from the center of a galaxy due to interaction with a massive central black hole. The existence of hypervelocity stars was first proposed in 1988. Computer models indicated that hypervelocity stars ought to be a natural consequence of binary stars coming close to the supermassive black hole known to exist at the heart of our own Milky Way Galaxy . When a binary swings too close to the central black hole, the intense gravity can tear the binary apart, capturing one star while violently flinging the other outward at enormous speed.