History Of Tyranny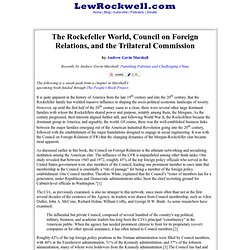 by Andrew Gavin Marshall
The Rockefeller World, Council on Foreign Relations, and the Trilateral Commission by Andrew Gavin Marshall
Esoteric Agenda - Full Documentary
The Language of Slavery - Sophia
In these days of endless waiting, it occurs to me that even a bank account filled beyond comprehension will not alter the mindset of slavery. A lifetime of ownership has left deeply rooted beliefs and habits of speech.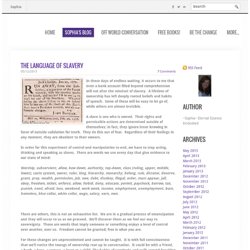 The Committee of 300: A Brief History of World Power... Venetian Black Nobility, Roots of Today's Ruling Oligarchy by Dr.
Oligarchy - Venetian Black Nobility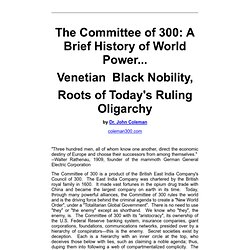 World Economic super power
Rings Within Rings: How Secret Societies Direct World Politics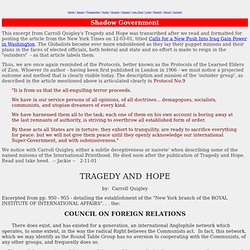 Home | Issues | Perspective | Audio | Guests | Images | Live Chat | Links | Search | About | Contact
Shadow Government | Tragedy and Hope by Carroll Quigley

The Rothschilds have been in control of the world for a very long time, their tentacles reaching into many aspects of our daily lives, as is documented in the following timeline. However, before you jump to the timeline, please read this invaluable introduction which will tell you who the Rothschilds are as oppose to who they claim to be. The Rothschilds claim that they are Jewish, when in fact they are Khazars.
Timeline of the Rothschild family
Consider the Evil of the Rothschilds Banking Cabal « Confessions of a Former White Hat Operative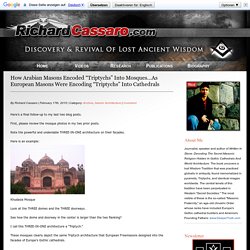 Here's a final follow-up to my last two blog posts. First, please review the mosque photos in my two prior posts. Note the powerful and undeniable THREE-IN-ONE architecture on their facades.
Richard Cassaro » History of the Freemasons
Secrets In Plain Sight
Secrets in Plain Sight 1-23 (Full video)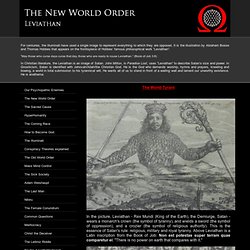 Leviathan
The World Tyrant In the picture, Leviathan - Rex Mundi (King of the Earth), the Demiurge, Satan - wears a monarch's crown (the symbol of tyranny), and wields a sword (the symbol of oppression), and a crozier (the symbol of religious authority). This is the essence of Satan's rule: religious, military and royal tyranny. Above Leviathan is a Latin inscription from the Book of Job: Non est potestas super terram quae comparetur ei: "There is no power on earth that compares with it."
DVDs - Secret Societies
PROOFS OF A CONSPIRACY AGAINST ALL THE RELIGIONS AND GOVERNMENTS
The Vatican and The Jesuits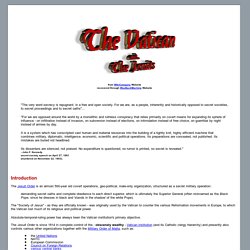 from WikiCompany Website recovered through WayBackMachine Website "The very word secrecy is repugnant, in a free and open society.
Bill Cooper with Jordan Maxwell FULL - Mystery Babylon - Hour of the Time
Tragedy and Hope – An Introduction « WealthMoney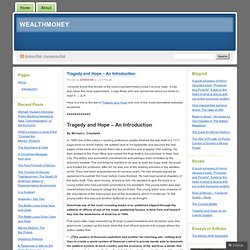 I recently found this review of the most important history book I've ever read. It has also been the most suppressed. I urge those who are concerned about our times to read it. – JLH
Canada's Great Experiment: 1935-1974 (Bill Abram, part 2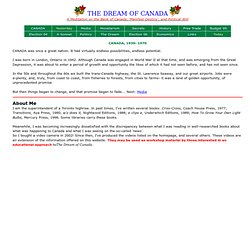 CANADA was once a great nation.
www.thedreamofcanada.ca/
Alan Watt's Transcripts
PDF files:
www.federalreserve.gov/monetarypolicy/0693lead.pdf
UNDERSTANDING MONEY | Living Economies Forum
PCDForum Article #15 Release Date June 1, 1996 by John H.
Canada Issued Debt-Free Money From 1935-1974
1) We Canadians have been without lawful federal and provincial governments since 1931, and actually, since 1901.
Canadian Magna Carta
The Story of Your Enslavement
The Law: 1 Sovereigns, time to stand up! Reclaim your rights
The Law 2 Sovereigns, time to stand up! Reclaim your rights
The Law 3 Sovereigns, time to stand up! Reclaim your rights
The Law 4 Sovereigns, time to stand up! Reclaim your rights
The Law 5 Sovereigns, time to stand up! Reclaim your rights
The History of Political Correctness (Complete)
Financial Tyranny – David Wilcock « FreedomClub CANADA
David Wilcock is a professional lecturer, filmmaker and researcher of ancient civilizations, consciousness science, and new paradigms of matter and energy. Along with Wynn Free, Wilcock co-authored the book The Reincarnation of Edgar Cayce in 2004. Wilcock has appeared on several radio programs, including semi-regular appearances on Coast to Coast AM, and he had a role in the Syfy documentary 2012.
FINANCIAL TYRANNY: The Final Sections
david wilcock full interview of benjamin fulford 12-02-2011 - The End of Financial Tyranny
FINANCIAL TYRANNY: Defeating the Greatest Cover-Up of All Time
www.vigli.org/FINANCIAL_TYRANNY_Defeating_the-Greatest_Cover-Up_of_All_Time_David-Wilcock_Feb-13-2012.pdf
Hidden No Longer: Genocide in Canada, Past and Present « FreedomClub CANADA
by Kevin D. Annett, M.A., M.Div. This book is dedicated to the more than 50,000 children who died in "Indian residential schools" operated jointly by the government of Canada and the Roman Catholic, Anglicanand United Church of Canada – and to those who continue to suffer and die from the consequences of these crimes.
Hidden From History > Home
Hidden from History: The Canadian Holocaust
BOOK: Hidden No Longer: Genocide in Canada, Past and Present - by Kevin D. Annett, M.A., M.Div.
Kevin Annett 15 September 2012 Announcement
CANADA: A COUNTRY WITHOUT A CONSTITUTION « FreedomClub CANADA
Kuhl
The Creature from Jekyll Island « FreedomClub CANADA
The Creature from Jekyll Island (Audio)
The Creature From Jekyll Island (by G. Edward Griffin)
The goldsmith who became a banker « FreedomClub CANADA
Historic Breakdown of Banking « FreedomClub CANADA
Illuminati, Nazis and the Illegal State of Israel
Nazis (& alike) did not lose WW2 according to Charlotte Iserbyt - 'Skull & Bones'? see Movie 'Skull'
The REAL History of Canada « FreedomClub CANADA
Citizens for a Canadian Republic / Replacing the Queen on Canada's currency
The Historyo Republicanism in Canada
Canadian Charter RightsDiminished by Outdated British Act