Exopolotics
Moon Rising Full Disclosure Version By Jose Escamilla. UFOs Over Vancouver, BC Canada March 29th. Almost 7 Hours David Icke Non Stop - Human Race Get Off Your Knees "The Lion Sleeps No More" Fastwalkers - UFO Documentary FULL. Bob Dean Presents US Government Disclosure Refusal on UFOs. John lenard walson. Russian Prime Minister claims extraterrestrials live among us. On Friday, December 7, the current Russian Prime Minister and former President, Dmitry Medvedev, made some startling off-air comments to reporters while his microphone was still switched on.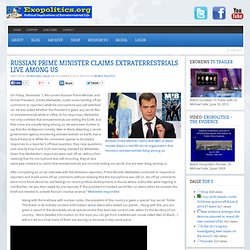 He was asked whether the President is given any secret files on extraterrestrials while in office. In his responses, Medvedev not only confided that extraterrestrials are visiting the Earth, but that some are actually living among us. He went even further to say that the Hollywood comedy, Men in Black, depicting a secret government agency monitoring extraterrestrials on Earth, has a factual basis to it. While the comments appear to be playful responses to a reporter's off-beat question, they raise questions over exactly how much truth was being revealed by Medvedev. Out of the Blue - Full HD UFO Movie. The Lion Sleeps No More - Moon Control. David Icke: The Lion Sleeps No More [1/2 FULL] The True History and Purpose of NASA. Secret Space Program: Richard Dolan [Full Length] Www.boomslanger.com/images/american_space_program.pdf. Canadian politician defends aliens, says Stephen Hawking is wrong. Montreal - Author of "A Brief History of Time" Stephen Hawking is wrong when it comes to contact with aliens, according to former Canadian Defence Minister Paul Hellyer who believes extraterrestrials have contributed to human technological advancements.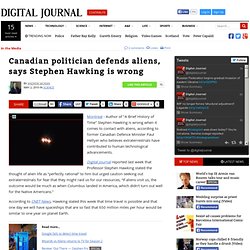 Digital Journal reported last week that Professor Stephen Hawking stated the thought of alien life as "perfectly rational" to him but urged caution seeking out extraterrestrials for fear that they might raid us for our resources, "If aliens visit us, the outcome would be much as when Columbus landed in America, which didn't turn out well for the Native Americans." According to CNET News, Hawking stated this week that time travel is possible and that one day we will have spaceships that are so fast that 650 million miles per hour would be similar to one year on planet Earth.
Read more... Paul hellyer. Former Canadian Defence Chief Paul Hellyer & UFOs | UFO News Articles and Editorials. Former Canadian Defence Chief takes up cause of UFOs.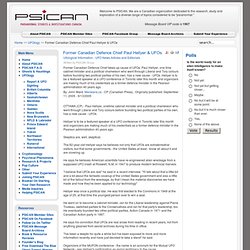 Paul Hellyer, one time cabinet minister and a political chameleon who went through Liberal and Tory colours before founding two political parties of his own, has a new cause - UFOs. Hellyer is to be a featured speaker at a UFO conference in Toronto later this month and organizers are making much of his credentials as a former defence minister in the Pearson administration 40 years ago. By: John Ward, Macleans.ca - CP (Canadian Press), Originally published: September 11, 2005 - 9/13/2005 OTTAWA (CP) - Paul Hellyer, onetime cabinet minister and a political chameleon who went through Liberal and Tory colours before founding two political parties of his own, has a new cause - UFOs. Paul Hellyer and the Politics of Exopolitics. Paul Hellyer Former Canadian Minister of Defence Paul Hellyer, a former Minister of Defence in the Pearson Government, has announced his belief that UFOs are real and that the US is developing weapons systems for space which are to be used against alien craft entering earth's airspace.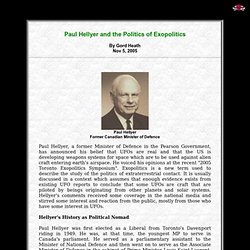 He voiced his opinions at the recent "2005 Toronto Exopolitics Symposium". Exopolitics is a new term used to describe the study of the politics of extraterrestrial contact. It is usually discussed in a context which assumes that enough evidence exists from existing UFO reports to conclude that some UFOs are craft that are piloted by beings originating from other planets and solar systems. Hellyer's comments received some coverage in the national media and stirred some interest and reaction from the public, mostly from those who have some interest in UFOs.Hellyer's History as Political NomadPaul Hellyer was first elected as a Liberal from Toronto's Davenport riding in 1949.
Paul Hellyer - The Shadow Government, UFOs & Clean Energy. GlobalFraud-Paul Hellyer-UFO Congress.pdf. UFOs, ETs, Crop Circles and Close Encounters. Hollow Earth. Crop Circles. Exopolitics Canada. Canadian Government's UFO Website. Our neighbor to the north's UFO interests have paralleled those here in the United States, and at one point there was a joint effort to collect reports and send them to North American Aerospace Command (NORAD) headquarters in Colorado.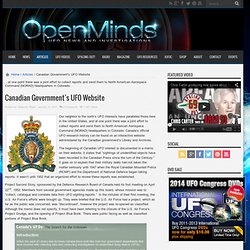 Canada's official UFO research history can be found on an interactive website administered by the Canadian government's Library and Archives. The beginning of Canadian UFO interest is documented in a memo on their website, it states that "sightings of unidentified objects have been recorded in the Canadian Press since the turn of the Century." It goes on to explain that their military really had not taken the matter seriously until 1947 when the Royal Canadian Mounted Police (RCMP) and the Department of National Defence began taking reports.
It wasn't until 1952 that an organized effort to review these reports was established. BLACK PROJECTS : FOLLOW THE MONEY. A Special Report by Kerry Cassidy, Project Camelot BLACK_PROJECTS_FOLLOW_THE_MONEY.pdf The Truth Behind the Matrix Note: the following report was written to accompany White Hat Report #48 which has as of this date been delayed and may possibly never see the light of day due to either quiet coercion behind the scenes or outright threats to the life of certain members of the group known as "The White Hats" who publish reports on a fairly regular basis revealing financial corruption at the highest levels of government specifically in the U.S. but also involving other world powers and players.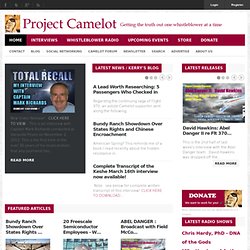 Shadow Ops Pilot. 1950 Project Magnet - Timeline - Canada's UFOs: The Search for the Unknown. UFO Canadian Government Files. Within the vault of Library and Archives Canada there exist files from four government departments that were involved with collecting data and conducting investigations on unidentified flying objects (UFOs).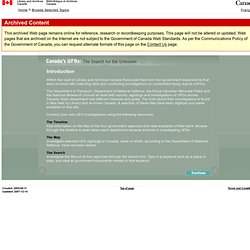 The Department of Transport, Department of National Defence, the Royal Canadian Mounted Police and the National Research Council all dealt with reports, sightings and investigations of UFOs across Canada. Each department had different interests and goals. The truth about their investigations is found in files held by Library and Archives Canada. A selection of these files have been digitized and made available on this site.
Conduct your own UFO investigations using the following resources: Canada's UFOs: The Search for the Unknown. Archived Content This archived Web page remains online for reference, research or recordkeeping purposes.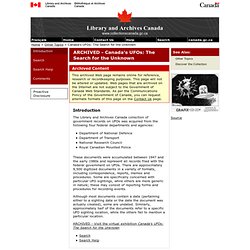 This page will not be altered or updated. Web pages that are archived on the Internet are not subject to the Government of Canada Web Standards. As per the Communications Policy of the Government of Canada, you can request alternate formats of this page on the Contact Us page. Introduction. UFO EVIDENCE - Scientific Study of the UFO Phenomenon.
GRIN. We established GRIN to help journalists, publishers, educators, authors and the general public find high-quality historical photos.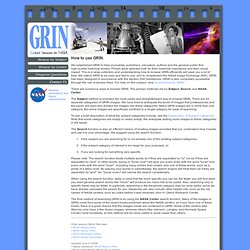 Photos were selected both for their historical importance and their visual impact. This is a large collection and understanding how to browse GRIN efficiently will save you a lot of time. We intend GRIN to be easy and fast to use, and to complement the NASA Image Exchange (NIX). GRIN has been designed in accordance with the Section 508 Guildelines. GRIN is also completely accessible through the use of Access Keys. UFO Digest provides video proof of ufos, alien abduction and the paranormal. | UFO DIGEST: UFO and Paranormal News From Around The World. NASA: Hidden UFO Imagery Hacked. Veterans Today, The craft shown above and in the video, we are informed, is in Australia without government approval.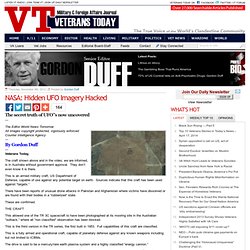 They don't even know it is there. 12 Real Documents That Treat UFOs Very Seriously (A.D. After Disclosure) Black-out, declassified UFO documents look rather cool, but most don't provide any evidence for aliens, and many of them are not even that interesting. But some are veryinteresting. Whether they prove that UFOs are aliens or something entirely different, they make it clear that this topic has been taken very seriously at high levels, and has been subject to a great deal of secrecy.
A.D. After Disclosure. Undeniable UFO Documentary [HD] New Paradigm OVNI 飞碟 НЛО ユーフォー UfoDisclosure2012. Coast to Coast AM - Nov 8 2012 - ET Contacts & Intervention C2CAM. Educating Humanity: Disclosure. Real UFOs - The latest ufo videos and News photos ovnis ovni. UFO spotted over Kentucky. Canine combat vet guards Pentagon halls Soldier's shocking airport surprise New Olympics ad will make you cry WWII veteran receives special gift Gay skater thought Olympics was impossible Donor puts $3,500 ring in donation bucket Simulator recreats what happened Passenger: A jet plane can't land there Ex-NTSB official explains how W.
Bob Dean - Extraterrestrial Intelligence. Bob Dean - International Conference on Alien Presence - Madrid 26-27 June 2010. 2012-03-18 Bob Dean Interview on our Galactic Family BEST INTERVIEW EVER. Open Minds. Journalist Leslie Kean talks UFOs on Open Minds Radio. The Disclosure Project - Briefing Document. Disclosure Project Briefing Document Download the files by right clicking on the link and choosing "Save Target As". We have several different formats for you to choose from: PDF File - Complete document including scanned government documents. - LARGE FILE - Size is about 40 Megabytes. The Disclosure Project. On Wednesday, May 9th, 2001, over twenty military, intelligence, government, corporate and scientific witnesses came forward at the National Press Club in Washington, DC to establish the reality of UFOs or extraterrestrial vehicles, extraterrestrial life forms, and resulting advanced energy and propulsion technologies.
The weight of this first-hand testimony, along with supporting government documentation and other evidence, will establish without any doubt the reality of these phenomena. Learn more » Watch the May 9, 2001 Press Conference. U.F.O DISCLOSURE PROJECT -FULL VERSION. Steven Greer's: Sirius (Trailer) Cseti.org. Sirius Documentary - 1st Week Update. 4 Hour Witness DVD - Part 1 of 2. 4 Hour Witness DVD - Part 2 of 2. 2 Hour Witness DVD.
Exopolitics. Classification of UFO testimonies - Dr. Michael Salla. Philadelphia Experiment - Al Bielek 1 of 16. David's Blog. Media Disinformation About Disclosure, Ascension. Black Projects: The Hole where 400 Billion of US Tax Dollars Goes Every Year. In this interview with Kerry Cassidy of Project Camelot, Michael Schratt shows and tells about the aircraft that the government built without our knowledge, with our money, since at least the 1950s. These recently declassified and still classified or outright denied projects are fascinating testimony to just SOME of the advanced technologies developed and hidden from us—no doubt under the stamp "national security". Michael shows us a binder of evidence he collected from test pilots of the secret craft, others he's spoken with, and research he's done on his own from government sources—with LOTS of photos, diagrams and conceptual drawings.
He speaks of the Honda Stealth bombers and other black budget aircraft as well as technologies that make them able to cruise at 90,000 feet (twice that of a commercial airliner) at high speed, slip through radar undetected; one of which uses the rear window of a Corvette as a windscreen. Interesting. Earthfiles.com Headline News. Alien Planet "Full Documentary" Canadian UFO sightings on the rise, merit study. The Canadian UFO Survey. CANAIDAN UFO News Articles. Canada's X-Files | UFO News Articles and Editorials. Optical Power Output. Secret memo shows JFK demanded UFO files 10 days before assassination. DVDs - Aliens & UFOs. Dolores Cannon - Important Information 2012. UFO*BC HomePage. Alberta UFO Study Group (AUFOSG) - Home. The Yukon Report. MUFOF.
---