Sites tourisme
25 gîtes haut de gamme 3 types de gîtes fonctionnels de 2 à 8 personnes, construits en béton brut dans un style épuré, des toits végétalisés, une température optimisée grâce à la thermorégulation du sol et une ventilation naturelle. Voir sans être vu… Vous êtes immergés en pleine nature.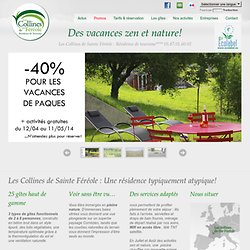 Les Collines de Sainte-Féréole : Résidence de tourisme, située près de Brive-la-Gaillarde en Corrèze...
Actualités | Office du tourisme de Brive La Gaillarde
Brive-la-Gaillarde Tourisme - Vacances à Brive-la-Gaillarde, France
Parallels is a worldwide leader in virtualization and automation software that optimizes computing for consumers, businesses, and Cloud services providers across all major hardware, operating systems, and virtualization platforms. For the Cloud, Parallels automation and virtualization software enables cloud services providers to rapidly and profitably deliver the widest range of cloud services that small businesses want and need. Our software includes key building blocks of cloud service delivery - self service control panels, billing, cloud service provisioning and virtualization. We enable the delivery of all types of services that small businesses need - shared web hosting and web applications, messaging and collaboration services, virtualized infrastructure services and thousands of other applications.
Icare, le festival du tourisme responsable, à Brive-La-Gaillarde