Plugins firefox
seriously out-of-date Rated 2 out of 5 stars by HarveyG on March 27, 2014 · permalink · translate I'm running Firefox 25.0 on Windows XP SP3. My purpose: to spoof my XP op system as Vista, because some websites may refuse to connect to XP after April 8, 2014. Some banks have already given notice that they're sunsetting XP after that date. After installation of this add-on there was no icon or menu available to switch anything.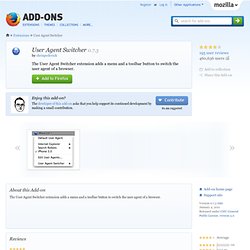 Dictionary/Dicionário pt-BR
Dizionario italiano
Please report support issues at: http://www.mozdev.org/mailman/listinfo/flashblock This mailing list is public, other people can see your messages including your email address. To send private email please use our contact webpage at: http://flashblock.mozdev.org/contact.html Flashblock 1.5.14 doesn't work on Firefox 2.0.0.x.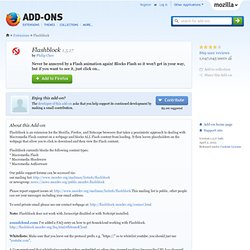 The Development Channel lets you test an experimental new version of this add-on before it's released to the general public. Once you install the development version, you will continue to get updates from this channel. To stop receiving development updates, reinstall the default version from the link above. Install development version
FlashGot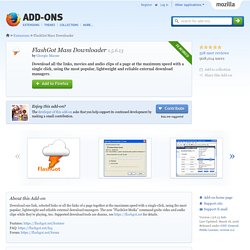 To categorize: Currículo Riccardo Campisano Links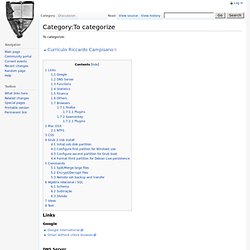 Category:To categorize - campisano.org