Illustrateurs
catch de dessin
Julien Grataloup
GROTESK
Mal faits
merci Cyndi, ça fait un bail que j'ai passé l'age d'etre stagaire, mais je vais voir avec ceux que j'exploite a mon tour ce qu'ils en pensent ;-)) by camillepillias Dec 4
Sophie Leblanc ILLUSTRATION
"La Genèse" par Robert Crumb, épisode 1 - Le fil livres - Téléra
Connectez-vous à Facebook et partagez vos affinités culturelles. "La Genèse" par Robert Crumb, épisode 1 Feuilleton BD | Jusqu'au 19 août, "Télérama" publie en exclusivité des extraits du Livre de la Genèse revu par le dessinateur américain Robert Crumb. Vous pourrez retrouver les épisodes de cette BD chaque dimanche sur Télérama.fr. Cliquez donc sur l'image en haut à gauche !
WIRED MAGAZINE : Pandayoghurt
postics.com
Paloma Valdivia Ilustraciones
The Bibles
The Bibles Here are the bibles I've had the pleasure of scanning into posterity. Unless otherwise noted, all are scanned from original sources.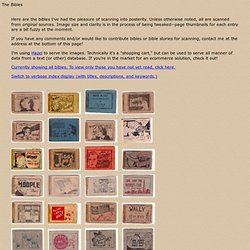 Galerie de Adam the Velcro Suit