Linux
xampp pour linux
kino Installation Préalablement on installera les outils de base pour piloter votre liaison IEEE1394 (firewire) grâce à la page qui leur est consacrée. On récupèrera la dernière version stable de kino sur le site http://www.kinodv.org on décompresse l'archive en tapant tar xvfz kino-1.3.4.tar.gz Cela donne le répertoire kino-1.3.4 on veillera à ce que les packages suivants soient installés intltool, libiec61883-devel (si vous avez une entrée firewire) libsamplerate-devel et libglade2-devel (libglade2-dev sous ubuntu).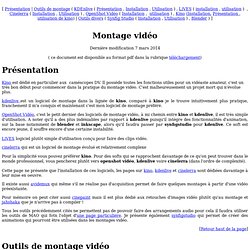 Montage vidéo sous linux
Cetril : Accueil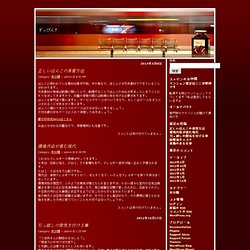 2014年3月8日 正しいはんこの保管方法 はんこに使われている素材は象牙や柘、牛の角など、ほとんどが天然素材でできていることがわかります。 天然素材の特徴は乾燥に弱いことで、乾燥することではんこの劣化が早まってしまうことにもつながってきますので、印鑑の保管の際には乾燥に気を付ける必要があります。 はんこを専門店で買いますと、サービスでケースがついてきたり、もしくはケースをオススメされることがあるかと思います。 はんこ一個につきひとつのケースは欠かせないと考えましょう。
In my example, the mount point is /media/mpdr1 and the FS is /dev/sdd1 /mountpoint-path = /media/mpdr1 filesystem=/dev/sdd1 Why this command ?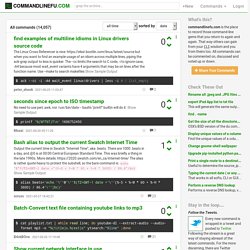 GetDeb is an unofficial project with the mission to provide the latest open source and freeware applications for the current Ubuntu Linux release, in an easy to install manner. The GetDeb repository extends the official repositories by providing latest versions and new applications. Unlike the official packages, GetDeb packages do not have a predefined release schedule - new software versions are provided as they become available from their authors.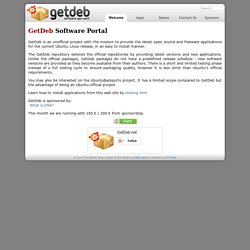 Les applications GNOME - La solution
Introduction Le programmes sont classifiés par le Menu GNOME. Le nom est écrit tel qu'il se trouve dans le Menu Gnome, à ne pas le prendre pour le nom de l'application elle même. Ce ne sont que des entrées dans un menu, donc le nom est choisi(traduit) par les développeurs de la distribution. J'ai utilisé GNU/Linux DEBIAN, mais je ne pense pas qu'il a des grandes différences avec les autres distributions. Je n'ai pas pris en compte le Menu GNOME Debian qui est caractéristique à la distribution.
http://linux-sound.org/ddj.html
Linux MAO