SITES ORIGINAUX MEDIAS
Achat de smartphone, tablet, produits high-tech : photo/vidéo - EXPANSYS France. Welcome to ReminderFox! Thank you for installing ReminderFox!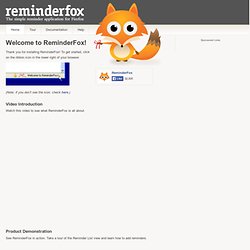 To get started, click on the ribbon icon in the lower right of your browser. (Note: if you don't see the icon, check here.) Video Introduction Watch this video to see what ReminderFox is all about. Amour 2.0. AMOUR 2.0, le clic qui vous évitera le clash. PEKIN UNDERGROUND. MONDE : Un oeil sur la Toile - La chronique web de Laure Constantinesco.
---