Distributions
Cauchy distribution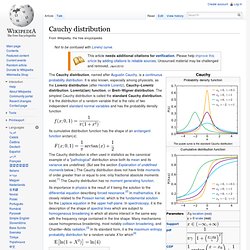 The Cauchy distribution, named after Augustin Cauchy, is a continuous probability distribution.
Many probability distributions are so important in theory or applications that they have been given specific names.
List of probability distributions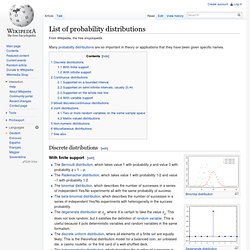 Stable distribution
In probability theory, a random variable is said to be stable (or to have a stable distribution) if it has the property that a linear combination of two independent copies of the variable has the same distribution, up to location and scale parameters. The stable distribution family is also sometimes referred to as the Lévy alpha-stable distribution.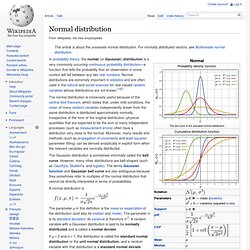 In probability theory, the normal (or Gaussian) distribution is a very commonly occurring continuous probability distribution—a function that tells the probability that an observation in some context will fall between any two real numbers. For example, the distribution of grades on a test administered to many people is normally distributed. Normal distributions are extremely important in statistics and are often used in the natural and social sciences for real-valued random variables whose distributions are not known.[1][2]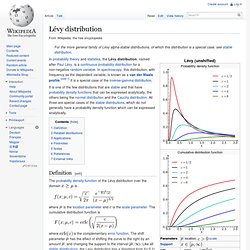 Lévy distribution
Definition[edit]
In probability and statistics, the Yule–Simon distribution is a discrete probability distribution named after Udny Yule and Herbert A. Simon. Simon originally called it the Yule distribution.[1]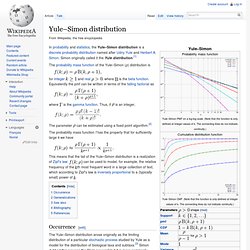 Yule–Simon distribution
In probability theory and statistics, the generalized extreme value (GEV) distribution is a family of continuous probability distributions developed within extreme value theory to combine the Gumbel, Fréchet and Weibull families also known as type I, II and III extreme value distributions.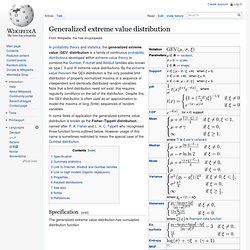 Generalized extreme value distribution
In probability theory and statistics, the Gumbel distribution is used to model the distribution of the maximum (or the minimum) of a number of samples of various distributions.
Gumbel distribution
Gompertz function
A Gompertz curve or Gompertz function, named after Benjamin Gompertz, is a sigmoid function.