Blog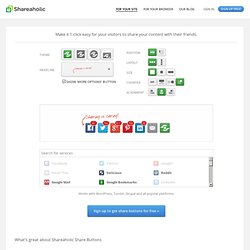 Usage and Installation Guide | SexyBookmarks (by Shareaholic)
Make it easy for your visitors to share your content with their networks. Works on WordPress, Tumblr, Drupal and many other platforms. Sign up to get free share buttons What's great about Shareaholic Share Buttons Simple installation that's easy to update and tweak as you go.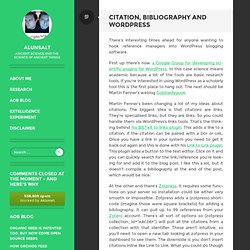 Citation, Bibliography and Wordpress
Alun Digital Academia 3 Comments Bibliography , Citation , WordPress There's inter­est­ing times ahead for any­one want­ing to hook ref­er­ence man­agers into Word­Press blog­ging software. First up there's now a Google Group for devel­op­ing sci­entific plu­gins for Word­Press . In this case sci­ence means aca­demic because a lot of the tools are basic research tools. If you're inter­ested in using Word­Press as a schol­arly tool this is the first place to hang out.