Meaningful Thought/Writing
Randy Nelson is Dean of Pixar University and gives a really nice 9-min talk below with important content for all professionals and students. The talk is called Learning and Working in the Collaborative Age. Pixar is the kind of company that focuses hard on the development of its people, and Nelson is someone who has a lot of experience helping very creative people communicate and collaborate better.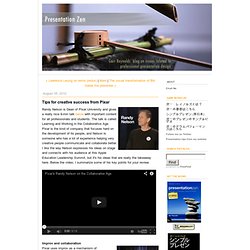 Tips for creative success from Pixar
The Way We Work Is Changing - Hannah Morgan
by Alexandra Samuel | 9:30 AM July 15, 2010 [Visit Alexandra Samuel's new blog on HBR.org at http://blogs.hbr.org/samuel ] #thankyoujesus for irl and online friends. Couldn't live w/o either. Laptop down. It's IRL Face Time!
10 Reasons to Stop Apologizing for Your Online Life - Alexandra Samuel - The Conversation
by Matt Dixon and Lara Ponomareff | 8:36 AM July 28, 2010 Have you ever walked into an airport, seen that there is nobody in line at the check-in counter, but still made a bee-line for the self-service kiosk? Better yet, have you ever waited in line for an ATM machine even though there is nobody in line for the teller inside the bank?
Why Your Customers Don't Want to Talk to You - Matt Dixon and Lara Ponomareff - The Conversation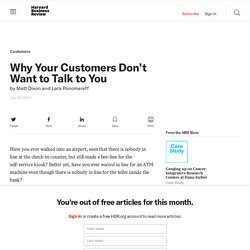 by Michael Schrage | 10:38 AM July 29, 2010 With innovation, entrepreneurship and significantly smarter fiscal policies, America should eventually escape its "hireless recovery." But what won't hasten new hiring — and might even dampen job prospects — is the mythical belief that higher education invariably leads to higher employment and better jobs.
Higher Education Is Overrated; Skills Aren't - Michael Schrage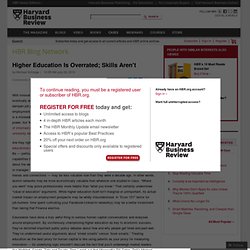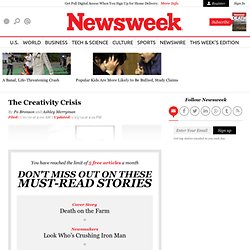 The potential consequences are sweeping. The necessity of human ingenuity is undisputed. A recent IBM poll of 1,500 CEOs identified creativity as the No. 1 "leadership competency" of the future.