Guides
en Inde
T'es jeune et tu as envie de jouer avec ta moto ? Tu aimes faire des donuts en faisant crisser les pneus ? « Oh la vache », a-t-on entendu sur les lieux de l'accident. Il n'aura pas pu prendre le taureau par les cornes qu'il devait déjà s'échapper à cheval sur sa moto. Ah, les grands nombres indiens… Difficile de s'y retrouver, surtout quand on parle de corruption sommes importantes ! Voici un tableau d'équivalences qui pourrait être utile: écriture indienne écriture internationale 1 lakh 1'00'000 100'000 10 lakhs 1 million 1 crore 1'00'00'000 10'000'000 ou 1 crore 100 lakhs 10 millions 10 crores 100 millions 100 crores Lire la suite…
Buzz Voyage(s)
All India Travel Guide,Travel Guide India,Travel to India,India Travel,Travel to India,India Tourism,India Travel Tourism,Travel Information India,India Tour Info,India Tour Guide,Online Tour Guide to India
The spirit of India has fascinated the world with its mystical culture. A subcontinent with an intriguing 5000-year old history, a civilization divided and united by its diversity, a land enhanced by the richness of its culture. India is an invitation to come and discover the turbulence and triumphs of a glorious past. At All India Travel Guide, we specialise in customised travel packages for business and leisure travellers that thirst for the 'difference'.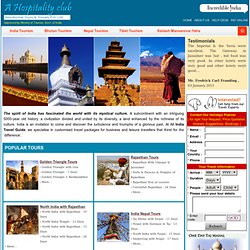 Buzz Voyage(s)
Guide de Voyage | préparer votre voyage avec Guidevoyage.org
Guide Essentiel du Tourisme à Barcelone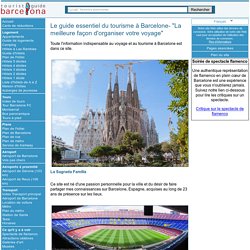 Toute l'information indispensable au voyage et au tourisme à Barcelone est dans ce site. Ce site est né d'une passion personnelle pour la ville et du désir de faire partager mes connaissances sur Barcelone, Espagne, acquises au long de 20 ans de présence sur les lieux. C'est pourquoi je me suis concentré sur les questions les plus importantes à propos des transports, activités et attractions, logements y compris la location d'appartement à Barcelone qui devient de plus en plus populaire face aux prix des hôtels.
Tourisme :: Le camping plébiscité par les Français
Portail Brésilien du Tourisme
visit USA.org