Cookies
bake it: peppermint Bark
I love this time of the year! I feel like a busy kitchen elf, baking cookies, making sweet breads and my famous peppermint bark.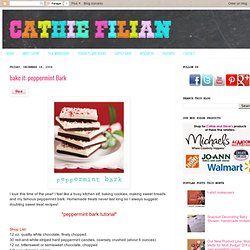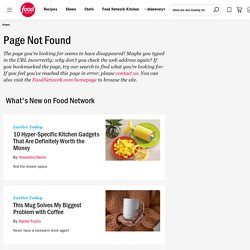 Peanut Butter and Chocolate Biscotti Recipe : Food Network Kitchens
Ingredients 10 tablespoons unsalted butter (1 stick plus 2 tablespoons) 2 1/2 cups all-purpose flour 2 3/4 teaspoons baking powder 1/2 teaspoon fine salt 3 large eggs 1 1/4 cups sugar 2 teaspoons pure vanilla extract 1/2 cup smooth natural peanut butter, room temperature 1 1/4 cups dry roasted peanuts 1 1/4 cups chopped dark chocolate or chocolate chunks (about 6 ounces) Directions
There are a number of stories as to where this cookie came from.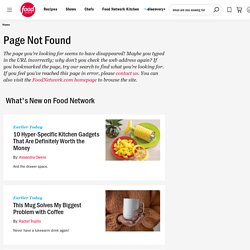 Peanut Butter Nanaimo Bar (Canada) Recipe : Food Network Kitchens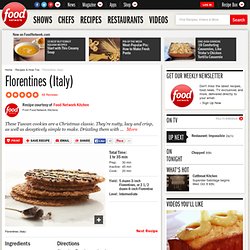 These Tuscan cookies are a Christmas classic.
Florentines (Italy) Recipe : Food Network Kitchens
Chocolate Shortbread with White Chocolate Sauce Recipe : Alexandra Guarnaschelli
Ingredients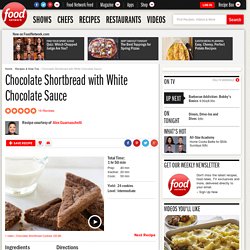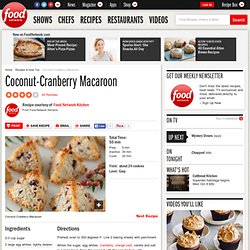 Coconut-Cranberry Macaroon Recipe : Food Network Kitchens
Ingredients 2/3 cup sugar 2 large egg whites, lightly beaten 1/2 cup dried cranberries, finely chopped Finely grated zest of 1 orange 2 teaspoons pure vanilla extract 1/2 teaspoon fine salt 3 cups (about 8 ounces) finely shredded unsweetened coconut
peppermint bark recipe at kraftcanada
Butter Mint Cookies Recipe
Peanut Butter Bites Recipe
Brown Sugar Shortbreads Recipe
Chocolaty Caramel Thumbprints Recipe
Buttery Oatmeal Crisps Recipe
Mint Crinkles Recipe
Cranberry Pistachio Biscotti Recipe
Salty-Sweet Butterscotch Cookies
Salty-Sweet Butterscotch Cookies Recipe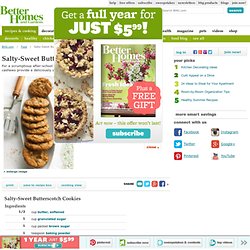 Chocolate-Raspberry Tassies Ingredients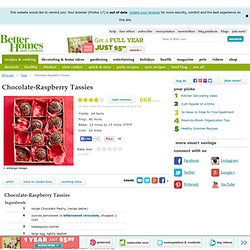 Chocolate-Raspberry Tassies Recipe