Accords ACTA
L'ACTA c'est quoi ?
L'ACTA ? C'est quoi ?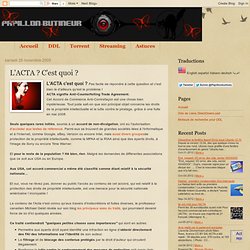 Chronologie
Following yesterday's column/post on ACTA, I thought it be useful to develop an ACTA timeline so that the progression of the still-secret treaty can be more easily understood.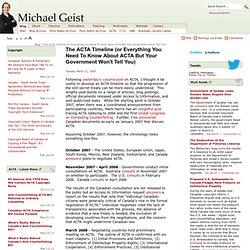 The Anti-Counterfeiting Trade Agreement ( ACTA ), is a multinational treaty for the purpose of establishing international standards for intellectual property rights enforcement. The agreement aims to establish an international legal framework for targeting counterfeit goods, generic medicines and copyright infringement on the Internet, and would create a new governing body outside existing forums, such as the World Trade Organization , the World Intellectual Property Organization , or the United Nations .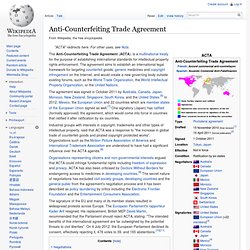 ACTA - We Re-Build
The Anti-Counterfeiting Trade Agreement negotiations continue in a few hours as Seoul, Korea plays host to the latest round of talks. The governments have posted the meeting agenda , which unsurprisingly focuses on the issue of Internet enforcement [UPDATE 11/4: Post on discussions for day two of ACTA talks , including the criminal enforcement provisions][UPDATE 11/5: Post on discussions for day three on transparency].
The ACTA Internet Chapter: Putting the Pieces To
Electronic Frontier Foundation:
La Quadrature du Net
Réactions/Analyses
ACTA : le traité secret impose riposte graduée et filtrage (MAJ)
Mise à jour : Des commentaires de l'Union Européenne sur la proposition américaine pour l'ACTA datés du 29 novembre ont fuité (.pdf) . Destinés aux négociations, ils confirment l'essentiel des rumeurs dont nous nous étions fait l'écho, avec quelques détails savoureux supplémentaires. Le "chapitre Internet" du traité est ainsi divisé en sept paragraphes : Obligations générales : le traité oblige les états signataires à mettre en place des mesures " efficaces " contre les violations aux droits d'auteur sur Internet, mais l'Union Européenne fait remarquer que le texte ne prévoit pas que les procédures doivent être " justes, équitables et/ou proportionnées ".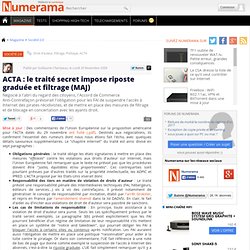 Vous avez aimé Hadopi ? Vous allez adorer l'ACTA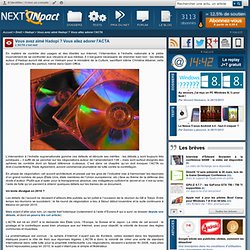 En matière de contrôle des usages et des libertés sur Internet, l'intervention à l'échelle nationale a le piètre inconvénient de se confronter aux citoyens et aux médias. Il n'est guère nécessaire de chercher bien loin : les débats autour d'Hadopi auront été ainsi un Vietnam pour le ministère de la Culture, sacrifiant même Christine Albanel, celle qui voyait des pare-feu partout, même dans Open Office. L'intervention à l'échelle supranationale gomme ces défauts et déroule ses mérites : les débats y sont toujours très juridiques – il suffit de se pencher sur les négociations autour de l'amendement 138 – mais sont surtout éloignés des sphères de contrôle dont on faisait référence ci-dessus. C'est dans ce chapitre qu'on doit évoquer l'ACTA ou Anti-Counterfeiting Trade Agreement , accord commercial plurilatéral de lutte contre la contrefaçon.
Paris, 12 novembre 2009 – Depuis le printemps 2008, l'Union européenne, les États-Unis, le Japon, le Canada, la Corée du Sud, l'Australie ainsi que quelques autres pays négocient un traité commercial visant à lutter contre la contrefaçon (Anti-Counterfeinting Trade Agreement en anglais, ou ACTA).
ACTA: restrictions mondiales du Net sans débat public | La Quadr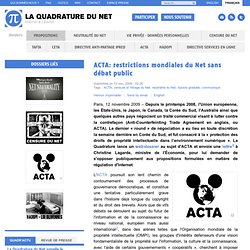 ADBS : ACTA, un projet de traité décalé
Secret copyright treaty leaks. It's bad. Very bad.
U.S./International Copyright Treaty Leaked, Trouble Ahead for IS
Stopping the ACTA Juggernaut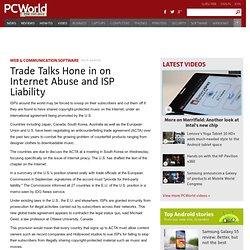 ISPs around the world may be forced to snoop on their subscribers and cut them off if they are found to have shared copyright-protected music on the Internet, under an international agreement being promoted by the U.S. Countries including Japan, Canada, South Korea, Australia as well as the European Union and U.S. have been negotiating an anticounterfeiting trade agreement (ACTA) over the past two years to combat the growing problem of counterfeit products ranging from designer clothes to downloadable music. The countries are due to discuss the ACTA at a meeting in South Korea on Wednesday, focusing specifically on the issue of Internet piracy. The U.S. has drafted the text of the chapter on the Internet. In a summary of the U.S.'s position shared orally with trade officials at the European Commission in September, signatories of the accord must "provide for third-party liability."
Trade Talks Hone in on Internet Abuse and ISP Liability - PC Wor
Impact of ACTA on Knowledge Economy
New ACTA Leak Confirms Major Threat to Internet Freedom, Privacy
ACTA treaty WILL affect your rights
ACTA : remonter le temps
L'acta, ne pas divulger
L'ACTA veut rester dans l'ombre
ACTA : « Quel est le prix de notre démocratie ? »
Libertés et vie privée : ACTA, la menace fantôme
ACTA et les bibliothèques
ACTA (Library Copyright Alliance)
La révélation de documents liés à la négociation des accords ACTA (Anti Counterfeintig Trade Agreement – Accords de Commerce Anti Contrefaçon) a fait l'effet d'une bombe le mois dernier, tant ce projet de traité international pourrait s'avérer menaçant pour la sauvegarde des libertés numériques.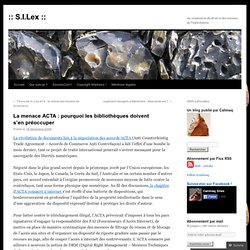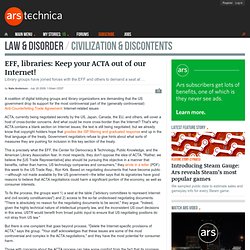 A coalition of digital lobbying groups and library organizations are demanding that the US government drop its support for the most controversial part of the (generally controversial) Anti-Counterfeiting Trade Agreement : Internet-related issues ACTA, currently being negotiated secretly by the US, Japan, Canada, the EU, and others, will cover a host of cross-border concerns. And what could be more cross-border than the Internet? That's why ACTA contains a blank section on Internet issues; the text is still being negotiated, but we already know that copyright holders hope that goodies like ISP filtering and graduated response end up in the final language of the treaty.
EFF, libraries: Keep your ACTA out of our Internet!
unnamed pearl
Si les fuites donnant un vague aperçu de ce que sera l'accord commercial anti-contrefaçon sont peu fréquentes, les réactions gouvernementales sur l'objet du traité sont encore plus rares. Cependant, Felix Trueger, un étudiant en maitriseMPA à l'Institut d'études politiques de Paris a déniché la réponse du gouvernement allemand qui réagissait aux interrogations d'un parlementaire sur les négociations en cours. " En ce qui concerne les discussions liées à l'ACTA pour l'application des droits de propriété intellectuelle dans la sphère numérique, le gouvernement fédéral considère que l'ACTA ne devrait pas affecter la législation communautaire actuelle de l'Union européenne, notamment les éléments de la directive européenne 2000/31/CE sur le commerce électronique (transposée en droit français comme la LCEN, loi pour la Confiance dans l'Economie Numérique)."
ACTA : l'Allemagne opposée au dispositif de riposte graduée - Nu
Un député interroge officiellement le gouvernement sur l'ACTA -
« Désormais le gouvernement français est officiellement saisi par un parlementaire sur la question de l'ACTA ». Voilà le petit message envoyé par le bureau parlementaire de Nicolas Dupont-Aignan pour annoncer cette nouvelle : le député vient de déposer une question écrite à l'attention de Bernard Kouchner, ministre des affaires étrangères et européennes, et touchant à cet accord commercial. Et alors ?
L'ACTA inquiète de plus en plus de parlementaires dans le monde
Si Nicolas Dupont-Aignan est pour l'heure le seul député à avoir interpellé officiellement le gouvernement sur l'accord commercial anti-contrefaçon (ACTA) à travers une question écrite destinée au ministre des Affaires étrangères, d'autres initiatives parlementaires prennent forme un peu partout dans le monde. Le professeur Michael Geist nous apprend ainsi sur son blog que le sénateur américain Ron Wyden a adressé une lettre (.pdf) à Ron Kirk, l'actuel représentant américain au commerce.