Beauté et cosmétiques
Patchwork mani Tutorial.... I posted this on MUA back on October 20th, here is the original post So I figured I should post it here, and hope it helps you guys :) I will only show the 4 nails, that you see in the pic, but you get the idea.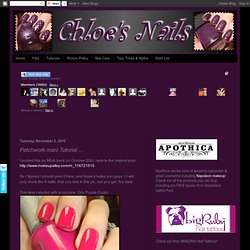 This time I started with a hot pink. Orly Purple Crush. Dita Makeup. ....Pixiwoo.... Nihrida. Lisa Eldridge Make Up | Video.
---