Blogs
What are Antijokes? Anti Jokes (or Anti Humor) is a type of comedy in which the uses is set up to expect a typical joke setup however the joke ends with such anticlimax that it becomes funny in its own right. The lack of punchline is the punchline. We've just released huge update to the iOS app!
Recovering Lazyholic l Photography & Stuff by Erin Hanson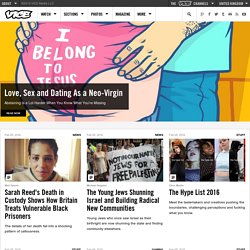 Orlando Is a Paradise Young punks having fun smack-bang on Disney's doorstep. Penny Rimbaud On How Crass Nearly Started World War 3 The government just published Thatcher's secret documents about the band. A Few Impressions Who Is 'Her'? Spike Jonze's new film gives us a glimpse of where technology is taking us. South Sudan Peace Talks Result In a Show of Force We flew to the front lines to see who, if anyone, is winning. VICE News Kim Dotcom: The Man Behind Mega We visited the infamous tech mogul and creator of Megaupload, Kim Dotcom, at his palatial property in New Zealand, where we did backup vocals for his new EDM album and talked to him about history's largest copyright case.
Makes Me Think - Happy - Today's Thought-Provoking Life Stories
Today, my boyfriend picked me up and took me out to lunch and then dinner, and then we went dancing, completely unexpectedly and unknowingly on the 3-year anniversary of my husband's passing. To my surprise, except for early this morning, I spent nearly the entire day smiling. MMT Today, my grandma still wears the beaded bracelet my grandpa made for her when they were in high school. MMT
6239
love tumblr, should check my blog misty-grey by greyseas Mar 15
c.mil.'s Photostream
what we see and what we seem, are but a dream