Blogs
What are Antijokes? Anti Jokes (or Anti Humor) is a type of comedy in which the uses is set up to expect a typical joke setup however the joke ends with such anticlimax that it becomes funny in its own right. The lack of punchline is the punchline. We've just released huge update to the iOS app!
Recovering Lazyholic l Photography & Stuff by Erin Hanson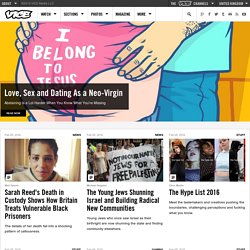 We Got the Members of the Westboro Baptist Church to Take Buzzfeed Quizzes Ever wondered which pop star should be Fred Phelps's granddaughter's best friend? Radiohead Is for Boring Nerds If they're such geniuses, why can't they make listenable music? The Rise and Rise of the UK's Student Drug Dealers It's all pretty sweet till armed police or men with pick-axes kick your door down. Solid Steel's '30 Years of Acid' Mix Is Nuts The worlds longest running mix show delivers a blinder of an acid retrospective. Last Day of Summer Watch Annie Mac and the PMR gang in Ibiza. What Do Young British Indians Think of the Biggest Election in History?
Makes Me Think - Happy - Today's Thought-Provoking Life Stories
Today, for the very first time, as we were snuggling on the couch, my 4-year old adopted daughter called me "Mom" and then followed it up with, "I love it here." MMT ShareThis Today, after doubting my ability to be a good mom for the last nine months – feeling like I would handle everything wrong, I surprised myself when he started crying and I immediately knew how to comfort him and settle him down – like I somehow knew all along. MMT
6239
c.mil.'s Photostream
what we see and what we seem, are but a dream
—–Email—– People do care… and you're not the only one who has had that thought. I owe my life to my Duke friends and my therapist at Duke's counseling center… —–Email—– I live in the next town over (Chapel Hill), and I care very much about how much you're hurting. Please reach out to those around you to stay safe. You can find out about suicide intervention resources in our community here: http://www.trianglesuicideprevention.org/resources.htm . Be well.