Sweet
Cinnamon Sugar Pull-Apart Bread. I'm sorry.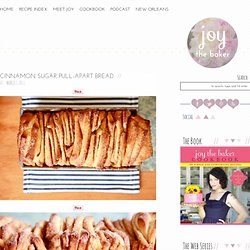 I know it's Monday morning and you probably came here for some pretty pictures of food that you could glance at, and then move on with your day… and here I go thrusting warm, soft cinnamon sugar bread in your face. It's not fair. I know it's not fair. I know that now you're craving cinnamon rolls, and cream cheese frosting and chili fries and hot dogs. Millionaire's Shortbread. Since one half of the blue-eyed baking squad is currently blogging from waaaay across the pond in London, we figured we'd bake you lovely duckies a British treat.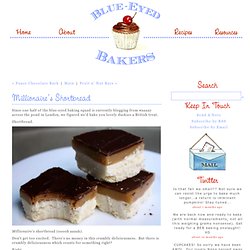 Shortbread. Millionaire's shortbread (ooooh aaaah). Banana Split Bites. Banana Split Bites ~ A classic ice cream dessert gets mini for some bite size fun.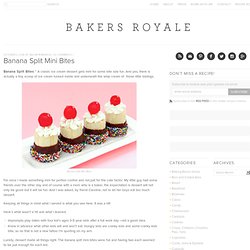 And yes, there is actually a tiny scoop of ice cream tucked inside and underneath the whip cream of those little darlings. Banana Split Mini Bites. Churro Tots. Happy Wednesday, beautiful people.Factoid for you: Getting my car serviced stresses me.To deal, I totally made Churro Tots.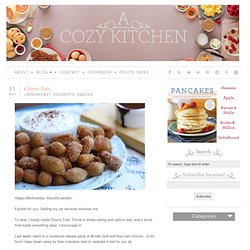 Throw in stress eating and calls to dad, and it some how made everything okay. I encourage it! Last week I went to a cookbook release party at Border Grill and they had churros…in tot form! Chocolate Cupcakes with Flaming Strawberries. Call me easily amused, but these little torch-topped cupcakes delight me.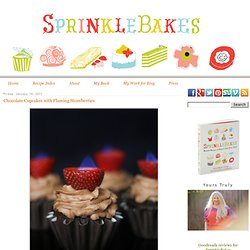 Besides being a cute novelty item for a party, I think they would add a little drama to the end of a romantic meal. I've been looking for something different to serve for Valentine's dessert, and this is definitely different. Cookie dough truffles | The Domestic Mama & The Village Cook. Oh baby.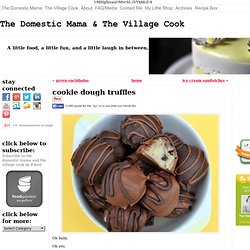 Oh yes. You can have your dough and eat it too. No raw eggs here. WOOOOOO~HOOOOO! Cheesecake Stuffed Strawberries | Cheesecake Stuffed Strawberries These cheesecake stuffed strawberries are the perfect dessert treat!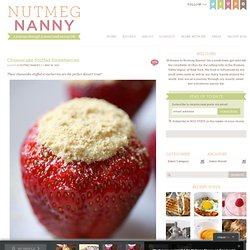 Can I just say that I have died and gone to heaven. How to Pipe Icing Roses. I baked this spring bouquet of cupcakes for my Weekend Baker post on the Cooking Channel blog.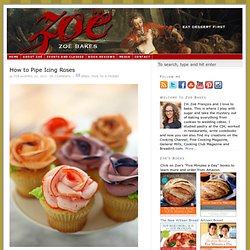 I was limited in space and wanted to go into a bit lot more detail on how to pipe the icing roses. Creating these flowers is not at all difficult, but it helps to have some simple tricks of the trade. Rainbow Cake. For Cake: 2 1/4 cups cake flour (9 ounces) 1 cup whole milk, at room temperature 6 large egg whites (3/4 cup), at room temperature 2 teaspoons almond extract 1 teaspoon vanilla extract 1 3/4 cups granulated sugar (12 1/4 ounces) 4 teaspoons baking powder 1 teaspoon table salt 12 tablespoons unsalted butter (1 1/2 sticks), softened but still cool Red, orange, yellow, green, blue, and purple gel food coloring For Frosting/Filling: 2 1/2 cups granulated sugar 10 large egg whites 2 pounds (8 sticks) unsalted butter, cut into tablespoons, softened 2 teaspoons pure vanilla extract 1 pound best-quality white chocolate, melted and cooled Preheat oven to 350 degrees.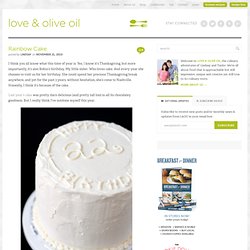 Prepare your cake pans by first liberally buttering the pans, then line the bottoms with parchment paper rounds. Strawberry Margarita Jell-O Shooters. Strawberry Margarita Jell-O Shooters Margarita Jell-O Shooters ~ A fun farewell to summer and a festive edition to your Sunday football tailgate party or gatherings.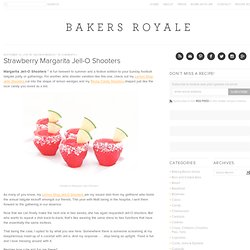 For another Jello shooter variation like this one, check out my Lemon Drop Jello Shooters cut into the shape of lemon wedges and my Rocky Candy Shooters shaped just like the rock candy you loved as a kid. Strawberry Margarita Jello Shooters. One Bowl Vanilla Cupcakes For Two. Let's face it: sometimes we all need a dessert that only makes two servings. Sometimes we just can't handle 12 servings. Sometimes we eat them all by ourselves. Sometimes we eat them all by ourselves in two hours. Homemade Hostess Cupcakes - What Megan's Making. Cupcakes 1 1/4 cups unbleached, all-purpose flour 2 teaspoons baking soda 2 teaspoons baking powder 1/4 teaspoon coarse salt 1 1/4 cups granulated sugar 4 ounces unsweetened chocolate, chopped 1 stick unsalted butter, cut into pieces 2 teaspoons pure vanilla extract 2 large eggs, lightly beaten Filling 4 tablespoons unsalted butter, at room temperature 1 cup powdered sugar 2 teaspoons pure vanilla exrtact 3 tablespoons heavy cream 1 cup marshmallow creme Ganache 6 ounces bittersweet chocolate, chopped 1/2 cup heavy cream 1 tablespoon unsalted butter 2 teaspoons pure vanilla extract Icing 1 stick unsalted butter 1 1/2 - 2 tablespoons milk 2 cups powdered sugar 1/4 tsp vanilla Place oven rack in the center of the oven and preheat to 350.
Place paper liners in muffin tin for about 20 cupcakes. Red Velvet Cheesecake Brownies. Red Velvet Cheesecake Brownies These Red Velvet Cheesecake Brownies are rich, decadent and so perfect for Valentine's Day! Brownie and cheesecake batter are swirled together to make a festive and impressive dessert. Rainbow Cake in a Jar. I've always had a penchant for sunshine in a jar. Doesn't the very phrase itself, "sunshine in a jar," roll off your tongue and fill your mouth with magic? While I've never yet found myself a sunshine in a jar, I think we may have just concocted it in our kitchen tonight. In this simple recipe, a basic white cake is turned into a slew of bright colors, baked to perfection, then topped with a creamy white frosting.
Cakes baked in jars can be topped with traditional metal canning lids and stored in the fridge for up to five days. They make a great treat to ship to someone, so long as you can ensure delivery to it's final destination within 3 days. Fried Ice Cream. I'm sure you are thinking about Cinco de Mayo this very minute. You should be because it's in two days.
We look for any excuse to celebrate. We look for any excuse to celebrate with food. This year I thought I'd share a recipe for deep fried ice cream.
---