SCI REFERENCE
Quantum Mechanics. Information theory. Information theory is a branch of applied mathematics, electrical engineering, and computer science involving the quantification of information.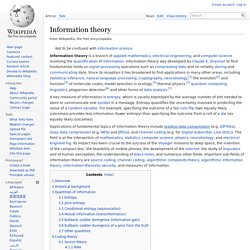 Information theory was developed by Claude E. Shannon to find fundamental limits on signal processing operations such as compressing data and on reliably storing and communicating data. Since its inception it has broadened to find applications in many other areas, including statistical inference, natural language processing, cryptography, neurobiology,[1] the evolution[2] and function[3] of molecular codes, model selection in ecology,[4] thermal physics,[5] quantum computing, plagiarism detection[6] and other forms of data analysis.[7] Cybernetics. Cybernetics is a transdisciplinary[1] approach for exploring regulatory systems, their structures, constraints, and possibilities.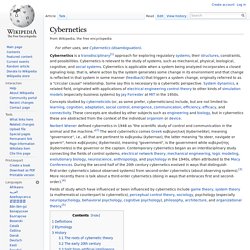 Cybernetics is relevant to the study of systems, such as mechanical, physical, biological, cognitive, and social systems. Cybernetics is applicable when a system being analyzed is involved in a closed signaling loop; that is, where action by the system generates some change in its environment and that change is reflected in that system in some manner (feedback) that triggers a system change, originally referred to as a "circular causal" relationship. Some say this is necessary to a cybernetic perspective.
System dynamics, a related field, originated with applications of electrical engineering control theory to other kinds of simulation models (especially business systems) by Jay Forrester at MIT in the 1950s. Decision theory. Normative and descriptive decision theory[edit] Since people usually do not behave in ways consistent with axiomatic rules, often their own, leading to violations of optimality, there is a related area of study, called a positive or descriptive discipline, attempting to describe what people will actually do.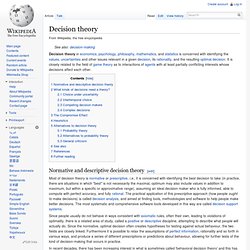 Since the normative, optimal decision often creates hypotheses for testing against actual behaviour, the two fields are closely linked. Furthermore it is possible to relax the assumptions of perfect information, rationality and so forth in various ways, and produce a series of different prescriptions or predictions about behaviour, allowing for further tests of the kind of decision-making that occurs in practice.
---