Geek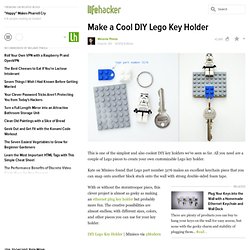 Make a Cool DIY Lego Key Holder
This is one of the simplest and also coolest DIY key holders we've seen so far. All you need are a couple of Lego pieces to create your own customizable Lego key holder. Kate on Minieco found that Lego part number 3176 makes an excellent keychain piece that you can snap onto another block stuck onto the wall with strong double-sided foam tape.
Ten Classic Electronic Toys And Their Modern Equivalents (GeekDad Wayback Machine)
The '80s and early '90s were a magical decade for gadgets for kids. Computing power and display technology were evolving and cost effective enough to penetrate the toy market in a big way. Purely mechanical toys evolved into electromechanical toys and gave birth to the digital toy revolution. For example, LED games of the '70s were replaced by Tiger LCD games which were replaced by the Nintendo Gameboy and so on. Companies also began to innovate on educational toys for kids, whether it was teaching them about electronics, programming, or offering educational games. Additionally, electronics became cheap enough to expand what toys were capable of doing, from playing music to increased interactivity.
Conspiracy Theories - Penn & Teller Bullshit!
The arcade as we know it may not exist anymore in the US , but there was a time when they were big enough to garner their own TV shows. The Awl has dug up the intro to "Battle of the Video Games," a spectacular taste of the culture of 1983 — that's nearly thirty years ago if you've conveniently let that slip from your mind. The one-time special features Heather Locklear, Happy Days ' Anson Williams, Lou Ferrigno, Scott Baio, and other '80s — erm — stars.
Watch this: one-time 1983 special 'Battle of the Video Games'
This Saturday, Nickelodeon's Legend of Korra is all new with an episode that finds our heroes relaxing after the apocalyptic events at the Pro-Bending Finals... But that's before the big twist reveal that someone close to Korra may be working with her arch enemies, the Equalists! In advance of the episode, not only did we snag an EXCLUSIVE clip from the episode, we also chatted with P.J. Byrne, the voice of goofball - and sometimes Korra romancer - Bolin about the rapport between the cast, what's coming up for his character, and oh yeah...
EXCLUSIVE! The Legend Of Korra's P.J. Byrne Talks Bolin's Future, The Kiss, And A Clip From This Week's Episode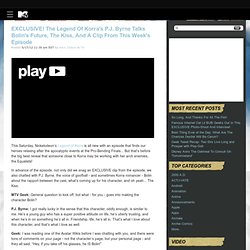 Crayon Dragon on Vimeo