REPUBLICAN
The Republican Party , also commonly called the GOP (for " Grand Old Party "), is one of the two major contemporary political parties in the United States , the other being the Democratic Party . Founded by anti-slavery activists in 1854, it dominated politics nationally for most of the period from 1860 to 1932.
Republican Party (United States)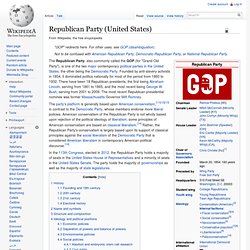 Republican
Republican Party legal definition of Republican Party. Republican Party synonyms by the Free Online Law Dictionary.
The Republican Party was founded in 1854 by a group of renegade Democrats, Whigs, and political independents who opposed the expansion of Slavery into new U.S. territories and states. What began as a single-issue, independent party became a major political force in the United States. Six years after the new party was formed, Republican nominee Abraham Lincoln won the U.S. presidential election.