Blogs I Read
I know I've been all MegaCon this and MegaCon that the last several posts, so just wanted to check in with some other random tidbits: - John and I have discovered Veronica Mars on Amazon Prime, and it is glorious. If you haven't seen the show, Veronica is kind of like Buffy, if Buffy were a P.I. and didn't have to slay anyone. Only cooler than that. Also, I am very bad at describing shows.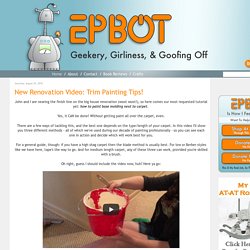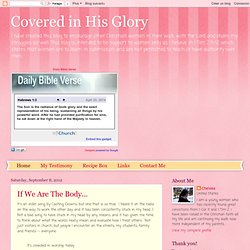 Covered in His Glory
I am in awe at some of the things that come from my 5 year old cousin's mouth sometimes. Not because they are bad words. But because of what she seems to know about God even though her mom tries to take God entirely out of the picture.
Confessions of a Pioneer Woman | Ree Drummond
I walked outside on the porch yesterday before leaving for church so that I could scratch Hooker's ears and reassure her that I love and adore her, which I try to do once a day so she doesn't ever doubt it, when lo and behold, I came face to face with this bull. If you want to know the honest truth, before I was able to take my phone out of my back pocket and snap this photo, he was peeing…right there on the ground beside my flower bed. And he wasn't just peeing—he was defiantly peeing. He was peeing while looking straight at me; my sudden presence on the porch didn't startle or concern him one bit. I was but a speck.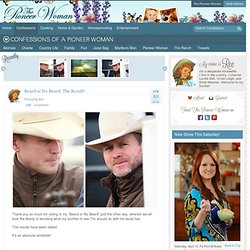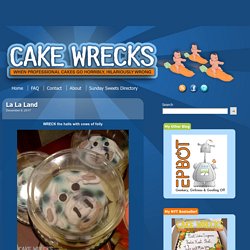 "Iiiittty bitty living space." Ever wonder why cake decorators use so much plastic flotsam? Still, where there's a will to wreck, there is a way: Bravo, wreckerators.
Another question raised by YA author A.S. King's blog post last week which touched on censorship—especially as it pertains to young adult books. She writes:
Booking Through Thursday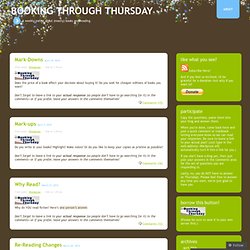 a little something for advent… hello all… apologies for the lack of cartooning. life has been full of events and twists and turns making this a very interesting year indeed. please check out this set of 26 advent animations i've done… you can get them here… http://www.proost.co.uk/altadvent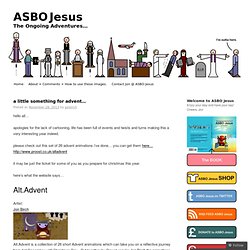 ASBO Jesus | The Ongoing Adventures…
Like our Victorian knitter's mitten pattern, Knitted Skirt is not sufficiently coherent to derive step-by-step instructions for a complete project. The entry, however, has a number of interesting elements which make it worth sharing "as is." Unlike most knitting patterns of the era, Knitted Skirt begins with notes on materials, calling for 2oz.
1884 Knitted Lace Sample Book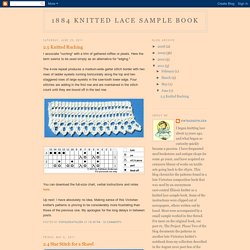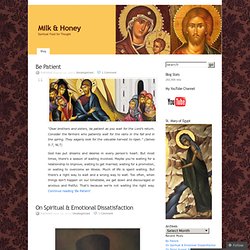 St. Ambrose of Optina By: St. Amborse of Optina It is useless to accuse those around us and those who live with us of somehow interfering with or being an impediment to our salvation and spiritual perfection… Spiritual or emotional dissatisfaction comes from within ourselves, from inexperience and from poorly conceived opinions we do not want to abandon, but which bring on doubt, embarrassment, and misunderstanding.
Milk & Honey
Alleluia! Christ is Risen! Καλό Πάσχα!!!
Liturgy worship spirituality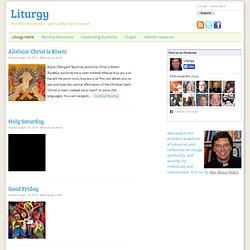 Glory to God for All Things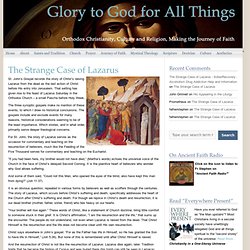 St. John's Gospel records the story of Christ's raising Lazarus from the dead as the last action of Christ before His entry into Jerusalem. That setting has given rise to the feast of Lazarus Saturday in the Orthodox Church – a small Pascha before Holy Week. The three synoptic gospels make no mention of these events, to which I draw no historical conclusions.
A desert monk was summoned to Alexandria one day by his bishop. As he entered the city, he saw a prostitute, and he started to weep. "Why are you weeping, Abba?" his disciples asked him.
Baby Steps Towards Plain: Inspiration from a Desert Monk
Happy Autumn everyone! I've been so busy this month between work and birthday parties it was too difficult to get everything on the computer. I did manage to finish an October KAL and I've decided to offer it as a Mystery Cloth Pattern. I hope everyone enjoys this knit, it was a lot of fun to design and write up.
KrisKnits...
Pondered In My Heart
Ash Wednesday is one week away! It's almost time to begin. Are you prepared for Lent? Those of us who attend the Extraordinary Form of the Mass following the traditional 1962 Church calendar have the benefit of a pre-Lenten season called Septuagesima. As Pius Parsch puts it in The Church's Year of Grace, "To effect a transition from the joyous spirit of Christmas time to the sober and serious character of Lent, the Church has inserted a period of mental conditioning before Ash Wednesday."
(originally published in Mouth Magazine, reprinted in "A Real Nice But: articles that inspire, inform and infuriate, from Diverse City Press) Snow fell, four inches deep. Sweeping it off the car was not the way to celebrate Easter and usher in a new season.
Rolling Around In My Head
I saw this artwork by photographer Amanda Weil, in House Beautiful and I thought the idea of a transparent or translucent image printed on glass was intriguing. Old daguerreotypes were printed on glass, so the idea could be adapted for some very steampunk images. Weil makes furniture and screens as well as wall art, but for the DIY photographer, I'd look into Fracture. You can get an 18 inch diagonal print on glass for $35.
We are THAT Family — ... you know the ones.
A Spoken Silence
Interrupting the Silence | "Let the words of my mouth and the meditation of my heart be acceptable to you, O Lord." Psalm 19:14
"Faith and Fabric"
Cake Wrecks - Home - The Problem With Phone Orders