SEO Tools
Note: Version 2.5 replaces all previous versions of the vBSEO Google/Yahoo Sitemap Generator, and now includes support for all the new URL types in vBulletin 3.8.x. Overview ============================ Providing Google, Yahoo, Ask sitemaps is an essential step towards improving your forums. The "vBSEO Google Sitemaps" plugin provides a solution that allows your forum to be indexed by the Google (and also Yahoo and Ask) search engines faster, more completely, more effectively, and with less bandwidth consumption.
vBSEO Google/Yahoo Sitemap Generator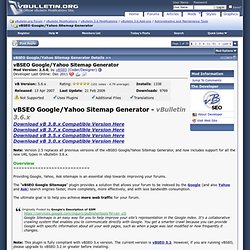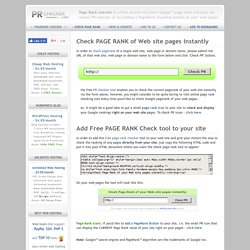 Check PAGE RANK of Web site pages Instantly In order to check pagerank of a single web site, web page or domain name, please submit the URL of that web site, web page or domain name to the form below and click "Check PR" button. the free PR checker tool enables you to check the current pagerank of your web site instantly via the form above, however, you might consider to be quite boring to visit online page rank checking tool every time you'd like to check Google pagerank of your web pages.. so, it might be a good idea to put a small page rank icon to your site to check and display your Google rankings right on your web site pages. To check PR icons - click here.
Search Engine Factors | Your Website's Ranking Report | Website Analysis | Our Link Sorry, we were unable to retrieve any related words. Please try again by using a broader term. Disclaimer: We are using the Google, Yahoo, and Alexa APIs to provide you some of the information above.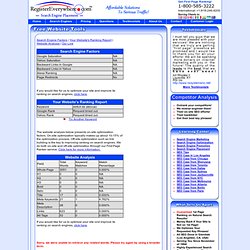 Search Engine Placement : Optimization : Marketing : RegisterEverywhere, Inc - Since 1994
Biz - checar trafego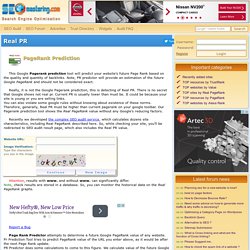 PageRank Prediction - Real PR
This Google Pagerank prediction tool will predict your website's future Page Rank based on the quality and quantity of backlinks. Note, PR predictor will provide an estimation of the future Google PageRank and should not be considered exact. Really, it is not the Google Pagerank prediction, this is detecting of Real PR.
Free SEO Tools. Search engine marketing and website promotion
SEO Master Free Scanner | Análise OnPage SEO | Ferramenta Grátis
Fernando Soares