Recipes
Green Mac and Cheese. Mac and cheese is the ultimate comfort meal for Mandi and me.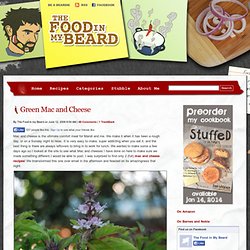 We make it when it has been a rough day, or on a Sunday night to relax. It is very easy to make, super addicting when you eat it, and the best thing is there are always leftovers to bring in to work for lunch. We wanted to make some a few days ago so I looked at the site to see what Mac and cheeses I have done on here to make sure we made something different I would be able to post. I was surprised to find only 2 (full) mac and cheese recipes!
How to To Make Your Food Taste Awesome | Easy Food. Spicy falafels recipe. Cheap and dead easy to make - stuff them into pittas with salad, or serve with couscous and houmous Difficulty and servings Serves 6 Easily doubled.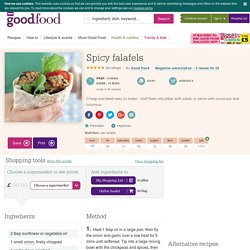 Stuffed Zucchini. I like the simple things in life.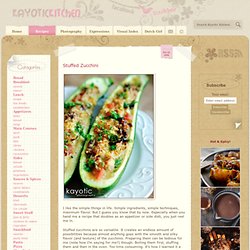 Simple ingredients, simple techniques, maximum flavor. But I guess you know that by now. Especially when you hand me a recipe that doubles as an appetizer or side dish, you just reel me in. Stuffed zucchinis are so versatile. BEST-EVER Chewy Chocolate Chip Cookies. Readers, whatever you're doing, stop.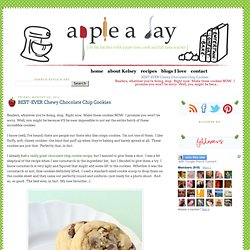 Right now. Make these cookies NOW. I promise you won't be sorry. Turkey Day Troubles - Installment #2. I just finished reading a book (Cooking for Mr.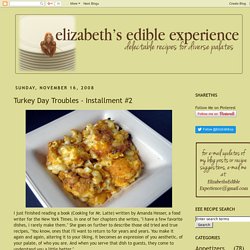 Latte) written by Amanda Hesser, a food writer for the New York Times. In one of her chapters she writes, "I have a few favorite dishes, I rarely make them. " She goes on further to describe those old tried and true recipes, "You know, ones that I'll want to return to for years and years. You make it again and again, altering it to your liking, it becomes an expression of you aesthetic, of your palate, of who you are.
Sex in a Pan. Healthy Recipes. 50 Amazingly Helpful Time-Tested Tips for the Kitchen. You know all of those helpful kitchen-related suggestions that old-timers are so willing to share with the younger generations?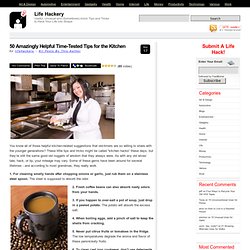 These little tips and tricks might be called "kitchen hacks" these days, but they're still the same good old nuggets of wisdom that they always were. As with any old wives' tale, hack, or tip, your mileage may vary. Some of these gems have been around for several lifetimes - and according to most grandmas, they really work. Potato Rings with Homemade Buttermilk Ranch. If french fries and onion rings ever got married and had a baby, I think it would be something like this…a potato ring.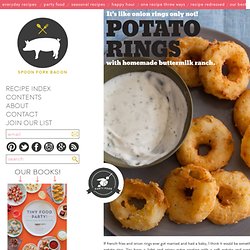 You have a light and crispy outer coating with a soft potato and caramelized onion center…why? Because we can I guess, who knows…but it's kind of fun, right?! 1898646_460s.jpg (JPEG Image, 460×9230 pixels) Homemade Junk Food | Spark. Homemade Twix bars.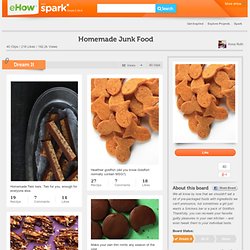 Two for you, enough for everyone else. 19 Reclips 14 Likes. Health Recipes. Almond Milk Use instead of unhealthy milk or soy milk.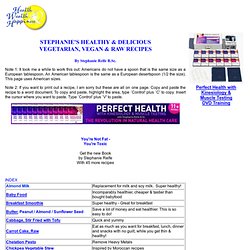 SUPER GOOD FOR YOU! Soak 1 cup of raw almonds for 24 hours. Twenty Amazing Facts About Voting in the USA. Why Blessing Your Food is So Important If you want to maintain happy emotions it is very important to pray over your food and drink before consuming it.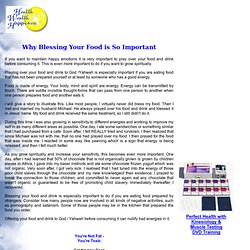 This is even more important to do if you want to grow spiritually. Praying over your food and drink to God /Yahweh is especially important if you are eating food that has not been prepared yourself or at least by someone who has a good energy. Food is made of energy. Your body, mind and spirit are energy. Application Of Food Combining - Application Of The Food Combining Rules. 5. Application Of The Food Combining Rules You will note that the discussion of a particular food combining rule will frequently overlap and dovetail with other food combining rules, since they are all closely interrelated. Since starch digestion begins in the mouth with the action there of the enzyme ptyalin and requires an alkaline or neutral medium—while protein digestion begins in the stomach, where acid enzymes are secreted when protein is eaten—the first two and most important food combining rules seem obvious. 5.1 Carbohydrates with Acids or Proteins.
Raw Vegan Recipe: Almond Milk | AWESOME TO BE RAWSOME. This is one of those recipes that beg to be on a page by itself. BASIC ALMOND MILK by Shari 1 cup raw almonds, soaked overnight or at least 6 hours 4 cups pure water 1 T coconut oil (optional)* 1 vanilla bean or alcohol free vanilla extract 10 – 15 pitted dates or about ¼ cup agave nectar Drain and rinse almonds Measure water into blender Add almonds and the rest of the ingredients Blend for 1 minute if using a VitaMix, 2 minutes with standard blender Pour into nut milk bag and squeeze bag until pulp is dry (or as dry as you can get it!)
Probiotics: Water Kefir Swan Song | AWESOME TO BE RAWSOME. No, I'm not going to stop making water kefir. I'm just saying that this is probably my last post on the subject. I haven't learned all there is to know about making water kefir. No one has. Coconut Ice Cream | AWESOME TO BE RAWSOME. Grasseater Woman posted a recipe for coconut ice cream in Sumptuous Feasts. I had all the ingredients so I was the guinea pig for the forum. I didn't go exactly by the recipe so I'm taking the liberty of calling this one my own.
Coconut Ice Cream. White Chocolate Cheesecake W/Raspberry Swirl | AWESOME TO BE RAWSOME. Raw_food_recipes. Garbanzos con cordero al romero. Recetas de garbanzos. Doce recetas con garbanzos. Garbanzos con queso de cabra y pimientos.
---