Interactive whiteboards & alternatives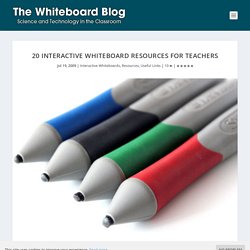 Hello there! If you are new here, you might want to subscribe to the RSS feed for updates and/or follow me on Twitter . Info on how to contact me is on the About page.
Using an iPad as an alternative to an interactive whiteboard
Hello there! If you are new here, you might want to subscribe to the RSS feed for updates and/or follow me on Twitter .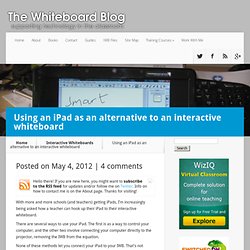 now!Board™ - now!Board™ - Learning Resources®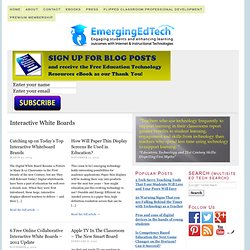 6 Free Online Collaborative Interactive White Boards – 2012 Update
Interactive White Boards
Whiteboardblog.co / Pinterest
Using the iPad as an Alternative to the Interactive Whiteboard - Enabling Environments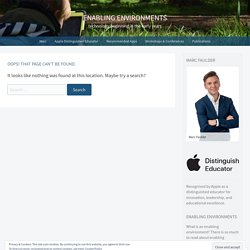 In preparation for the arrival of iPad to Projector VGA cables for all classrooms at the school I work at, I have been busy trying out different ways to use the iPad with the whole class via my projector.
FETC 2012 | News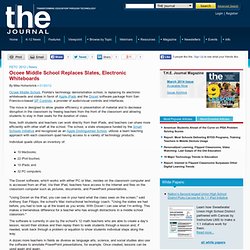 Ocoee Middle School Replaces Slates, Electronic Whiteboards
The Interactive Whiteboard for iPad.
iPad Interactive Whiteboard
Over the past few months I have read via Facebook and email stories of teachers who were quite adept with their interactive whiteboard being moved through layoffs to schools where they no longer had this equipment. Mainily for financial reasons, these techers will likely not have a replacement board at least for the next few years.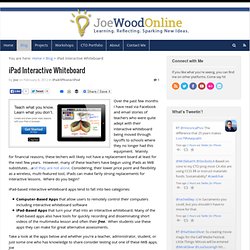 Alternatives to Interactive Whiteboards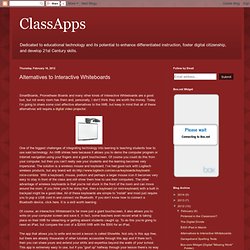 SmartBoards, Promethean Boards and many other kinds of Interactive Whiteboards are a good tool, but not every room has them and, personally, I don't think they are worth the money. Today I'm going to share some cost effective alternatives to the IWB, but keep in mind that all of these alternatives will require a digital video projector . One of the biggest challenges of integrating technology into learning is teaching students how to use said technology.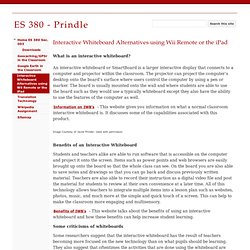 An interactive whiteboard or SmartBoard is a larger interactive display that connects to a computer and projector within the classroom.
Interactive Whiteboard Alternatives using Wii Remote or the iPad - ES 380 - Prindle
An iPad and Apple TV can combine to provide an advantageous alternative to more expensive, traditional interactive white boards. Guest writer and High School Principal Da vi d M aha ley is using this approach and offers his insights, and observations from educators in his school. With the integration of the iPad into the instructional environment, teachers and students have discovered many new ways in which the device can expand and enhance the learning environment.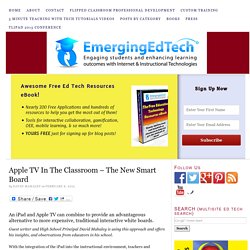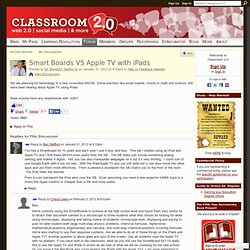 Smart Boards VS Apple TV with iPads
We are making some updates to the site.
ATReC: Interactive Whiteboards and Simulation Systems
Assistive Technology Resources for Children
Are Interactive White Boards Dead?
By Robert J.