Desserts
Baking & Dessert Recipes. Hershey's website. Twix Bars. A little while back I shared with you the recipe and short directions on making Twix Bars, but I never did a step by step for you.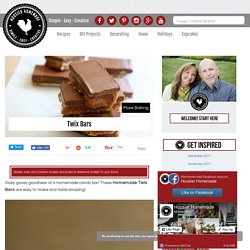 These no-bake Twix Bars were 2nd. place at the Indiana State Fair several years back, and are a HUGE hit everytime I take them to share with people. They are perfect for a potluck, cookout or just a special treat for your family. Begin my putting a layer of Club Crackers in a 13 x 9 pan, I can fit 24 crackers in In a saucepan on the stove, combine the caramel filling ingredients Bring to a boil, continue to stir and boil for approximately 5 minutes (I usually go a little less). The mixture will be caramel like and pull away from the sides of the pan Pour over the crackers, being very careful, the mixture is extremely hot. Cheesecake Brownies. If you want to see a normally placid French person go into a crazed frenzy, you don't need to watch their reaction to me mercilessly butcher their language.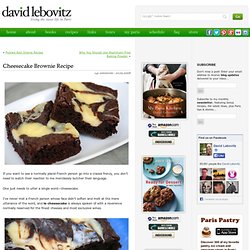 One just needs to utter a single word—cheesecake. I've never met a French person whose face didn't soften and melt at the mere utterance of the word, and le cheesecake is always spoken of with a reverence normally reserved for the finest cheeses and most exclusive wines. Although can you find Philadelphia cream cheese here at various outlets in Paris, when you do find it, it's prohibitively expensive. Brownie Cookies. Choc. Mint Brownies. On my rugby team, we used to have a captain who was like the team mom.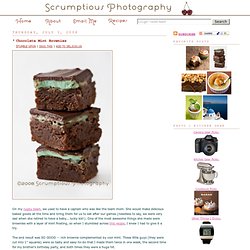 She would make delicious baked goods all the time and bring them for us to eat after our games (needless to say, we were very sad when she retired to have a baby... lucky kid!). One of the most awesome things she made were brownies with a layer of mint frosting, so when I stumbled across this recipe, I knew I had to give it a try. The end result was SO GOOD -- rich brownie complemented by cool mint. Choc. Syrup. I love it when I can easily make something at home and it turns out to be just as good or better than the more expensive store-bought kind.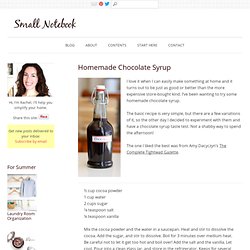 I've been wanting to try some homemade chocolate syrup. The basic recipe is very simple, but there are a few variations of it, so the other day I decided to experiment with them and have a chocolate syrup taste test. Not a shabby way to spend the afternoon! The one I liked the best was from Amy Dacyczyn's The Complete Tightwad Gazette. ½ cup cocoa powder 1 cup water 2 cups sugar ⅛ teaspoon salt ¼ teaspoon vanilla. Banana Ice Cream. Yes, that's right; you heard us.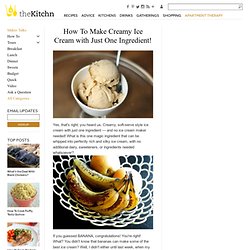 Creamy, soft-serve style ice cream with just one ingredient — and no ice cream maker needed! What is this one magic ingredient that can be whipped into perfectly rich and silky ice cream, with no additional dairy, sweeteners, or ingredients needed whatsoever? If you guessed BANANA, congratulations! You're right! Pie In a Jar. These are individual-sized pies made in little glass jars that can go straight from your freezer to your oven to your mouth.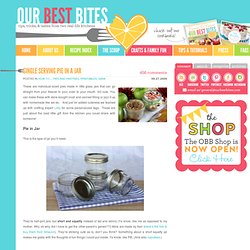 SO cute. You can make these with store-bought crust and canned filling or jazz it up with homemade like we do. And just for added cuteness we teamed up with crafting expert Lolly for some personalized tags. Pie Pops (ect.) Alber Elbaz speaks about "lightness" during interviews before his collections.
I think his summation of what women need seems pretty accurate. Yes, we need lightness/ease/mobility. I love the way Elbaz makes clothes. Pop Tarts. I never had a Pop-Tart until college.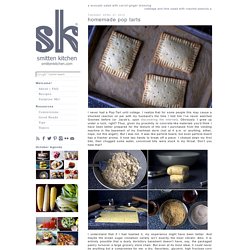 I realize that for some people this may cause a shocked reaction on par with my husband's the time I told him I've never watched Goonies before (or Jacob's, upon discovering the internet). Obviously I grew up under a rock, right? Thus, given my proximity to concrete-like materials you'd think I have been better prepared for the texture of the one I purchased from the vending machine in the basement of my freshman dorm (not at 4 a.m. or anything, either, nope, not this angel!). Lolly pops. Bio-hazard!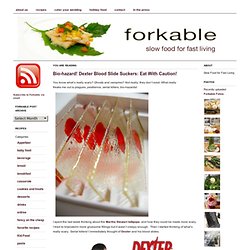 Dexter Blood Slide Suckers: Eat With Caution! You know what's really scary? Ghosts and vampires? Not really; they don't exist. Rainbow Cake. So I did mention something about health and/or diet food in my last post, and while this recipe is the latter, it is most certainly not to be confused with the former.
The cool thing is that if you're making something so distractingly colourful, people will think it's delicious no matter what. This presents me with the option to use an old Weight Watchers trick—the one-point cupcake. Except I'm making a cake and I created my own frosting. Kinda. I've seen it done before, but I swear I made it up first! Ice Cream Cake? If you've been following along, you're probably aware that I collect cookbooks. Specifically, cookbooks created by New England civic organizations between 1950 and 1980 for fundraising purposes. With yard sale season in full swing, I find myself solvent with new recipe ideas, among them one I found in this vandalized and water-damaged collection. The picture on the cover somewhat suggests the architecture of Calvary Baptist Church in Easthampton, but I bought the book in Millbury and it has no date (I've never been to that Church, I just tried to do some due diligence in my googling).
Peach Cakes. More Food Crafts:Chocolate Covered Strawberry Mallow CandiesRainbow Cupcakes with Rainbow FrostingCandy Cake The title of this post sounds like a term of endearment someone may bestow on a cute little child, but no, the photo is a shot of my Little Peach Cakes made this morning for when my niece and nephew come over to play. My own children were amazed at how real these little cakes appeared. They were almost too cute to cut into and eat but everyone loves a fresh peach right?
I had spotted these in a magazine years and years ago (maybe Southern Living?) And just today thought to make them. Cinnamon Roll Sugar Cookies. Have I got a treat for you today right before Valentines day! I was getting ready to cut my traditional sugar cookies in the shape of hearts for this post and a little light bulb went off! I don't know if I was craving cinnamon rolls or what, but I thought to myself….I am soooo making these sugar cookies into cinnamon rolls! Brace yourself friends, you will NOT be able to stop eating these, they are that good.
Frosting. I've been intrigued with this frosting recipe for months, not just because of its alluring title, but also because if its ingredients. Five tablespoons of flour? In frosting? Let's just say my interest was piqued. I finally got around to making it yesterday evening; Marlboro Man's grandmother has some old friends staying at The Lodge and I wanted to take them a treat. So I whipped up this frosting, slapped it on some chocolate cupcakes…and wound up considering not sharing them with the guests because it was so delicious. Marshmellows. Intro Today I found myself pursuing the cold. I didn't bundle up on our walk to the park after dinner. Cupcakes! Pudding Cups & bakerella.com.
---