web2.0_thoughts
Get flash to fully experience Pearltrees
Blogs, RSS, IM, Twitter and FriendFeed - the number of sources of sources of information online can feel like it's multiplying exponentially every day. It's easy, natural even, to feel overwhelmed. Especially when we are more familiar with the tightly controlled editorial policies of mainstream media.
Je constate depuis un certain temps une montée en puissance des services d'agrégation du type SocialThing , Ziki , mEgo ou encore LiFE2Front .
La manière dont est rendue visible l'identité des personnes sur les sites du web 2.0 constitue l'une des variables les plus pertinentes pour apprécier la diversité des plateformes et des activités relationnelles qui y ont cours.
Le web 2.0 devrait donc poursuivre sa mue comme nous l'avons vu avant-hier (voir ce billet ). Son nom futur est incertain mais sera fait d'un peu de web sémantique, d'un peu de réseaux sociaux et d'un peu de mobilité.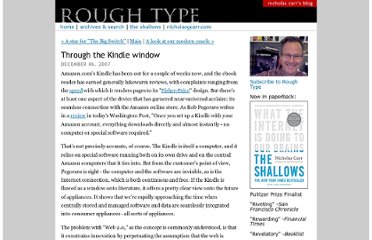 « A star for "The Big Switch" | Main | A look at our modern oracle » December 06, 2007 Amazon.com's Kindle has been out for a couple of weeks now, and the ebook reader has earned generally lukewarm reviews, with complaints ranging from the speed with which it renders pages to its " Fisher-Price " design.
We're well into the current era of the Web, commonly referred to as Web 2.0.
Pas besoin d'être d'accord avec eux pour lire les critiques de web 2.0. Je ne conçois pas d'analyse qui ne leur ferait pas une place.
Posted by Peter Fleischer, Global Privacy Counsel We recently announced a new policy to anonymize our server logs after 18–24 months. We're the only leading search company to have taken this step publicly.