Torrent_client
Click to view The days of peer-to-peer file sharing tools ushered into popularity by the original Napster are over and done, and today, BitTorrent reigns supreme.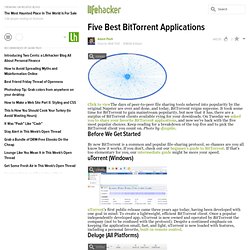 Five best BitTorrent applications
Windows/Mac/Linux: Freeware application Deluge is a lightweight, cross-platform BitTorrent client. Aside from the standard BitTorrent functionality (you know, downloading ), Deluge has a—dare I say—flood of great features for such a young client, including a web interface (like uTorrent and Transmission ), full encryption, RSS support, and a plug-in system for adding even more functionality.
Deluge