Sport_jogging
Les cookies sont de petits fichiers texte que votre ordinateur télécharge à chaque fois que vous visitez un site Web. Lorsque vous retournez sur des sites Web, ou que vous vous rendez sur des sites Web utilisant les mêmes cookies, ceux-ci reconnaissent ces cookies et donc votre ordinateur ou votre périphérique mobile. Acceptez-vous ces cookies ? Vous pouvez à tout moment modifier vos préférences en vous rendant dans la section « Paramètres de cookies » en bas de page.
Tableau de bord Nike+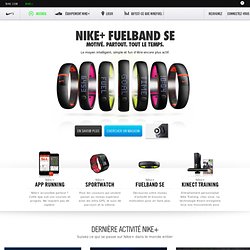 How to Twitter your Nike+ runs with Twiike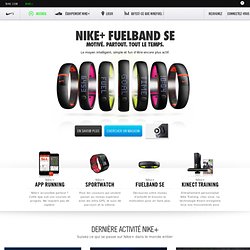 Dashboard
Restez motivé, prêt à relever des défis et branché aux activités des autres. Rejoignez-nous maintenantB De la course aux activités de tous les jours, Nike+ vous permet de suivre de multiples activités et de comparer vos résultats sur la durée. Et dépassez les !
Belles histoires vendredi 5 octobre Pilote automobile et acteur de théâtre 49 ans, Vaucresson, Hauts-de-Seine (92) Interview de Gaël Couturier, en octobre 2010 Je ne fais pas beaucoup de compétitions. J'ai participé aux 20 Km de Paris, (...) jeudi 13 septembre Par Philippe Vogel Avec Fernand Kolbeck, Jean-Pierre Monciaux, Gilles Rocca, Fabrice Roos et Philippe Piquet Aujourd'hui, tout cela nous semble drôle, mais, par le passé, tous ces trucs de coureurs (...)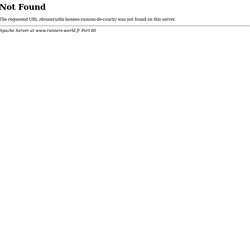 Dix bonnes raisons de courir
SExpand As an iPhone owner who runs for exercise, my biggest disappointment at Apple's recent iPod event was the lack of Nike+ support for the GPS-sporting 3G iPhone. Instead, the second generation iPod touch has Nike+ built-in, and the iPhone still has nothing. I would be disappointed, but the power of the iPhone App Store pulls out a big win on this front, as several free Nike+ alternatives are already leveraging your 3G iPhone's GPS capabilities to provide you with much of the same functionality as you can already get from Nike+ and then some.
How to roll your own Nike+ iPhone for free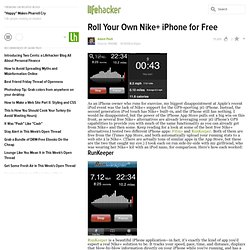 unnamed pearl
Running Buddy
How to create files for Nike plus from scratch nikeplusedit.com
Running Tracker
Most of the following titles have a 'second-wind' power over me. When I think I've taken my last stride, or lifted my last ounce, these tunes rip into me and pull out a whole lotta strength.Signal in the Sky - Apples in StereoNeighbourhood #1 (Tunnels) - Arcade FireRebellion (Lies) - Arcade FireDo The Whirlwind - Architecture in HelsinkiWishbone - Architecture in HelsinkiFrontier Psychiatrist - AvalanchesLive at Dominoes - AvalanchesBody Movin' - Beastie BoysSo What'cha Want - Beastie BoysIntergalactic - Beastie BoysMixed Bizness - BeckSexx Laws - BeckDevil's Haircut - BeckHey Mama - Black Eyed PeasDon't Lie - Black Eyed PeasMy Humps - Black Eyed PeasGirls Boys - BlurToxic - Britney SpearsMajor Label Debut (fast) - Broken Social SceneGalvanize - Chemical BrothersThe Boxer - Chemical BrothersHey Boy Hey Girl - Chemical BrothersBecause We Can - Fatboy SlimAt Auntie Tom's - Fuzz TownshendFaith - George MichaelBottle Rocket - The Go!
Running to Live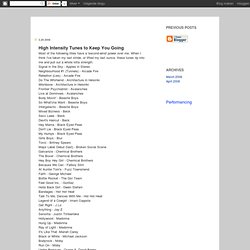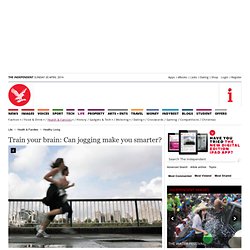 Spark: The Revolutionary New Science of Exercise and the Brain, which is published later this year, shows how even regular brisk walks can boost memory, alleviate stress, enhance intelligence and allay aggression. John Ratey, an associate professor of psychiatry at Harvard Medical School in Boston and the book's author, says that exercise stimulates our grey matter to produce what he calls "Miracle-Gro" for the brain. "I can't understate how important regular exercise is in improving the function and performance of the brain," he says.
Train your brain: Can jogging make you smarter?
"Yes, Running Can Make You High" par Gina Kolata sur T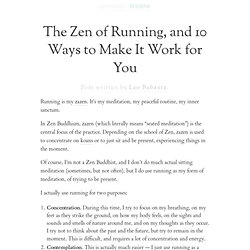 How to make running zen
Post written by Leo Babauta. Running is my zazen. It's my meditation, my peaceful routine, my inner sanctum. In Zen Buddhism, zazen (which literally means "seated meditation") is the central focus of the practice. Depending on the school of Zen, zazen is used to concentrate on koans or to just sit and be present, experiencing things in the moment.
Post written by Leo Babauta. Are you just starting out as a runner, or is it something you'd like to do? From experience, I know that a beginner runner has a million questions and never enough answers. I won't be able to answer every question here, but this should be a good starting point for anyone who wants to hit the roads. Disclaimer: I am not a certified trainer, coach or running expert. I consider myself an intermediate runner (on the lower levels of intermediate), having spent all last year running, doing a marathon, some half marathons, 20Ks, 10Ks and 5Ks.