Software 1
How to manipulate windows quick
msconfig
Windows only: Install and remove programs, update all your applications at once and build your own Linux-style repository for Windows with AppUpdater, an unassuming but powerful free program for Windows. Similar to the Apt or Yum applications in Linux, AppUpdater saves you browsing time and guess work while installing from a big list of programs , including a number of Lifehacker favorites —but you can roll your own repository of programs as well. But Appupdater is more than just a low-tech installer—its real power lies in two simple commands. Once you've got a good set of programs installed, you simply run (or schedule an automatic process to run) two lines from the Windows command prompt to make sure you've got the latest of everything: appupdater —update appupdater —upgrade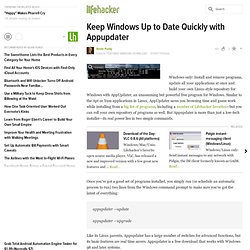 How to keep Windows up to date quickly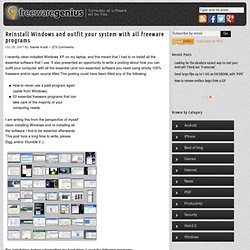 I recently clean installed Windows XP on my laptop, and this meant that I had to re-install all the essential software that I use. It also presented an opportunity to write a posting about how you can outfit your computer with all the essential (and non-essential) software you need using strictly 100% freeware and/or open source titles.This posting could have been titled any of the following: Pre-installation : before reformatting my hard drive, I used the following programs: Installation : re-installed Windows XP on the re-formatted primary partition. Used the CD that came with my laptop to install all the proper drivers without hitch.
RapidTyping
UpdateStar
Power Calculator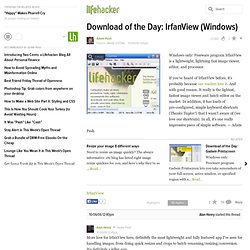 IrfanView
Windows only: Freeware program IrfanView is a lightweight, lightning fast image viewer, editor, and processor. If you've heard of IrfanView before, it's probably because our readers love it . And with good reason. It really is the lightest, fastest image viewer and batch editor on the market.
Skype
QT ToolBar
DeleteOnClick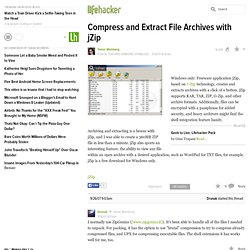 Windows only: Freeware application jZip, based on 7-Zip technology, creates and extracts archives with a click of a button. jZip supports RAR, TAR, ZIP, G-Zip, and other archive formats. Additionally, files can be encrypted with a passphrase for added security, and heavy archivers might find the shell integration feature handy. Archiving and extracting is a breeze with jZip, and I was able to create a 360MB ZIP file in less than a minute. jZip also sports an interesting feature: the ability to view any file within an open archive with a desired application, such as WordPad for TXT files, for example. jZip is a free download for Windows only.
jZip
QuickLogger 2
Windows only: Inspired by our very own workday QuickLogger script , developer Joshua Tallent's released QuickLogger 2, a full-fledged graphical work journal application. Keep track of what you worked on today in a plain text file or Excel spreadsheet with QuickLogger 2, which supports both pre-set "static" tasks and unique one-time activities. QuickLogger 2 sets runtime options in its interface—no more hand-editing scripts—like your preferred window position and whether your log will contain static and/or dynamic tasks.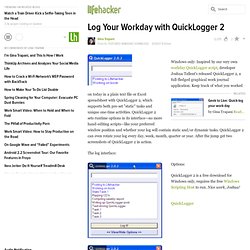 CD Art Display
SharePod
Filezilla 3.0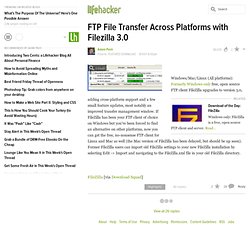 Windows/Mac/Linux (All platforms): Formerly Windows-only free, open source FTP client FileZilla upgrades to version 3.0, adding cross-platform support and a few small feature updates, most notably an improved transfer management window. If FileZilla has been your FTP client of choice on Windows but you've been forced to find an alternative on other platforms, now you can get the free, no-nonsense FTP client for Linux and Mac as well (the Mac version of FileZilla has been delayed, but should be up soon). Former FileZilla users can import old FileZilla settings to your new FileZilla installation by selecting Edit -> Import and navigating to the FileZilla.xml file in your old FileZilla directory.
Remove Empty Directories
Earth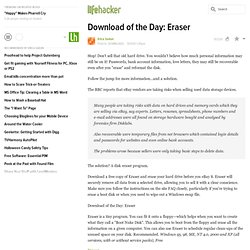 Eraser
Stop! Don't sell that old hard drive. You wouldn't believe how much personal information may still be on it! Passwords, bank account information, love letters, they may still be recoverable even after you "erase" and reformat the disk. Follow the jump for more information...and a solution.
Windows only: CCleaner optimizes your PC by removing various kinds of system detritus, such as temp files, old Registry entries, and invalid shortcuts. It also helps promote privacy by deleting your browser's URL history, cookies, and so on. In other words, it cleans out the crap (hey, I'm not the potty-mouth; that's what the "C" in CCleaner stands for). I'm not usually a fan of utilities like this, as they sometimes do more harm than good, but CCleaner has a stellar reputation (as evidenced by its 4.5-star average on CNET's Download.com). Even so, if you're a Windows XP user, I highly recommend running the System Restore utility and setting a rollback point before running CCleaner—just in case.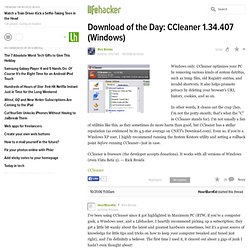 CCleaner
Revo Uninstaller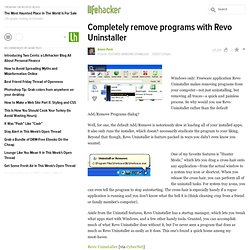 Windows only: Freeware application Revo Uninstaller makes removing programs from your computer—not just uninstalling, but removing all traces—a quick and painless process. So why would you use Revo Uninstaller rather than the default Add/Remove Programs dialog? Well, for one, the default Add/Remove is notoriously slow at loading all of your installed apps; it also only runs the installer, which doesn't necessarily eradicate the program to your liking.
Launchy
NetStumbler
TeraCopy
Windows only: Free file-copying utility TeraCopy speeds up file transfers and can pause, resume and test file copy operations. With TeraCopy you can: Copy files faster. TeraCopy uses dynamically adjusted buffers to reduce seek times. Asynchronous copy speeds up file transfer between two physical hard drives. Pause and resume file transfers.
Power replacements for built-in Windows utilities
Click to view How many times have you wished Notepad had tabs, Paint supported layers or Windows Explorer let you bookmark frequently-used folders? Power users need power utilities, and Windows' default system programs barely get the job done. Over time third-party developers have stepped up and built superior replacements to programs like Notepad, Paint, Windows Explorer and the Command Prompt.
Windows only: Freeware application CD Recovery Toolbox finds and retrieves files on scratched or otherwise damaged CDs and DVDs. Under normal circumstances, a badly scratched disc might show up as completely unreadable by your computer. CD Recovery Toolbox can read the undamaged portions of the disc and display the data that's still accessible. From there, you can extract whichever files and folders you want. The application doesn't promise access to every file that you originally burned to the disc, but it will recover as much as it can read.
CD Recovery Toolbox : Recover Files from Damaged CDs and DVDs
VLC Media Player
MyUninstaller
KIT
Windows Installer CleanUp Utility
JkDefrag GUI
Windows Explorer replacements abound
Swept Away
Hear when you hit Caps Lock
Xplorer2
Xplorer2 file manager
LetMeType
Switch Windows with Launchy and the Go Y Plug In
FindeXer and PlacesBar Editor
EverNote 2.0
Flash renamer : change folder and file names in bulk