Software 1
How to manipulate windows quick
msconfig
SExpand Windows only: Install and remove programs, update all your applications at once and build your own Linux-style repository for Windows with AppUpdater, an unassuming but powerful free program for Windows. Similar to the Apt or Yum applications in Linux, AppUpdater saves you browsing time and guess work while installing from a big list of programs, including a number of Lifehacker favorites—but you can roll your own repository of programs as well. But Appupdater is more than just a low-tech installer—its real power lies in two simple commands. Once you've got a good set of programs installed, you simply run (or schedule an automatic process to run) two lines from the Windows command prompt to make sure you've got the latest of everything: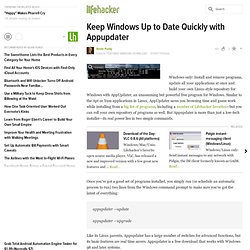 How to keep Windows up to date quickly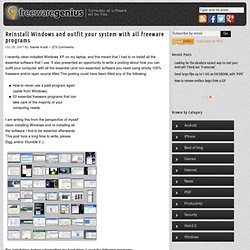 I recently clean installed Windows XP on my laptop, and this meant that I had to re-install all the essential software that I use. It also presented an opportunity to write a posting about how you can outfit your computer with all the essential (and non-essential) software you need using strictly 100% freeware and/or open source titles.This posting could have been titled any of the following: Pre-installation: before reformatting my hard drive, I used the following programs: Installation: re-installed Windows XP on the re-formatted primary partition. Used the CD that came with my laptop to install all the proper drivers without hitch.
If this screenshot is typical, then this is a waste of time. You don't learn to type or improve your typing by being forced to hit letters at random. You learn to type by typing words or word fragments. Even an accomplished typist may have trouble hitting random keys because ultimatly it is sequences of keys and entire words that become second nature, not the individual keystrokes (a side effect could even be better spelling when typing than when handwriting). If you want to type better, just type more and more often. If you can't type and want to learn, this is not the way to do it.
RapidTyping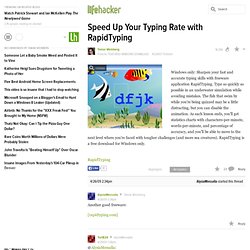 SExpand Windows only: Freeware application UpdateStar detects what applications are running on your computer and informs you of available updates. In tests, UpdateStar performed much better than previously mentioned AppSnap as it provides shareware and commercial application information, whereas AppSnap does not.
UpdateStar
Power Calculator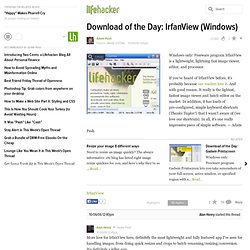 IrfanView
I did not know about XnView, which seems to be a strong competitor. But I am using Irfanview since before the times of Windows 3.1 to look at pictures in DOS. One Irfanview-feature I use a lot, and which I cannot find in the featurelist of XnView, is Adobe 8bf filter support. I manage my (RAW) photos with Picasa, open them in Irfanview as standard system viewer (Shift-Ctrl-O) then open the plugins (Crtl-K), like I have Noise-Ninja, and some sharpening, contrast, B&W filters etc.
Vous pouvez faire tant de choses avec Skype : raconter une histoire pour s'endormir, tenir une réunion ou prendre un cours de langue… Voici quelques-uns des avantages dont vous pouvez bénéficier : appels gratuits entre utilisateurs Skype ;appels économiques vers des lignes fixes et mobiles, et SMS à tarif avantageux ;appels vidéo sur Skype et Facebook ;messagerie instantanée avec votre famille, vos amis et vos collèguesenvoi de messages véritablement différents avec la messagerie vidéo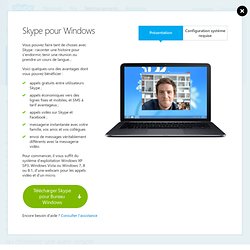 Skype
QT ToolBar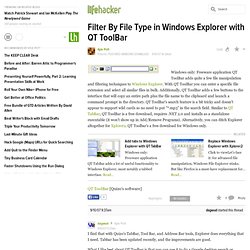 Just installed QT Toolbar. It's a great app that boosts the productivity of Windows Explorer. I was always looking for something that could search only the folder you just opened and this copy-path-to-clipboard comes in handy especially when you want to upload files (e.g. to Wikipedia), so I don't have to go through the send to menu anymore. But is there a possibility to switch your view back from the results list to the normal view where you can see all the files in the folder? It annoys me to go to another folder and then back just to clear the results list. And I wasn't even able to understand most of the manual (it's completely in japanese and babelfish isn't really a solution). 9/11/07 1:14pm
DeleteOnClick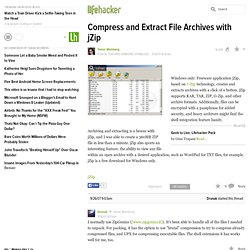 A weakness I find in MOST windows-based compression/archiving utilities: long paths. NTFS can support up to 32,000 character-long pathnames. But almost every tool you use to read, write, or access files on an NTFS volume (including all the DOS tools, dir, type, etc. and including the windows shell, Explorer, etc.) will fail, because they're coded for ANSI paths - which are limited to something like 260.
jZip
QuickLogger 2
Windows only: Inspired by our very own workday QuickLogger script, developer Joshua Tallent's released QuickLogger 2, a full-fledged graphical work journal application. Keep track of what you worked on today in a plain text file or Excel spreadsheet with QuickLogger 2, which supports both pre-set "static" tasks and unique one-time activities. QuickLogger 2 sets runtime options in its interface—no more hand-editing scripts—like your preferred window position and whether your log will contain static and/or dynamic tasks.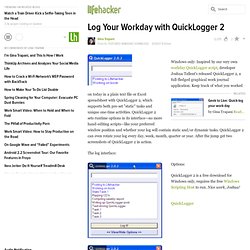 CD Art Display
SharePod
Filezilla 3.0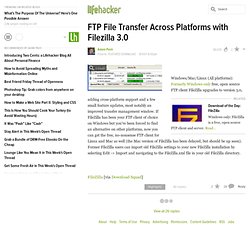 I have been using Filezilla v2.2.32, which has three panes, and dragging a folder was easy. The new version 3.0 has four panes, and I haven't figured out how to move the contents of a folder on the computer to the same folder on the server side yet, except by selecting all the files on the computer side and dragging them to a folder on the server side, which is a little more work than the earlier version, but works just like Windows Explorer, so at least it is consistent with Windows. I use WS_FTPLE if I am transferring only a couple of files (loads lightning fast) and have used SmartFTP in the past, but neither of these items seem to be available for free any longer.
Remove Empty Directories
Eraser
Stop! Don't sell that old hard drive. You wouldn't believe how much personal information may still be on it! Passwords, bank account information, love letters, they may still be recoverable even after you "erase" and reformat the disk. Follow the jump for more information...and a solution.
CCleaner is great, but watch out for a couple of things: 1) I haven't tested to see if a new version does this or not, but CCleaner can hose your Firefox profile (it wiped out my history, saved logins, saved passwords). Firefox generally does a pretty good job of policing itself, so tell it to ignore Firefox and wipe your temporary internet files. 2) Last time I used it, it had the capability to detect and remove ~4.5Gb before crashing (I work as a retail repair tech part-time, I've had CCleaner remove ~28Gb after repeated runs). It seems to still delete stuff even though it crashes, so you make progess.
CCleaner
Revo Uninstaller
@rainbowsky Wow wow wow...me thinks a flamewar may start here. First off, you fail to say what program you unistalled - it might have been that program or it's uninstaller that caused this problem.
Launchy
NetStumbler
TeraCopy
Power replacements for built-in Windows utilities
CD Recovery Toolbox : Recover Files from Damaged CDs and DVDs
VLC Media Player
MyUninstaller
KIT
Windows Installer CleanUp Utility
JkDefrag GUI
Windows Explorer replacements abound
Swept Away
Hear when you hit Caps Lock
Xplorer2
Xplorer2 file manager
LetMeType
Switch Windows with Launchy and the Go Y Plug In
FindeXer and PlacesBar Editor
EverNote 2.0
Flash renamer : change folder and file names in bulk