Rememberthemilk
Quicksilver. Gtd_app. How to add Remember The Milk to your Google Calendar sidebar. Thursday, November 19, 2009 by Emily Boyd It's no secret that we're big gadget fans here.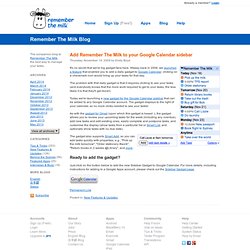 Waaay back in 2006, we launched a feature that enabled you to add a daily gadget to Google Calendar: clicking on a checkmark icon would bring up your tasks for that day. App for the milk. App for the milk is a desktop client for the remember the milk webservice that lets you quickly manage your tasks from your desktop even when you are offline and sync the next time you are connected to the internet.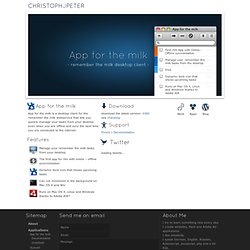 Manage your remember the milk tasks from your desktopThe first app for rtm with online – offline syncronizationDynamic dock icon that shows upcoming tasksCan run minimized in the background on Mac OS X and WinRuns on Mac OS X, Linux and Windows thanks to Adobe AIR? Introducing Smart Add: a smarter way to add your tasks in Rememb. Tuesday, September 8, 2009 by Emily Boyd We're really excited today to be launching a big update to Remember The Milk — we're calling it the Smart Add edition (you'll see why in a minute!).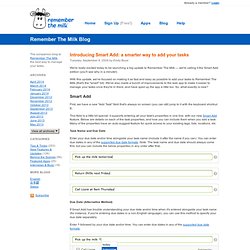 With this update, we've focused on making it as fast and easy as possible to add your tasks to Remember The Milk (that's the "smart" bit). We've also made a bunch of improvements to the web app to make it easier to manage your tasks once they're in there, and have sped up the app a little too. So, what exactly is new? Smart Add. RTM Notifier. Remember the Task.
Remember the Milk. Description Take your to-do list anywhere with this feature-packed app; never forget the milk (or anything else) again.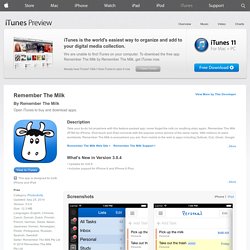 Remember The Milk (RTM) for iPhone, iPod touch and iPad connects with the popular online service of the same name. How to use Remember The Milk for Google Calendar. How to use Remember The Milk for Twitter. Ready to set it up?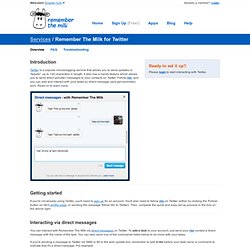 Please login to start interacting with Twitter. Twitter is a popular microblogging service that allows you to send updates or "tweets", up to 140 characters in length. It also has a handy feature which allows you to send direct (private) messages to your contacts on Twitter. Follow rtm, and you can add and interact with your tasks by direct message (and get reminders too!). Remember The Milk bookmarklet.
You can set up Quick Add for use with Firefox by dragging the "Add to RTM!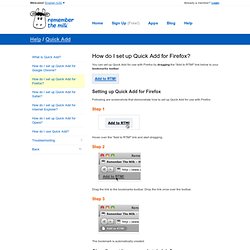 " link below to your bookmarks toolbar. Setting up Quick Add for Firefox. Remember The Milk.
---