Pdf
How to Edit PDF Files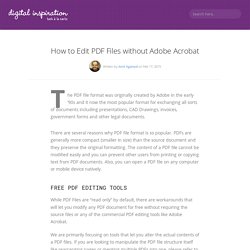 Looking for software to edit your PDF documents? This guide describes free alternatives to Adobe Acrobat that will help you edit and save PDF files. The PDF file format was originally created by Adobe in the early '90s and there are now over 700+ million PDF documents on the Internet according to Google (search for filetype:pdf). There are several reasons why the PDF file format is so popular for exchanging all sorts of documents including presentations, CAD Drawings, invoices and even legal forms. PDF files are generally more compact (smaller in size) than the source document and they preserve the original formatting.
Learn how to efficiently manage your library of PDF documents using free software. Also learn how to use Scribd as an online PDF organizer with full-text search for your ebook and other private files. Whether you are downloading ebooks, gadget manuals, research papers or your monthly bank statements, chances are that all these documents are available as Adobe PDF files. That's because PDF is probably the only format that can retain the original formatting and can be read across all platforms or even on the web if you don't want to install any desktop software for reading PDFs. Organize your library of PDF documents Here are some useful web apps and software tools that will help you better manage your collection of PDF documents with any real effort.
How to manage your collection of PDF Files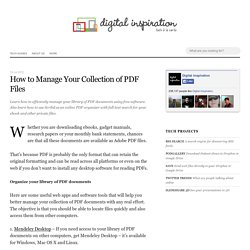 LOOP Apps
PDFLabb
PDFLab vous permet de diviser et assembler des documents PDF ainsi que d'y insérer des images, des pages blanches. Vous pourrez également très facilement créer des documents PDF à partir d'images. Télécharge une image disque (fichier d'extension dmg ) Installation par Glisser/Déposer dans le dossier Applications Nécessite MacOS X 10.3.9 ou plus, Java 1.4.2 (PPC ou Intel) minimum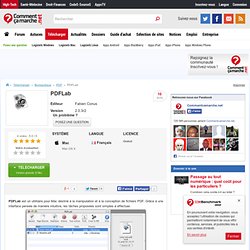 Comment protéger votre vie privée sur Facebook
How to convert web pages to PDF with Free Online PDF Creator
This PDF guide explains how you can create PDF files, merge multiple PDF files, save web pages as PDFs, file forms online, add e-signatures and more. Adobe PDF is probably the best format for sharing documents as they are preserve the formatting, the documents are read-only and also because most computers, mobile phones and ebook readers can open PDF files. Here you'll learn how to do just about everything with PDF documents without Adobe Acrobat. You can edit PDF files, combine multiple files as one, add signature images to PDF pages, fill PDF forms online, extract individual pages from PDFs, add clickable links to existing PDF documents and so much more.
How to do everything with PDF files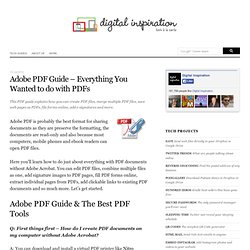 POKATReader
Understanding "Flavors" of PDF
Most people know that Acrobat files can contain a variety of types of information: text, images, and OCR'd information. Each of these is a "flavor" of PDF with different capabilities and issues. PDF flavors are behind some oft-heard questions I receive such as: Why isn't this PDF searchable? Why is this PDF 50K and this one is 10K? Why does this PDF print slowly?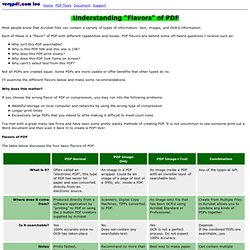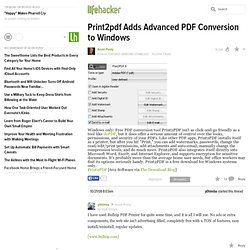 Print2pdf
Windows only: Free PDF conversion tool Print2PDF isn't as click-and-go friendly as a tool like doPDF , but it does offer a serious amount of control over the looks, permissions, and security of your PDFs. Like other PDF apps, Print2PDF installs itself as a printer, but after you hit "Print," you can add watermarks, passwords, change the read/edit/print permissions, add attachments and auto-email, manually change the compression levels, and do much more. Print2PDF also integrates itself directly into Microsoft Word, Excelt, and Internet Explorer, and supports encryption for sensitive documents.
Libération : le journal électronique
PDFLab
You password contains non US-ASCII characters. We recommend you reset your password due to a flaw in handling non US-ASCII characters. Please enter the email address associated with your account to have it reset. A temporary password has been emailed to you. If you do not receive the password reset email, please be sure to check your spam folder. In some cases, it can take up to 10 minutes for your email service to receive the email.
How to edit PDF files for free with PDFill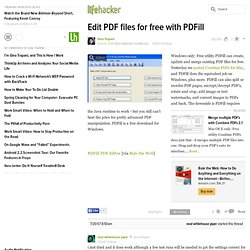 Le Figaro en PDF
PDF plugin
PDF to Word Doc Converter
Add, manipulate, replace, and correct text and images in PDF files with intuitive editing tools. Extract and delete individual pages from documents. Edit Text Add, delete, and correct text with automatic reflow and paragraph detection. Adjust formatting, like font face, size, color, and character spacing.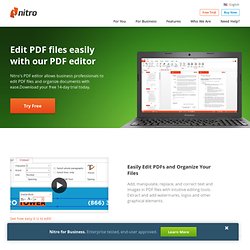 Free, Fast, and Effective Office Productivity Suite Foxit Office Suite consists of four free and invaluable office productivity applications from Foxit and Kingsoft. Foxit Reader The Foxit Reader is a small, fast, and feature rich PDF viewer which allows you to open, view, and print any PDF file. Fast - read PDF files without waiting. Lightweight - PDF reader that is easily deployable and doesn't exhaust system resources.
PDF Download