Ms-windows
The First 10 Free Apps to Install on a New Windows PC. It's about that time for me again: my desktop is a couple years part its prime and my laptop just died (no display, no hard drive activity, no wifi, and a recent history of turning off suddenly for no good reason – those are all bad signs, right?)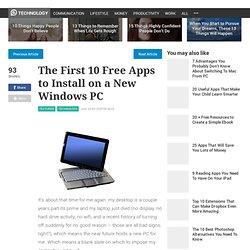 , which means the near future holds a new PC for me. Which means a blank slate on which to impose my computer-using will. Setting up a new computer goes through five stages: Top 10 Tiny & Awesome Windows Utilities. CCleaner is indispensable on my systems.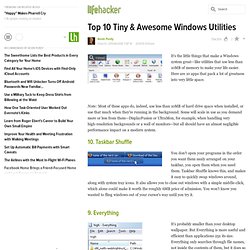 ProcessExplorer gos on every pc I can. It gives so much more valuable information than the default task manager. TeraCopy: the awesome! I just recently got a 3.76TB (after RAID) NAS so I've been transferring about 630GB so far to it, 550GB in 1 sitting. How to create tags for your windows files with TaggedFrog. The adoption of tags on the internet has almost become a prerequisite on any blog, website or social networking site.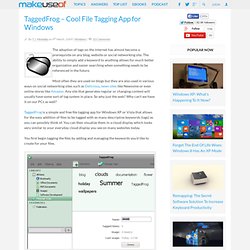 The ability to simply add a keyword to anything allows for much better organization and easier searching when something needs to be referenced in the future. Most often they are used on blogs but they are also used in various ways on social networking sites such as Delicious, news sites like Newsvine or even online stores like Amazon. Any site that generates regular or changing content will usually have some sort of tag system in place. So why just the web? Why can't we have it on our PCs as well? How to rebuild your computer and reinstall Windows without heada. If your Windows PC keeps getting slower and slower, it may be time to rebuild your computer and reinstall Windows from scratch.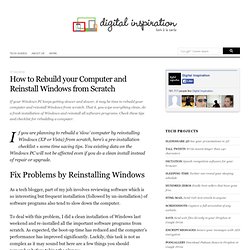 That it, you wipe everything clean, do a fresh installation of Windows and reinstall all software programs. Check these tips and checklist for rebuilding a computer. VirtualBox. Running other operating systems on a Mac is nothing new, and with the advent of Intel-based Macs we've seen a flood of virtual machine software: Parallels Desktop for Mac, VMWare Fusion, and Codeweavers CrossOver Mac.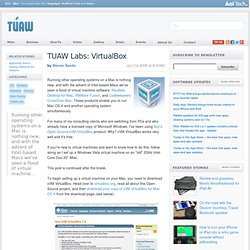 These products enable you to run Mac OS X and another operating system simultaneously. For many of my consulting clients who are switching from PCs and who already have a licensed copy of Microsoft Windows, I've been using Sun's Open Source xVM VirtualBox product. Why? How to speed up your PC's startup. I like to think I run a tight ship.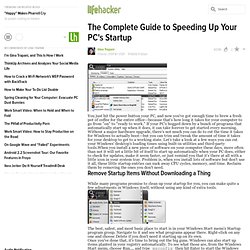 I'm more proactive than reactive I guess.... -msconfig (keep an eye on the startup tab) -ccleaner (usually in auto mode) -regedit occasionally (to make sure nothing's been added to startupreg, winlogon etc that I wasn't aware of. How to control your computer with shortcuts to common windows ta. @cronin4392: I'd like the same.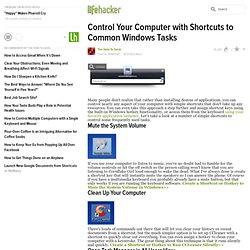 In the meantime, I use little reg files to turn on and off. HIDE.reg contains: [HKEY_CURRENT_USER\Software\Microsoft\Windows\CurrentVersion\Explorer\Advanced] "Hidden"=dword:00000002 ;Set "Do not show hidden files and folders" SHOW.reg contains: How to get Vista's best features in XP. SExpand Despite the fact that most of you prefer XP to Vista and would rather Microsoft extended XP's shelf-life, several new and improved features available in Vista would be great to have in XP.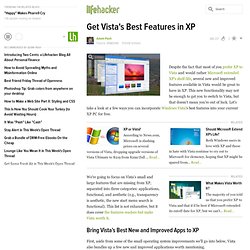 This new functionality may not be enough to get you to switch to Vista, but that doesn't mean you're out of luck. Let's take a look at a few ways you can incorporate Windows Vista's best features into your current XP PC for free.P We're going to focus on Vista's small and large features that are missing from XP, separated into three categories: applications, functional, and aesthetic (e.g., transparency is aesthetic, the new start menu search is functional).
This list is not exhaustive, but it does cover the features readers feel make Vista worth it.P. How to boost "Save As" options in Windows with XNeat. How to sets keyboard shortcuts for any windows task with HotKeyB. How to add quick access to your filesystem with Direct Folders. You guy really need to work with this program first, before you comment that you can do the same with program A or solution B, because you all talk nonsense.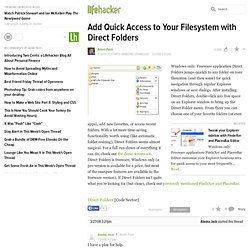 Not only does Direct Folder work easier (try it!!) , it even works with subfolders, it also works with ALL kind of dialog boxex, even the ones that are non-Windows standard. None of the other solutions here can do that (in Vista or Windows 7) and I've tried them all. The Pro verion also allow you to set the default folder for dialog boxes of any specific application, try to do that with all the junk you guys suggested lol. How to shut down Windows in an instant. The other evening I turned off my Windows XP system and busied myself with other matters, only to find the machine churning away several minutes later as it worked through its shutdown process.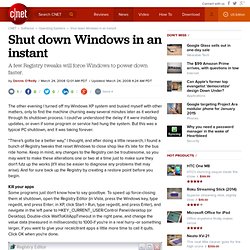 I could've understood the delay if it were installing updates, or even if some program or service had hung the system. But this was a typical PC shutdown, and it was taking forever. "There's gotta be a better way," I thought, and after doing a little research, I found a bunch of Registry tweaks that reset Windows to close shop like it's late for the bus ride home. How to improve your Windows XP desktop search with Windows Searc. How to supercharge the Windows Task manager with Process Explore. Par Mark Russinovich Paru le 14 septembre 2007 Introduction Vous êtes-vous déjà demandé quel programme a un fichier ou un répertoire particulier ouvert ? Vous pouvez désormais le savoir. Process Explorer affiche des informations sur les descripteurs et les processus DLL ouverts ou chargés. How to decypher the Windows Task Manager with Quick Access InfoB. Windows only: You've popped open the Windows Task manager and found a runaway process hogging memory and CPU cycles but you have no idea what it's for or whether or not you can safely end it.
The Quick Access Info bar quickly looks up information about a process running on your computer in an online database, which lets you know what the task does, whether or not it's spyware, and if you can safely end it. As many as 20 to 30 processes may be running invisibly, silently in the background on your PC. PowerToys for Windows XP. Top Windows tweaks. How to tile windows with the control key.
---