Gstuff_google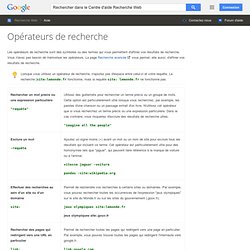 Si vous ne trouvez pas ce que vous cherchez en suivant nos conseils de base pour la recherche, essayez d'utiliser un opérateur de recherche. Ajoutez ces symboles ou ces termes à votre requête dans le champ de recherche Google pour mieux contrôler les résultats obtenus. Ne cherchez pas à mémoriser les opérateurs : vous pouvez utiliser la page Recherche avancée pour générer un grand nombre de ces recherches.
Meetings get a bad rap in business today and for good reason—very little gets accomplished in them. I can recall a Dilbert cartoon in which several people sat around a table while the meeting organizer said, "There is no specific agenda for this meeting. As usual, we'll just make unrelated emotional statements about things which bother us…" That pretty much sums it up. The majority of meetings are unstructured, uninspiring, and unproductive.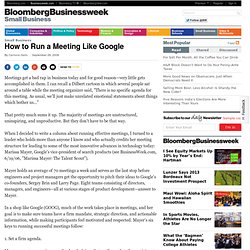 How to run a meeting like Google
Why Could Google Die...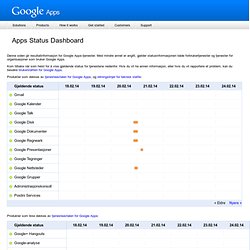 Denne siden gir resultatinformasjon for Google Apps-tjenester. Med mindre annet er angitt, gjelder statusinformasjonen både forbrukertjenester og tjenester for organisasjoner som bruker Google Apps. Kom tilbake når som helst for å vise gjeldende status for tjenestene nedenfor. Hvis du vil ha annen informasjon, eller hvis du vil rapportere et problem, kan du besøke brukerstøtten for Google Apps. Produkter som dekkes av tjenesteavtalen for Google Apps, og retningslinjer for teknisk støtte:
Apps Status Dashboard
Quick Search Box
Quick Search Box is an open source search box that allows you to search data on your computer and across the web. With Quick Search Box you can search for information from just about anywhere. You can then perform actions on the search results, such as launching applications, emailing friends, or playing a song. If you are interested in participating in the Quick Search Box development process, download the app or build it from source.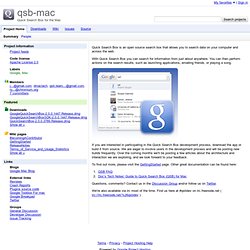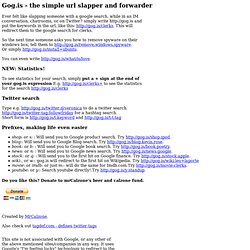 gog.is simple google slapper
Ever felt like slapping someone with a google search, while in an IM conversation, chatrooms, or on Twitter? simply write http://gog.is and put the keywords in the url, like this: http://gog.is/clerks. This will redirect them to the google search for clerks. So the next time someone asks you how to remove spyware on their windows box, tell them to http://gog.is/remove,windows,spyware. Or simply http://gog.is/install+ubuntu.
Description The best of Google in one app. Say "Ok Google" and find everything from nearby restaurants to the calories in cheesecake. Google also shows you the info you need before you ask, like updates on your favorite teams and traffic alerts.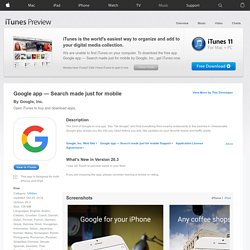 10 Great Google Slideshows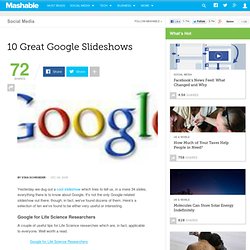 Yesterday we dug out a cool slideshow which tries to tell us, in a mere 34 slides, everything there is to know about Google. It's not the only Google-related slideshow out there, though; in fact, we've found dozens of them. Here's a selection of ten we've found to be either very useful or interesting.
Google's been the lone hold out among major search engines on RSS but the company quietly enabled feeds for web search results this week. The offering is pretty limited and frustrating, you have to go through Google Alerts to get an obscure RSS URL, but we offer a tutorial and some strategic advice in this post. Web search RSS is useful for being alerted whenever search results for your keywords or link have changed; subscribing to at least a few searches will let you know when Google users are seeing something new in the first few pages of search results for your company name, for example.
How to use the new Google web search RSS feeds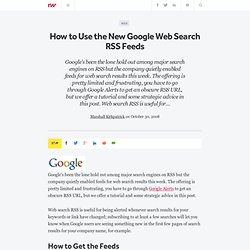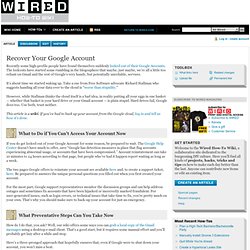 From Wired How-To Wiki Recently some high-profile people have found themselves suddenly locked out of their Google Accounts. The lockouts have started some rumbling in the blogosphere that maybe, just maybe, we're all a little too reliant on Gmail and the rest of Google's very handy, but potentially unreliable, services. It's about time we started waking up. Take a cue from Free Software advocate Richard Stallman who suggests handing all your data over to the cloud is "worse than stupidity."
How to recover your Google account
The Google Alphabet, 2008 edition
Google has added Google Suggest to their homepage. When Google suggest first-launched Buster McLeod (AKA Erik Benson) checked the suggested term for each letter to create the Google Alphabet, 2004 edition. When Google News Suggest launched in 2006 I did the same. Now in honor of Google Suggest graduating from labs here is the annotated Google Alphabet, 2008 edition: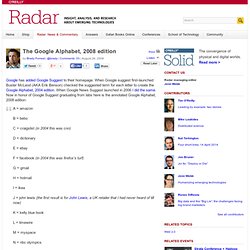 How to turn google searches into usefull rss feeds
Dear feedmysearch user, Feedmysearch would require some serious server upgrade and a bit of development to be back online. However it seems hard to monetize and without monetisation, no future !
ANNALS OF COMMUNICATIONS about Google. In June, 2006, Sergey Brin, one of the co-founders of Google, went to Washington, hoping to create some good will. At the time, even though Google was a multibillion-dollar company, it had no PAC and a tiny Washington office.
"The Search Party" par Ken Auletta sur The New Yorker
Trends
Advanced Dork: gives quick access to Google's Advanced Operators directly from the context menu. Advanced Dork: Main Functions: * Highlight any text, right click, and choose from over 15 Advanced Google Operators.
Advanced Dork:
The following table lists the search operators that work with each Google search service. Click on an operator to jump to its description — or, to read about all of the operators, simply scroll down and read all of this page. The following is an alphabetical list of the search operators. This list includes operators that are not officially supported by Google and not listed in Google's online help. Each entry typically includes the syntax, the capabilities, and an example.
How to use Google keyboard shortcuts
宇宙旅行とは 宇宙旅行(うちゅうりょこう、英語: Space tourism)とは、国家政策や科学的研究を目的とした宇宙開発と対比して、専ら個人的な興味関心のもとに宇宙空間に赴く行為を指す。2008年1月時点では宇宙飛行士になるためには高度な知識や様々なミッションをフライト中にこなし続ける技能と経験、宇宙飛行に付随する様々な訓練を要する。しかし、多くの民間企業が特別な訓練などを必要とせず、現在で言うところの海外旅行程度の手続き的・身体的負担で短時間、宇宙空間に滞在し帰還することをまずは目指し、技術開発にしのぎを削っている。 1990年12月2日にソビエト連邦のソユーズTM-11に搭乗、宇宙ステーションミールに9日間滞在した秋山豊寛は、世界で初めて宇宙空間に到達したジャーナリストであり、日本人初の宇宙旅行を体験した人物である。TBSが宇宙特派員として派遣した彼は、長期間にわたる訓練の後に宇宙へと旅立った。
Googmarklets
How to get more out of Google Reader