Dropbox
Description Dropbox lets you bring all your photos, docs, and videos anywhere and share them easily.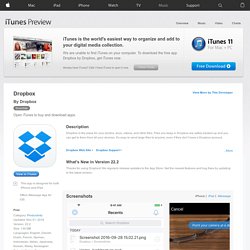 Test de Dropbox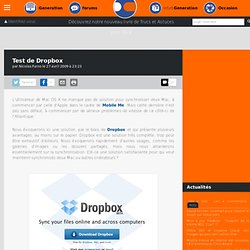 L'utilisateur de Mac OS X ne manque pas de solution pour synchroniser deux Mac, à commencer par celle d'Apple dans le cadre de Mobile Me.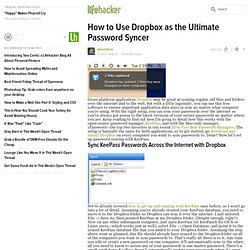 Cross-platform application Dropbox may be great at syncing regular old files and folders over the internet and to the web, but with a little ingenuity, you can use this free software to ensure important application data stays in sync no matter what computer you're using. With the right setup, you can sync your passwords over the internet so you've always got access to the latest versions of your secure passwords no matter where you are. Keep reading to find out how.I'm going to detail how this works with the open-source password manager, KeePass, and with the Mac-only manager, 1Password—the top two favorites in our recent Hive Five Best Password Managers. The setup is basically the same for both applications, so to get started, go download and install Dropbox on every computer you want to sync passwords to.
How to use Dropbox as the ultimate password syncer