Dropbox
Description Dropbox lets you bring all your photos, docs, and videos anywhere and share them easily. Access any file you save to your Dropbox from all your computers, iPhone, iPad, and the web. With Dropbox you'll always have your important memories and work with you. Features:• Access all your photos, docs, and videos from any device.• 2 GB of space when you sign up — free!• Automatically save photos and videos to Dropbox and earn up to 3 GB additional free space.• Share a link to even your biggest files — no more attachments!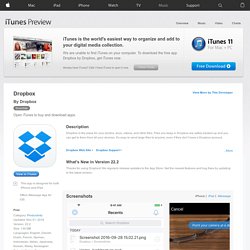 Test de Dropbox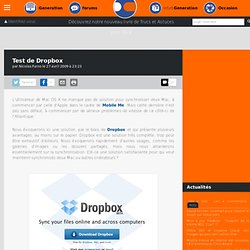 L'utilisateur de Mac OS X ne manque pas de solution pour synchroniser deux Mac, à commencer par celle d'Apple dans le cadre de Mobile Me. Mais cette dernière n'est pas sans défaut, à commencer par de sérieux problèmes de vitesse de ce côté-ci de l'Atlantique. Nous évoquerons ici une solution, par le biais de Dropbox et qui présente plusieurs avantages, au moins sur le papier. Dropbox est une solution très complète, trop pour être exhaustif d'ailleurs.
We're so excited this morning to kick off DBX, our first developer conference. Fort Mason is buzzing with energy from our incredible community of developers, designers, and partners. Back in 2007, when it was just the two of us coding in an apartment, we never imagined that six years later there'd be over 175 million people using Dropbox and more than a billion files synced each day. We're proud that Dropbox has become the home for millions of people's most important stuff. So we want to be sure that stuff is always available, no matter if you're on your laptop at work, a tablet on a plane, or a smartphone on the bus. Keeping devices and apps synced with your most up-to-date info has gone from "nice-to-have" to essential, which creates a real challenge for the people developing apps.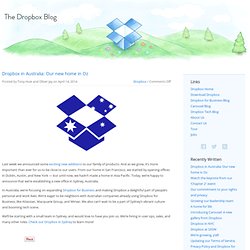 How to use Dropbox as the ultimate password syncer