Apple_iphone
Possesseur d'iPhone vous en avez marre de devoir payer un surcout pour bénéficier de sonneries ?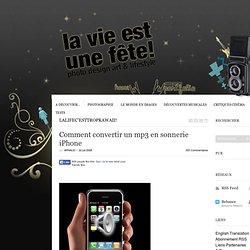 How to prevent Spotlight from resurrecting your deleted emails o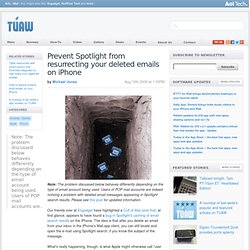 Note: The problem discussed below behaves differently depending on the type of email account being used.
Follow the steps below to setup Google Sync on your iPhone, iPad, or iPod Touch. Requirements and Backing Up Data Google Sync is only supported on Apple iOS versions 3.0 and above. If you're on an earlier version, update iOS before setting up Google Sync. Check your Safari cookies settings to see if it is set to "From Visited" or "Always".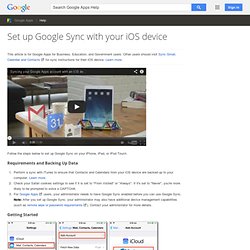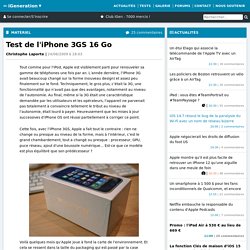 Tout comme pour l'iPod, Apple est visiblement parti pour renouveler sa gamme de téléphones une fois par an. L'année dernière, l'iPhone 3G avait beaucoup changé sur la forme (nouveau design) et assez peu finalement sur le fond. Techniquement, le gros plus, c'était la 3G, une fonctionnalité qui n'avait pas que des avantages, notamment au niveau de l'autonomie.
Test de l'iPhone 3GS 16 Go
How to get rid of that syncing feeling with Notes in iPhone OS 3
When I heard that OS 3.0 was going to enable syncing of notes between the iPhone and the Mac, I was overjoyed. I use the notes app on my iPhone all the time for everything: reminders, grocery lists, and figuring out the monthly budget while I'm away from home. Having those notes sync back and forth with the Mac was something I very much looked forward to, because it made the notes app far more useful.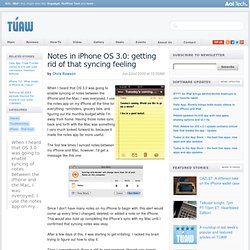 Be sure to check the last few posts as well. some of these may have been announced, some of these may not be new and some may be repeated.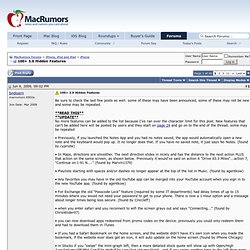 100+ 3.0 hidden features
Cinq raisons de passer à l'iPhone 3G S... Et cinq de l&#039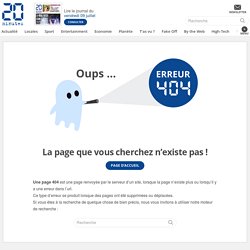 8e merveille du monde pour certains, boycotté par d'autres pour son absence de clavier, l'iPhone fait peau neuve ce vendredi aux Etats-Unis et en France notamment, avec la sortie de la nouvelle version, baptisée 3G S. Certaines boutiques Orange ont ouvert à minuit pour l'occasion. Pour tout savoir sur les nouvelles fonctionnalités, c'est ici.
Enable tethering on iPhone 3.0 (3.1.3 maybe) - Too easy...
How to enable tethering on iPhone 3.0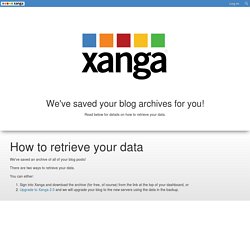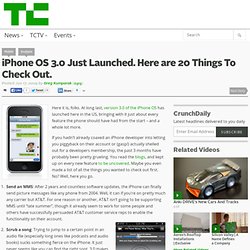 Here it is, folks. At long last, version 3.0 of the iPhone OS has launched here in the US, bringing with it just about every feature the phone should have had from the start – and a whole lot more. If you hadn't already coaxed an iPhone developer into letting you piggyback on their account or (gasp!)
iPhone OS 3.0 Just Launched. Here are 20 Things To Check Out.
Le comparatif des smartphones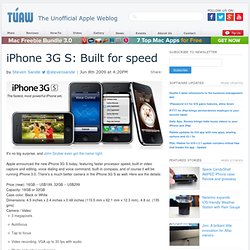 iPhone 3G S: Built for speed
It's no big surprise, and John Gruber even got the name right.
PhoneView
Compartif Gmail : le site pour mobile contre l'application
Now that Google's made some much-needed improvements to Gmail's mobile webapp , should you abandon your smartphone's email client for its browser? Let's find out.
The iPhone is like the bacon-wrapped scallop of the mobile world.
8 Little Things We Still Can't Stand About the iPhone
NuevaSync - Over the Air Synchronization
Comment gagner des giga-octets avec iPhoto, l'iPod et l&#03
L'astuce n'est pas nouvelle, mais l'arrivée d'un nouvel iPhoto est l'occasion d'en reparler tant elle peut faire gagner plusieurs Go sur le disque dur des utilisateurs d'un iPod (les modèles lisant les photos) ou d'un iPhone.
My favorite iPhone shortcuts
The iPhone has many hidden (or, at least, not so obvious) shortcuts that can make the iPhone much easier and faster to use. For example, as noted in my last post, the latest iPhone software update adds the feature to press the Home button to return to the first page of your Home screen.
Apple Keynote 2007
10 useful iPhone tips & tricks
The iPhone, like the Mac, is extremely simple and intuitive to use. Odds are that you've never even cracked open the user manual since the way just about everything works is pretty obvious. But its simplicity can be a double-edged sword… there are many small "convenience features" that are often hidden away.
Safari+
How to enable wifi while In airplane mode
iMagePhone
iPhone Configuration Utility 1.1 for Mac OS X
10 useful iPhone tips & tricks
Nokia N97 vs. iPhone 3G
Secrets & Features of iPhone 2.2
URLs for iPhone-Optimized Google Sites
How to install iPhone v2.0 firmware with Pwnage 2.0 IPSW on Wind
Jailbreak et desimlockage iPhone 2.0
How to disable your iPhone camera connected message in Windows X
12 iPhone tricks
Shortcuts for iPhone
iPhone timeline
Iphone 2.0: What's good (and free!) in the iTunes App Store
The iPhone 3G FAQ
How to updating and reste iPhone and iPod touch software
How to jailbreak an iPhone in 45 seconds
Tous savoir sur iPhone
Le pool iPhone wallpapers
How to override webclip icons on Iphone
Afficher les vidéos YouTube sur l'iPhone
How to convertir des devises avec l'iPhone
OtterBox Defender iPhone video review
What Gmail IMAP means for you (and your iPhone)
17 powerful bookmarklets for your iPhone
Apple's iPhone: The Future is Here